What is Brawadis' net worth?
Introduction
Brawadis is an ultra-popular vlogger on YouTube.
He is well-known amongst basketball enthusiasts and NBA followers as a vocal and insanely loyal supporter of the Phoenix Suns.
He's also known for putting out crazy prank videos.
Once he'd made a career out of YouTube, he started sharing the standard house tours and showcasing his ridiculously expensive cars—but he's remained pretty relatable in the videos he shoots with his boys.
Never one to take himself too seriously, he always ends up on his brother's channel, where he gets pranked on a regular basis.
Brawadis is an entertainer and a family guy who features his parents and sibling—as well as his close friends—often on his channel.
But what else do we know about the young American-Iraqi?
Read on to find out.
The Origin Story
Brandon Awadis was born on June 23, 1995, in San Diego, California.
Raised as a West Coast boy, he is the eldest child of Rafat Aziz Awadis and Sana Awadis.
His little brother, Brian, is a popular YouTuber in his own right—he is the creator of the FaZe Rug channel, he's got 19 million subscribers, and he's co-owner of the famous FaZe Clan eSports organization.
He is a year younger than Brandon and was born in November 2016.
Rafat and Sana Awadis were both born in Iraq and migrated to the US as a married couple.
They are open to what their kids want to do for a career, and even appear on their own channel called Mama Rug and Papa Rug.
So far, they have 1.5 million subscribers.
Both Brandon and Brian were born in the United States.
There is a common assumption in the public that YouTube influencers who do prank videos and vlogs are uneducated.
Sure, some don't even make it through high school before they drop out.
But others, like Brawadis, have taken the traditional route through high school and university.
Brandon has a bachelor of broadcast journalism and media studies.
Father Son Chaldean
Before they launched their own careers as YouTubers, Brandon and his little brother hosted a web series called Father Son Chaldean.
The show was short-lived back in 2009, and it involved Brandon pretending to be Brian's dad.
Brandon would act strict, and the pair would fight.
Often they used inappropriate language during filming, and they gained close to 70,000 subscribers to their amateur television series.
Eventually, though, their dad Rafat stopped the show.
He did give them permission to start their own channels once they were older.
They did—obviously—and both boys' channels were a massive success.
READ MORE: Mimi Ikonn & Alex Ikonn
A Strange Romance
Awadis started talking to a girl online back in 2014, when he was 19 years old.
That girl was Jackie Figueroa.
The pair started dating later that same year, but it wasn't all smooth sailing.
After a much-publicized (by Awadis and Figueroa) break up in September of 2020, the pair staged an over-the-top video of Brandon preparing to ask Jackie to go out with him again.
Instead, the scripted content showed Jackie awkwardly asking Awadis to turn off the camera, and announcing to him that she was seeing someone else.
Many of Brandon's fans already disliked Jackie—with her being subjected to online bullying and accusations she was a gold digger.
The video made things worse for the young wannabe influencer.
Although most of their followers saw the cheesy video as another piece of clickbait content—and didn't believe for a second that the couple hadn't planned it that way for views—some were still devastated that Awadis got dumped.
In July 2021, the pair were back to posting pics together on social media and attempting to boost their profiles.
Figueroa also launched her own Instagram around the time of their "break-up" and had reached almost 900k followers.
READ MORE: Moriah Elizabeth Net Worth
NBA-Level Rebounds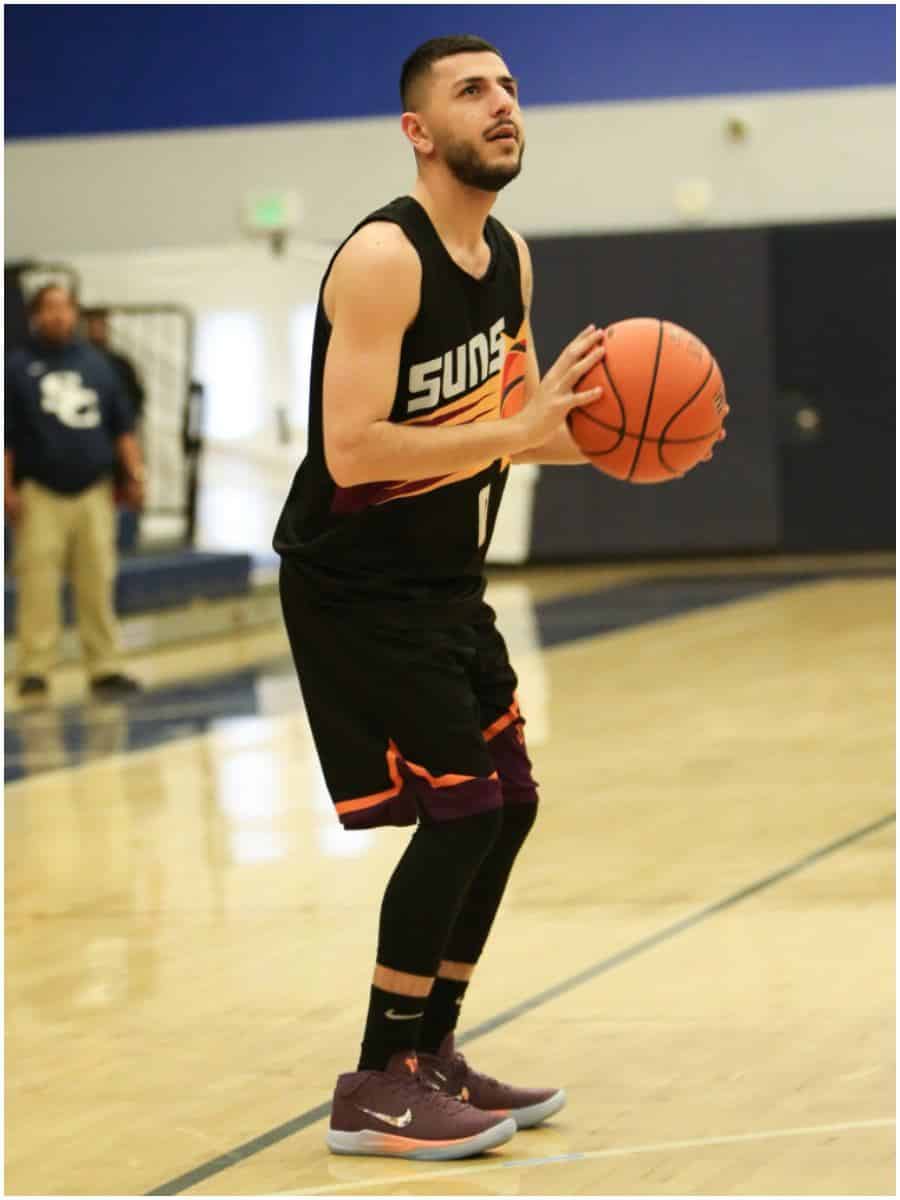 Brawadis announced on Instagram that he had moved on, and was dating Vanessa Lyon in 2020.
Awkwardly, he later claimed it was a prank.
He has also posted clickbait videos to his YouTube channel titled "We need to tell you guys something" with a thumbnail image of Jackie and a baby emoji, "I ask her to be my girlfriend again" featuring Jackie, and "It's time for you guys to meet her" with a thumbnail of a blonde girl and a heart emoji.
In that last video, he announced a few minutes in that he wanted to make it clear he is single and does not have a girlfriend.
Height
Brawadis is 5 ft 9 in (175 cm) tall.
Brawadis – Net Worth
Brandon earned most of his wealth from selling merch, sponsors, and ads on YouTube and TikTok.
His YouTube channel has over 1.6 billion views, meaning about $4.8 million in revenue before taxes.
Therefore, American YouTuber Brawadis has an estimated net worth of $3.5 million.
Want to get to know the Awadis—and especially Brawadis—better? Watch him prank his little brother—the video has 10 million views and counting.
READ THIS NEXT: Who is CookieSwirlC?