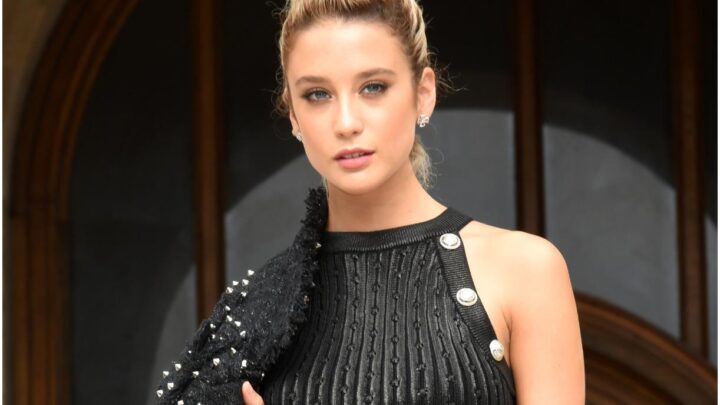 Maria Pedraza is a Spanish actress, model, and professional classical dancer, who is best known for her role in the TV series "La Casa de Papel."
Biography
Pedraza was born on January 26, 1996, in Madrid, Spain.
Maria graduated from the Royal Conservatory of Dance Mariemma. Later, she danced with the Larreal company.
She was discovered in 2017 through her Instagram account (that has more than 11.7 million followers) by Esteban Crespo (a Spanish filmmaker who was nominated for an Academy Award for the film "Aquel no era yo") who invited her to attend an audition for the lead role of his film Amar.
La Casa de Papel
Her second role was playing the daughter of the British ambassador to Spain, Alison Parker, in the Money Heist (La Casa de Papel), a Spanish TV heist crime drama series that was created by Álex Pina. In 2018, La Casa de Papel was the most-watched non-English language series on Netflix.
The series is about 8 robbers (dressed in red jumpsuits with a mask of the painter Salvador Dalí) who take 67 hostages as part of their plan to escape with €2.4 billion through an escape tunnel.
Fact – in 2019, the robbers' costumes that were used in La Casa de Papel were banned at the Limassol Carnival Festival as a security measure.
Elite
In 2018, she performed in another Netflix original Spanish series, called – "Elite."
The series is set in Las Encinas, a prestigious school outside of Madrid where things change after the arrival of 3 working-class students on scholarships.
In Elite, Pedraza plays Marina, a student having a fling with Lorente's character Nano.
Other stars in the series are:
Leïti Sène;
Itzan Escamilla;
Sergio Momo;
Miguel Bernardeau;
Georgina Amorós;
Miguel Herrán;
Claudia Salas;
Jaime Lorente;
Jorge López;
Álvaro Rico;
Danna Paola;
Arón Piper;
Omar Ayuso;
Ester Expósito;
Mina El Hammani.
In 2019, Maria performed as Triana Marín in the TV series Toy Boy for 13 episodes.
In 2021, Pedraza portrayed Irene in "Las niñas de cristal," a psychological drama set against the world of classical ballet.
Boyfriend
Maria Pedraza used to date Pol Monen, an actor who was nominated for Best New Actor in the 2018 Goya Awards.
He also starred in the Netflix Original film '¿A quién te llevarías a una isla desierta?' as well as in "Tu hijo" and "Amar."
READ MORE: Biography of Michael Wilding Jr.
In 2018, Pedraza began dating Jaime Lorente, a Spanish actor who starred as Nano in Netflix's Elite. Jaime also performed in La Casa de Papel and El secreto de Puente Viejo.
In 2020, many of her followers wonder if the two are still together since Pedraza posted her last photo with Lorent on September 30, 2019.
Height
Maria is 5 ft 7 in (173 cm) tall.
READ MORE: Kevin Michael Richardson Net Worth
Trivia
She has two cats, Garfi and Chambi.
Pedraza has been featured in Vanidad and Vogue.
Maria Pedraza – Net Worth
Pedraza earned most of her wealth from dancing with the Larreal company, publishing sponsored posts on her Instagram account and performing in eight television series. Therefore, actress Maria Pedraza has an estimated net worth of $0.7 million.
Featured image source – © Guliver / Getty Images.
READ THIS NEXT: Who is Emma Appleton?
Reference

https://www.oprahmag.com/la-casa-de-papel-money-heist-true-story/