Milburn Stone was an American television and film actor, who became famous for his role as Dr. Galen 'Doc' Adams in the TV series "Gunsmoke."
In addition, Stone was a winner of the "Emmy" Award.
Biography
He was born on July 5, 1904, in Burrton, Kansas, to Herbert and Laura Belfield Stone.
Stone graduated from Burrton High School, where he was active in the drama club, sang in a barbershop quartet, and played basketball.
After, he left his home to find work with touring repertory troupes.
Eventually, Stone became part of a vaudeville song-and-dance team called "Stone and Train."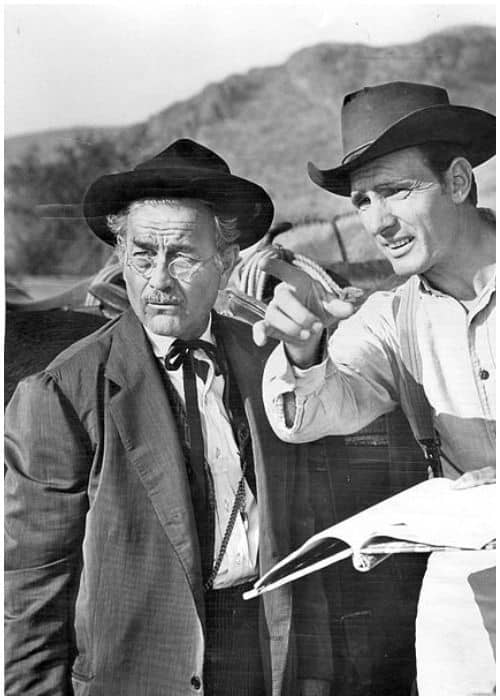 Milburn went to Los Angeles in the 1930s to begin his acting career.
He started his career, having been featured in Monogram Pictures' series of Tailspin Tommy adventures.
In 1939, Stone played Stephen Douglas in the movie "Young Mr. Lincoln" with Ward Bond and Henry Fonda.
Gunsmoke
In 1955, Milburn became an "instant" star on the television series "Gunsmoke."
Stone stayed with the television series through its entire run, with the exception of 7 episodes in 1971.

Even in the present day, Gunsmoke still holds the title as the longest-running dramatic series in network television history, logging a whopping 635 episodes over the span of two decades. The show was canceled in 1975. Gunsmoke was ranked by TV Guide on number 27 on their list of the 60 Best Series in 2013.
In 1958, he starred in the series, "Climax."
In 1961, Milburn sold his residual rights of Gunsmoke (1955) to CBS for $100,000. If we calculate the inflation, $100,000 in 1955 is equivalent in purchasing power to $939,223.88 in 2019. This is a difference of $839,223.88 over 64 years.
In 1968, he received an Emmy Award for Outstanding Performance by an Actor in a Supporting Role in a Drama for his work on "Gunsmoke."
In 1971. Milburn was nominated as the best supporting television actor for a Golden Globe Award in the Gunsmoke television series, however, he did not win.
At the end of Gunsmoke's run, Milburn retired to his ranch.
At his retirement, Stone received the title of "Doc," thanks to an honorary Doctorate from St. Mary of the Plains College in Dodge City, Kansas.
Death & Cause Of Death
He passed away on June 12, 1980, in La Jolla, California, from a heart attack at the age of 75.
A heart attack is a serious medical emergency in which the supply of blood to the heart is suddenly blocked.
Factors of a heart attack could include:
Hereditary factors;
Tobacco use;
Diabetes;
Heart disease;
High blood pressure (hypertension);
Obesity;
Stress;
High LDL cholesterol.
In 1981, Stone posthumously entered into the Hall of Fame in the "National Museum of cowboys and westerns" in Oklahoma City, Oklahoma, United States.
READ MORE: Is Beth Toussaint married?
Place of Burial
El Camino Memorial – Sorrento Valley, San Diego, California, United States.
Spouses
His first wife was named Nellie Morrison, formerly of Delphos, Kansas.
Their marriage lasted for 12 years. Nellie Morrison died in 1937, at age 30.
No details about her death are definitely known, nevertheless, it is presumed her death was quite sudden, as she had suffered from heart trouble for some time.
The couple had a daughter, Shirley, who resides in California.
From 1939 to 1940, Stone was married to Jane Garrison, a native of Hutchinson, Kansas.
She died in 2002.
READ MORE: Bio of Richard T. Jones
Trivia
In 1971, at the University of Alabama Hospital, Milburn had coronary artery bypass surgery (a surgical procedure to restore normal blood flow to an obstructed coronary artery). During the operation, Stone had two clinical deaths.
Milburn was friends with former president and actor Ronald Reagan.
His brother, Joe, was a writer and the author of scripts for 3 episodes of Gunsmoke.
Quotes of Dr. Galen 'Doc' Adams from Gunsmoke
"It's so bad you couldn't bear to put your hand in your pocket for the two dollars you'll owe me, could you?"
"No, you'd rather stand out here in pain all day, wouldn't you. You'd rather hang around hoping to catch me on the fly than come up and make a regular visit."
READ MORE: David Joyner Net Worth
"Oh, hush up! I'm trying to help you, for heaven sakes. It doesn't cost a whole lot to buy a little lot."
"There's wonderful land values outside of Dodge. Now, why don't you go out there someplace, look around, and buy yourself a lot?"
"Oh, well, it's nitrous oxide. It's a… it's an anesthetic is what it is. It's also an intoxicant, and pretty dangerous if you get too much of it."
"Dr. Galen 'Doc' Adams: I'll tell you why the Hagens live so long. Festus Haggen: Why? Dr. Galen 'Doc' Adams: 'Cause they're too dumb to know they're dead!"
Milburn Stone – Net Worth
Stone made his fortune by acting in 168 movies, but Gunsmoke earned him most of his wealth. Before he died, Milburn Stone had an estimated net worth of $600,000. In the present day, $600,000 is the equivalent of $1.8 million.
READ THIS NEXT: Who is Tommy Wiseau?
Reference

https://www.kshs.org/kansapedia/milburn-stone/18145