What is Candace Owens' net worth? Who is Candace Owens' husband?
Introduction
Candace Owens is an American conservative political activist, talk show host, author, former communications director at Turning Point USA, and the founder of the national #Blexit movement.
Biography
She was born on April 29, 1989, in Stamford, Connecticut, USA, as Candace Amber Owens.
Her father was a property manager.
Owens was raised by her grandparents after her parents divorced.
She graduated from Stamford High School.
Candace went to the University of Rhode Island to study journalism, however, she dropped out after her junior year. She also took executive training courses at the NYU Stern School of Business.
In 2012, she started to work as an administrative assistant for a private equity firm in Manhattan.
In 2015, Candace was CEO of a marketing agency called "Degree180."
In 2016, Owens launched a $75k Kickstarter campaign for a website called "Social Autopsy" to create "the first-ever search database that compiles and allows the public to easily access the digital footprint of individuals and companies."
In June 2016, Owens gave a TEDx talk about the perils of this era of technology.
Candace became a conservative in 2017. Trump said on "Fox and Friends" that Owens was "the hottest thing out there right now."
"She represents an ever-expanding group of very smart 'thinkers,'" Trump tweeted in May 2018. He added: "It is wonderful to watch and hear the dialogue going on…so good for our Country!"
She has since described Donald Trump as the "savior" of Western civilization.
In July 2017, Candace started to upload videos to her YouTube channel. Her first video, "Mom, Dad … I'm a Conservative," has almost 1 million views.
In November 2017, she was employed as Director of Urban Engagement by Turning Point USA, a nonprofit organization founded in 2012 by William Montgomery and Charlie Kirk.
In April 2018, rapper Kanye West said on social media: "I love the way Candace Owens thinks."
In late 2018, Candance launched the Blexit movement.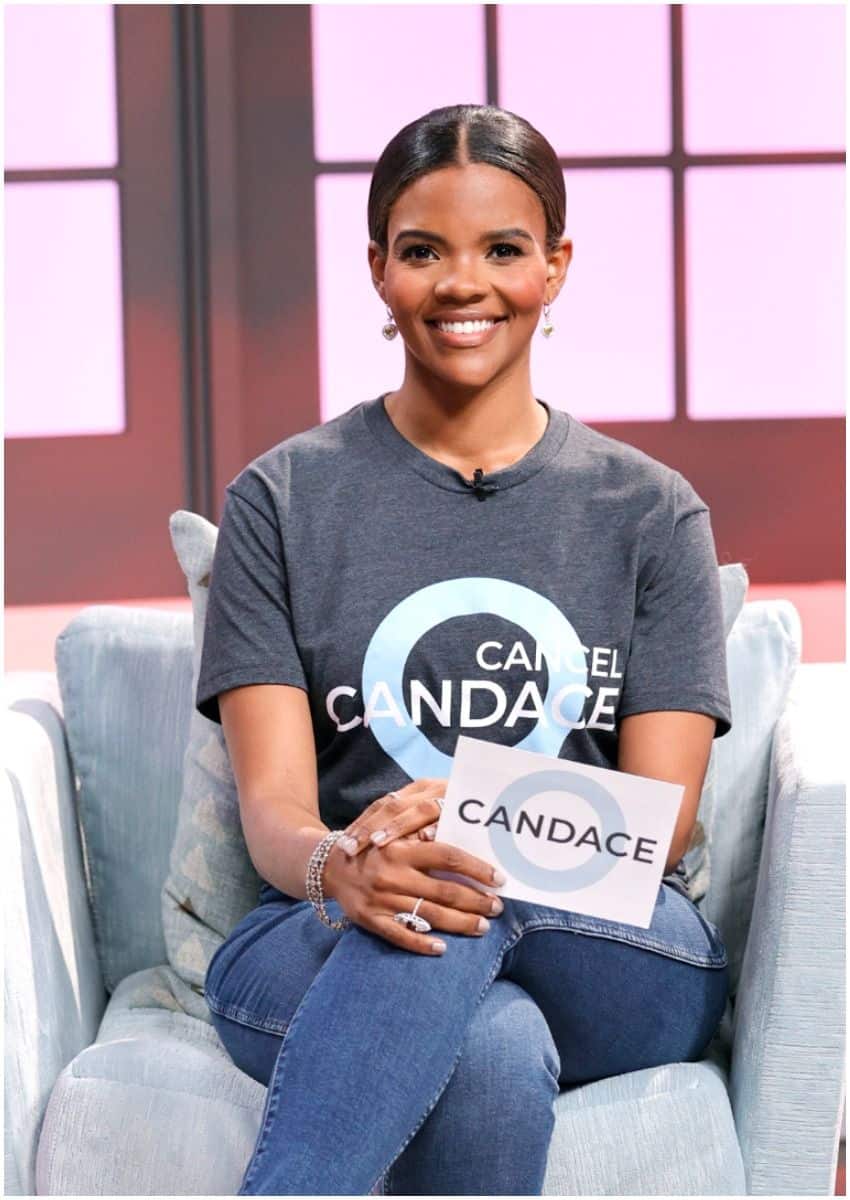 In May 2019, Owens stepped down as Turning Point USA Communications Director.
In June 2020, Candace revealed that her campaign to support Dykes' cafe was suspended by GoFundMe.
In September 2020, Owens released the book – "Blackout."
In February 2021, Candace Owens said she's thinking about running for president. "I love America," she tweeted. "Thinking about running for President."
In March 2021, Owens started to host Candace, a political podcast. "It's going to be lighthearted," Owens said at the time. "I think the most important adjective is it's going to be hopeful."
Husband
On August 31, 2019, Candace Owens married George Farmer at the Trump Winery in Charlottesville, Virginia.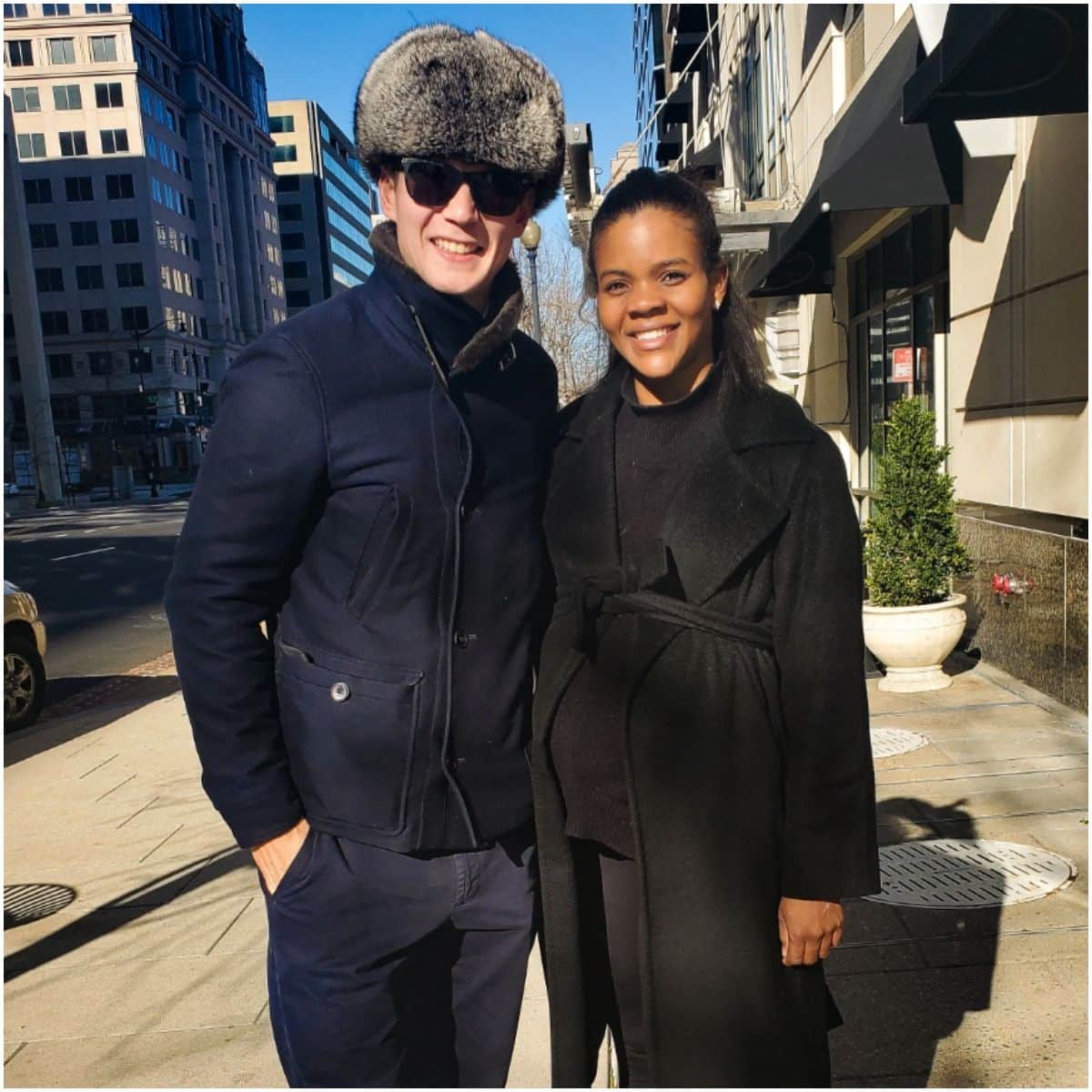 "I had never envisioned having a big wedding," Owens wrote on Instagram. "I was never one of those girls who grew up dreaming of my wedding day at all."
Note – George Farmer is the former chairman of Turning Point UK. His father is Michael Farmer, a member of the House of Lords.
George became the CEO of Parler in 2021. He had assumed the role from interim CEO Mark Meckler.
Candace and George met in December 2018 at a soft launch reception party for Turning Point UK. They got engaged after two-and-a-half weeks of dating.
READ MORE: Richard McVey & Lara Spencer
Children
In September 2020, Candace announced on Twitter that she was pregnant.
In January 2021, she gave birth to a boy.
"It's true what they say-the whole world stops when your child is born," Owens wrote on Instagram.
Height
5′ 6½" (1.69 m)
Quotes
"Don't worry, I'm not going to throw you to the wolves."
"There is no society that can survive without strong men."
"I think people that follow me know that I have a great sense of humor."
Trivia
She was influenced by the works of social theorists Thomas Sowell, Ben Carson, Milo Yiannopoulos, and Ann Coulter.
READ MORE: Kevin Kwan Net Worth
Candace Owens – Net Worth
Owens earned most of her wealth from selling copies of her book — Blackout. The book is a best seller with over 18,000 reviews on Amazon.
She hosts the "Candace Owens Show" and founded the BLEXIT foundation, an organization dedicated to driving conservative principles into urban communities.
Candace worked as a Vice President for about four years at a private equity firm in Manhattan. From 2017 to 2019, Owens was part of Turning Point USA. Owens also tours the country, delivering speeches to capacity crowds.
She has appeared on Tucker Carlson Tonight, Greg Kelly Reports, The Officer Tatum, The Adam Carolla Show, The Michael Knowles Show, The Ingraham Angle, Fox and Friends, Tatum Report, The Ben Shapiro Show: Sunday Special, The Glenn Beck Podcast, The Next Revolution with Steve Hilton, and America with Eric Bolling.
Therefore, American author Candace Owens has an estimated net worth of $1.5 million.
READ THIS NEXT: Who is Joel Greenblatt?