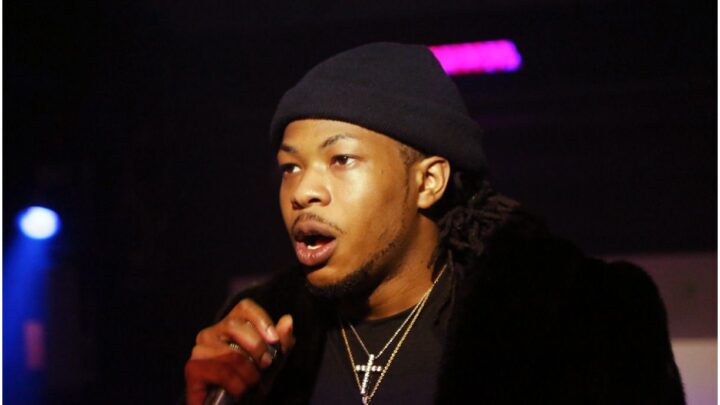 Cash Out (stylized Ca$h Out), real name – John-Michael Hakim Gibson, is an American rapper who released his debut album "Let's Get It" in 2014.
Biography
He was born on August 15, 1990, in Columbus, Georgia, USA.
His father is a radio personality.
Gibson was acquitted from a gun charge in Clayton County, Georgia in 2009. "It came out not guilty. It shocked me," he said for Vice. "I felt like there was a God that day."
On March 6, 2010, he started his YouTube channel. The channel has over 205k subscribers and over 86 million views.
On April 25, 2012, he released his debut single "Cashin' Out." The song appeared on #45 on the list with the best songs of 2012 by Complex. It reached #1 on the Rap Songs chart, #2 on the Hot R&B/Hip-Hop Songs chart, and #36 on the Billboard Hot 100.
"Cashin' Out" has inspired many remixes and freestyles by other rappers, including Yo Gotti, Fabolous, Chief Keef, Akon, Young Jeezy, Roscoe Dash, Bow Wow, Da Brat, Krayzie Bone, and Ludacris.
He signed a deal with E1 Music in 2014.
On February 25, 2014, Gibson released the song "She Twerkin." It peaked at #98 on the Billboard Hot 100. "She Twerkin" was released as the lead single for his debut studio album "Let's Get It" which was released in August 2014 via eOne Music and Bases Loaded Records.
"Let's Get It" features guest appearances from Waka Flocka Flame, Rich Homie Quan, Shanell, French Montana, Ty Dolla $ign, and Wiz Khalifa.
The second single from "Let's Get It" is titled "Mexico," and it was released on April 22, 2014.
On March 24, 2017, he released the mixtape "Different."
In 2019, Gibson appeared in "Uncut Gems," a crime thriller film that grossed $50 million domestically. The film follows a once-successful New York gems dealer. It stars Eric Bogosian, Adam Sandler, Idina Menzel, Kevin Garnett, Julia Fox, and Lakeith Stanfield.
Wife/Girlfriend
There is no information regarding Cash Out's romantic life.
Quotes
"Make that money flip."
"Atlanta is the music world. You know it's poppin' down here."
"I just wanted to show the lyrical talents."
READ MORE: Trinidad James Net Worth
Cash Out – Net Worth
Gibson earned most of his wealth from selling copies of his album (Let's Get It) and his mixtapes (Different, Kitchens & Choppas, Kitchens & Choppas 2, Ya Feel Me?, Keisha, and It's My Time).
In addition, the rapper makes money from advertisements on his YouTube channel (about $200,000 in revenue). Therefore, Cash Out has an estimated net worth of $3 million.
Featured image source – © Guliver / Getty Images.
READ THIS NEXT: Who is Famous Dex?