What is Domo Wilson's net worth?
Introduction
Domo Wilson catapulted to social media stardom on the now-defunct video streaming platform, Vine.
Don't remember Vine?
It's ok—she's also major on YouTube, Instagram, and TikTok, too.
Domo is a high-energy, hilarious entertainer with a unique take on the world around her, and everyone in it.
Most well-known for her reaction videos—like the one where she forgets to take her phone with her to the bathroom—Domo Wilson eventually branched out into some of her life's more serious subject matter.
Did we mention that Wilson is also a performer?
She's hit the circuit at music shows, clubs, comedy clubs, and even schools—where you can catch her delivering motivational speeches to middle- and high schoolers.
Open with her fans and followers about everything from her career, to her home, to her struggles as a solo mom, partner, and entertainer, her fan base is even privy to private stuff about her son—as we'll see in a minute.
Whether you think she's over-sharing her life, or giving her fans what they really, really want, we've got all the details right here.
The Origin Story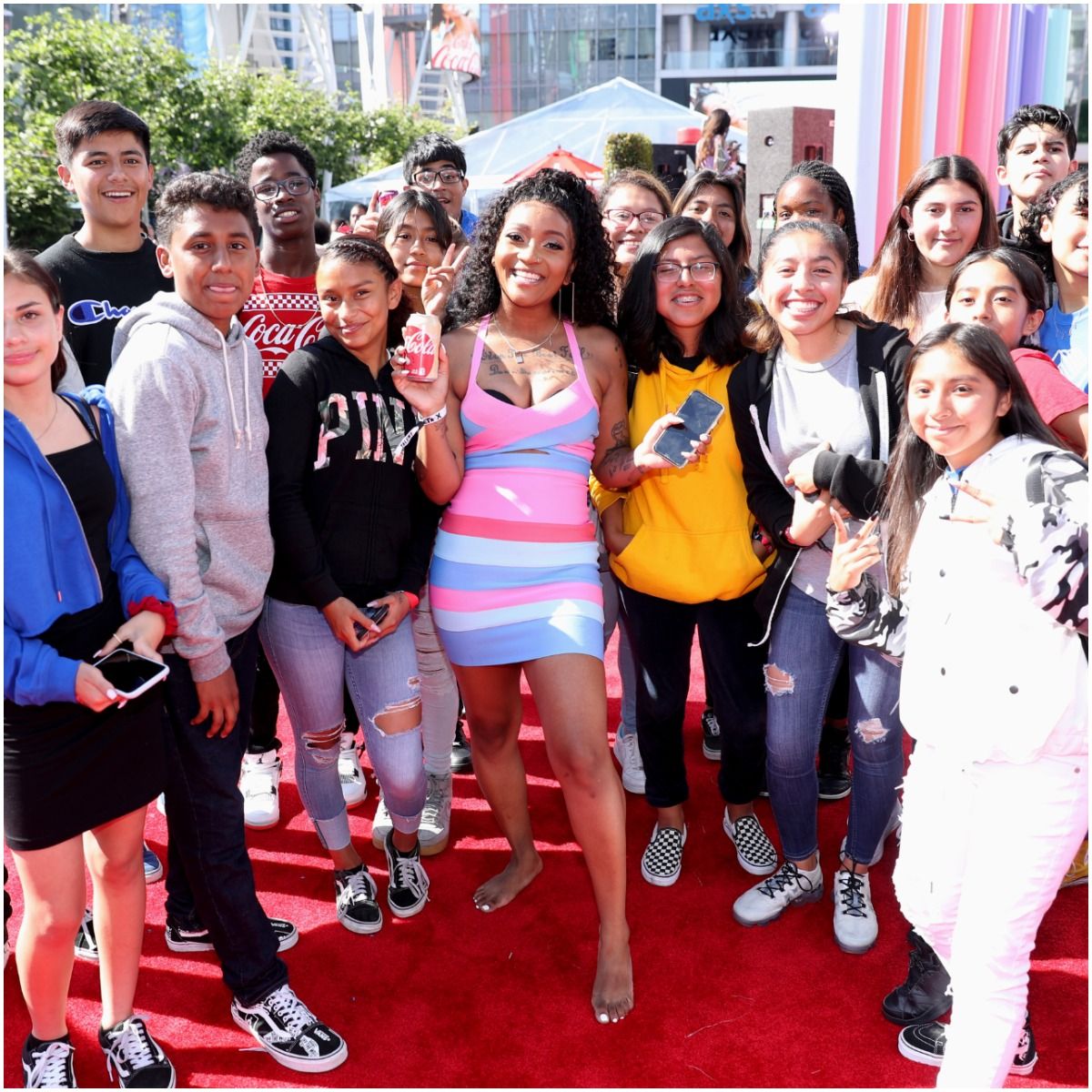 Dominique "Domo" Wilson was born on June 24, 1994, in Chicago, Illinois.
Wilson grew up in a big and chaotic family—she's got four brothers and one sister.
Her youngest brother was born in late 2016.
Speaking of babies in the Wilson household, Domo herself gave birth to a son in 2017—meaning Domo and her mom were pregnant at the same time.
Domo and her girlfriend Crissy Danielle got engaged the same month Domo's little brother Michael was born, and announced her pregnancy a few months later.
Domonic—a play on her own name and her YouTube nickname—was born in March 2017 to the pair, and Domo explained that he had been conceived via intrauterine insemination—not IVF, as fans had speculated.
Things didn't pan out for Crissy and Domo, despite their eagerness to post everything about their happy lives on YouTube.
Instead, they split in 2018 and posted videos to their social media channels separately, announcing the break-up.
Crissy started legal proceedings shortly after the break-up, to ensure that she would have the same legal rights to their son as Domo did, like his biological mother.
Onto the Career Ladder
Dominique launched her YouTube channel in early 2010, posting a series of hilarious amateur videos, songs, and some day-in-the-life vlogs.
Her posting schedule was sporadic, and she didn't garner a following until much later.
At the same time she was experimenting with YouTube, she was also playing around on Vine.
Vine, which allowed users to create 6-second videos—and appealed to the shrinking attention span of millennials—became her launching platform.
She posted her own tracks, like the Vine viral sensations For You, Come Through, and Real.
She gained a solid fan following, releasing more and more content, playing pranks, and letting her followers into her life.
As Vine started to wind down—it would be out of action completely by 2017—she moved to YouTube and Snapchat like the rest of the influencer community.
READ MORE: Who is StoneMountain64's wife?
A Strange Kind of Appeal
Domo draws in fans because she's relatable.
In her own words, her vlog is an honest account of what has been a very confusing journey through life so far.
She's a solo mom navigating the world of relationships—she often talks about conflict with her loved ones—and trying to find a place in a world obsessed with celebrities.
She also talks about how she struggles with her race, or her appearance, and her sexuality.
Domo identifies as bisexual and came out to her mom when she was 16 years old.
Some hail her for being brave enough to do it, but Domo laughs about how she actually left a note for her mother telling her, and then she left for school before her mom read it.
She came under fire with her claim in a YouTube video that she would "always rep the LGBTQ" because, as many fans pointed out, she hadn't been repping the LGBTQ community at all. Domo admitted that she had "never been able to admit" to being bisexual.
READ MORE: GassyMexican Net Worth
A Generous Heart
In 2021, Wilson captured the attention of a waning audience when she offered to give money away on Twitter.
The young YouTube entertainer claimed to be paying it forward, offering to Venmo or CashApp people who needed money on February 15.
Understandably, fans immediately flocked to her channel, sending screenshots of their cash apps so she could send them money.
Wilson stated on Twitter at the time, "I'm blessed and it's my God given duty."
Domo Wilson – Net Worth
Wilson earned most of her wealth from publishing on YouTube and Vine, merch, sponsors (especially on her Instagram), selling tickets to her shows, and selling her songs.
On YouTube, Domo has over 95 million views–about $280K in revenue.
Therefore, social media star Domo Wilson has an estimated net worth of $1 million.
Want to see Domo Wilson in action? Check out her YouTube channel here.
READ THIS NEXT: Who is Monique Idlett?