What is GassyMexican's net worth? Who is GassyMexican's wife?
Introduction
GassyMexican is known for a few things.
He is a Machinima director.
He is a Let's Play YouTube commentator.
He is one-half of the former influencer couple known as GassyMexican and CurvyLlama.
He is a former The Creatures commentator.
He is a big fan of impersonating celebrities like Morgan Freeman and Mickey Mouse.
He is all these things and then some, so let's have a look at everything we know about the GassyMexican who has a following in the millions.
The Origin Story
For starters, the GassyMexican's real name is Max Lorenzo Gonzalez, and he was born on December 25, 1990.
That's right, he was born on Christmas Day!
He's got a brother named Jaime, who is married to Kaye.
Max was born in Chicago, Illinois, and raised on the outskirts of the bustling metropolis.
He attended Grant Community High School in Fox Lake, a village most well-known for being a water sporting hot spot.
Dubbed the Heart of the Chain O' Lakes for its close proximity to Grass Lake, Marie Lake, and Nipperskink—plus its location along the Fox River to link the other seven minor lakes—Max was well-positioned to become an outdoorsman.
But he didn't—he knew he loved gaming from a very young age.
He's also a fan of hockey—especially the Chicago BlackHawks—basketball and football.
He loved it so much, in fact, that he bailed on his hometown early and headed for Denver, Colorado, to join up with some other gaming buddies he'd met online.
Those guys would eventually invite him to join their gaming collaboration crew—the Creatures.
Love Is In The Cyber-Air
Once Gonzalez had graduated from Grant Community high school, he made his move.
Not long after joining the Creatures at their Colorado content creators' mansion, he met Renee Reynosa—a California girl who also did live streaming.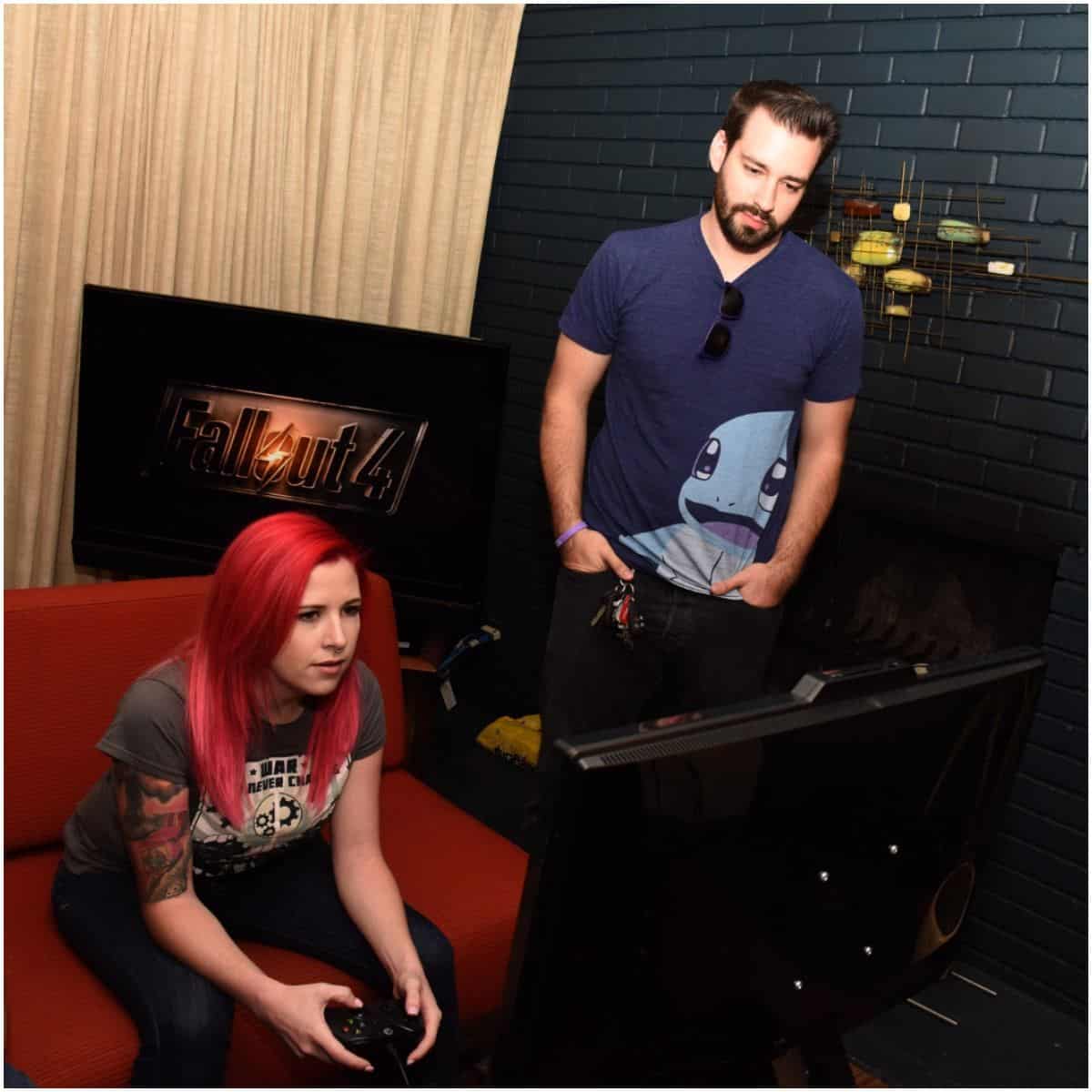 Despite the long distance between them—he was in Colorado, and she was in Orange County, California—the pair made a relationship work.
They were together from 2011 until early on in 2015, when the pair announced that they wouldn't be streaming together anymore.
The engaging YouTube personality moved on quickly, and by October the following year, he was dating another gamer—Amanda Defrance.
The Twitch streamer definitely has a type.
Amanda—who goes by the moniker CurvyLlama and posts photos of her posing in activewear, underwear, and bikinis on Instagram—appeared consistently on Gonzalez's social media channels up until mid-2020.
Then, on June 26, 2020, the GassyMexican took to Twitter to make an announcement: the couple had split up.
In a long screenshot, he announced that he and Amanda had broken up.
Whether it was the stress of such a strange year and being locked down together or a relationship running its course, Gonzalez assured his millions of fans that there was no bad blood.
Wife
In July 2022, GassyMexican married Beth Freeman.
"I married the woman that is responsible for making me the happiest I've ever been," Max wrote on Instagram.
"I didn't know I could be with someone who makes me as happy as @gassy_mexican does," Beth wrote on her Instagram.
READ MORE: Who is Jamie Siminoff's wife?
A Chink in the Career Ladder
GassyMexican and his crew, the Creatures, were going from strength to strength at the start of 2011 and right through 2012.
The uber-celebrity collab crew were well-known across social media, specifically in the gaming sphere.
The Creatures was formed in 2009 by Sp00nerism and Kootra—aka Jordan Mathewson.
Then, on November 17, 2012, Gassy Gonzalez was kicked from the group.
It followed a group vote—which Gonzalez had been unaware of—in which three members voted yes to ousting him, three voted no, and UberHaxorNova stayed neutral.
Eventually, he had to vote and voted yes to Gonzalez's removal.
Aside from the three members of the Creatures who voted him out initially—DanzNewz, Kootra, and Sly—the rest of the crew continued to create content with him.
In a YouTube video he posted the following day, GassyMexican said that the kick came after a long period of tensions between him and Daniel Gidlow—aka DanzNewzMachinima.
This then extended into issues with founder Kootra, with the two gamers saying they weren't comfortable collaborating with him.
Gonzalez and the Creatures crew didn't go into why those two claimed to be uncomfortable.
In the decade following Gassy's boot from the group, fans can't help but notice how much more successful he's been in the gaming sphere than either Kootra—who has 19,000 Twitch followers to Gassy's 750,000+ —or DanzNewz—who has 350k YouTube followers to Gonzalez's 1.35 million.
The Creatures disbanded in 2017, although almost all the members from GassyMexican's era had already left.
READ MORE: The Holderness Family Net Worth
GassyMexican – Net Worth
Gonzalez earned most of his wealth from streaming on Twitch, ads on YouTube, and sponsors.
On Twitch, Gonzalez has around $3,000 subs (about $7.5k in revenue per month), while on YouTube, he has 484 million views (about 1 million in revenue before taxes).
GassyMexican has always been into gaming, but he enjoys movies, filmmaking, and editing, too.
While he's in front of the camera on YouTube—and has been on camera in a handful of mainstream TV ads.
He's so into movies, in fact, that he became known for his canny impressions of celebrities.
He's done everything from a super-comical impression of Morgan Freeman saying "I can smell you" to the Joker, Mickey Mouse, Cleveland Brown from Family Guy, Peter Griffin, and Stewie.
Therefore, American YouTuber GassyMexican has an estimated net worth of $1.5 million.
Want to know what we mean? Check out some of the GassyMexican's voice impressions here.
READ THIS NEXT: Who is StoneMountain64?