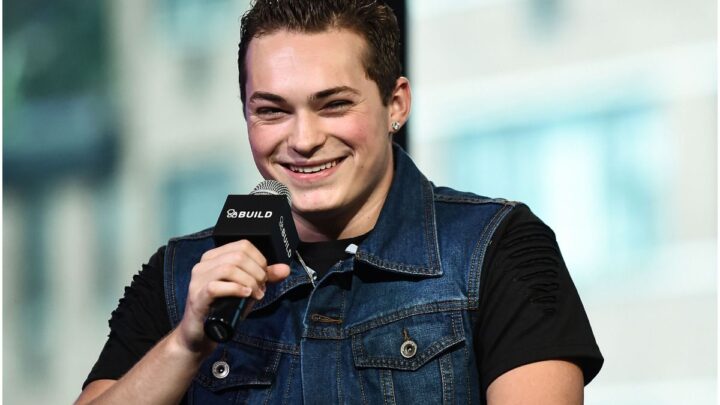 Lance Stewart is an American YouTuber, prankster, and comedian, who has over 6.34 million subscribers on his main YouTube channel.
Biography
He was born on June 20, 1996, in Philadelphia, Pennsylvania, as Lance Joseph Stewart.
His parents are Bruce and Nina Stewart.
Lance is of Italian-Irish descent.
His sister is pop singer Sabrina Stewart who released her debut single, "Hold On," in November 2017.
Lance was raised in Franklinville, New Jersey.
He attended Delsea High School.
Vine
Stewart initially gained fame online by posting short videos on Vine. Lance has more than 5.7 million followers on Vine.
YouTube
On February 6, 2014, Stewart started his self-entitled YouTube channel. On the same day, he created the channel "Lance210." It has the following description – "I love to make people laugh."
In many of his videos, Lance has featured his grandmother, Badass Grandmom.
In November 2015, Stewart handed out $150 worth of burgers from McDonald's to homeless people on the streets of California.
In 2015, Lance was nominated for a Shorty Award in the Vineographer and Comedian category.
In 2016, Stewart cut his finger with a sword while trying the Fruit Ninja trick. "I've got a pretty hefty hole in my hand," Lance said at the time. He added: "No more fruit ninja in real life." Lance received 9 stitches and had to undergo surgery.
In March 2018, Lance's house was vandalized after a rock smashed through his window. "My house was just vandalized," Stewart said. "This is so f####ng annoying and disrespectful that someone would do this s##t."
In May 2019, Stewart released his debut single titled – "LOST." Some of the lyrics are:
"Too many visions 'round this place of you and me
See your silhouette inside my king size
Heavy lies the crown without the queen
I'm lost, I'm lost, I'm found."
Girlfriend
In 2013, Lance Stewart started to date Lizzy Wurst, a social media personality who has over 1.39 million subscribers on her YouTube channel and more than 1.6 million on Instagram.
The two broke up in 2018.
"Me and Lizzy have decided that our relationship really isn't working the best," he shared in a December 2018 video called "we broke up." He added: "It's a mutual agreement … it was not a specific reason … it's more so a buildup of things over time, going back a little bit. For the past like six months, we've been bickering over tiny things that, you know, every couple vicars and they argue about things … it's too much … it is unhealthy … it's definitely not good for us."
"I believe that us separating is going to help us find out who we are as an individual," Lizzy added.
In early 2020, Lance started to date Julia Summer. She has a YouTube channel (Juliaxsummer) with over 166k subscribers. Her Instagram account has more than 670k followers.
"This is my girlfriend Julia," Stewart announced to his followers on January 20, 2020. He added: "We just meet through mutual friends. It wasn't anything too crazy."
READ MORE: Who is Disguised Toast's girlfriend?
"Lance and I love to incorporate meditating as a part of our daily routine. It helps us stay grounded, relax, and clear our minds," Julia wrote on Instagram in October 2020.
In May of 2020, Stewart got engaged to Julia.
"I love you with all my heart. I'm thinking about this day ever since I met you. I'm so stuck for words right now … will you marry me," he said to Julia.
Height
5'7″ (170 cm)
READ MORE: LazarBeam Net Worth
Lance Stewart – Net Worth
Stewart earned most of his wealth from sponsors, selling merch, and ads on YouTube.
On YouTube, Lance has over 1.7 billion views, meaning about $4.5 million in revenue before taxes. The most popular video on Stewart's channel is "HE CAUGHT US."
He also sells merch on lance210.com. Therefore, YouTuber Lance Stewart has an estimated net worth of $5 million.
Featured image source – © Guliver / Getty Images.
READ THIS NEXT: Who is Ssundee?