Vic Edelbrock Jr. was the president of Edelbrock, an American corporation engaged in the manufacture, development, and design of specialty motorcycle and automotive parts.
He took over his father's performance parts company at age 26.
Biography
Vic Jr. was born on August 23, 1936, in the USA.
He was the only child of Vic Edelbrock, an American automotive aftermarket performance parts engineer who established Edelbrock Corporation in 1938.
At age 12, Vic Jr. began spending summers working around his dad's auto parts shop for $2 a day. He said:
"I was making $2 a day and I thought I was really living."
He graduated from Dorsey High School.
In 1958, Vic Jr. graduated from the University of Southern California with a degree in business.
After the passing of his father in late 1962 (due to cancer), Vic Jr. took the reins of Edelbrock at 26 years old.
After he had become the president of Edelbrock, his mother told him that if she saw the company going downhill she would sell.
At the time of his father's passing, the company (Edelbrock) had 10 employees with annual sales of about $450,000.
On March 26, 1963, Dean Moon, Al Segal, Phil Weiand Jr., John Bartlett, Robert Wyman, Bob Hedman, Willie Garner, Ed Iskenderian, Roy Richter, and Vic Jr. formed the Speed Equipment Manufacturers Association (SEMA).
SEMA now consists of more than 6,000 companies worldwide, bringing together restoration specialists, specialty equipment distributors, car dealers, original equipment manufacturers, and aftermarket manufacturers.
From 1971 to 1974, he served as SEMA's President.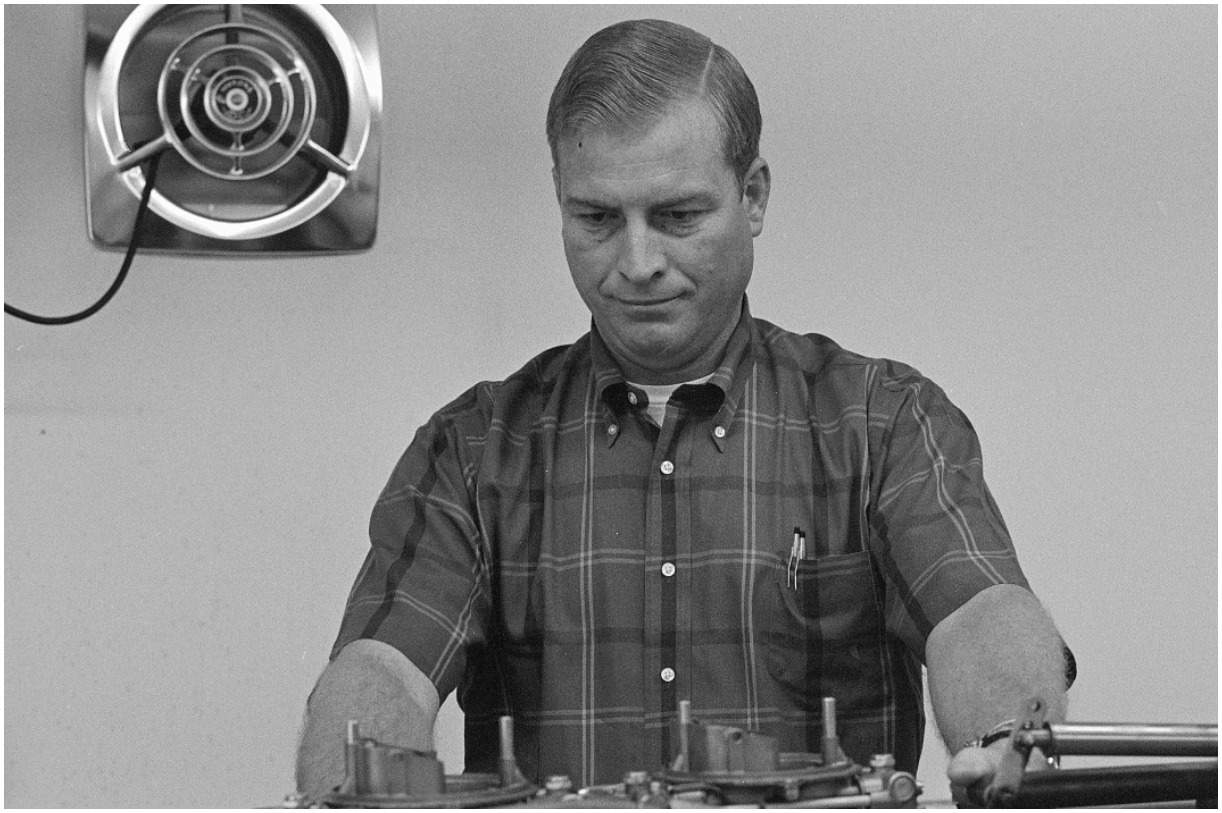 Around 1980, Vic Jr. moved his company into a new direction with a product line that included engine accessories, exhaust systems, valve train parts, camshaft kids, and carburetors. He said:
"We want to control our own destiny."
In 1982 and 1987, Vic Jr. was named "Person of the Year" by the PWA.
In 1989, he was inducted into the Speed Equipment Manufacturers Association Hall of Fame.
In 1994, Edelbrock Jr. was inducted into the International Drag Racing Hall of Fame.
He was at the helm of the company until 2010. After stepping down as president of Edelbrock Company, he remained as chairman of the board.
READ MORE: Frank Serpico Net Worth
Wife
On March 21, 1959, Vic Edelbrock Jr. married Nancy at Our Savior's Chapel at USC.
The two met during rehearsals for the Songfest charity show at the Hollywood Bowl.
Children
The couple has three children, named – Carey, Christi, and Camee.
READ MORE: Ronnie2K Net Worth
Death & Cause of Death
Edelbrock Jr. passed away in June of 2017, at his home in Rolling Hills, California, due to complications from a cold. He was 80 years old.
He is survived by Nancy, his wife, and his daughters.
Ray Tatko, Summit Racing President, said:
"Vic was an innovator in the industry and always tried to do things the right way."
Tatko went on to say:
"In many ways, our success over the past 50 years has been tied to Edelbrock's success."
Edelbrock Company released a statement:
"It's with deep sadness that we announce the untimely death of our visionary and leader Vic Edelbrock Jr. His passing was peaceful and in the company of his closest friends and family."
Paul Sergi, the founder of Summit Racing, declared:
"Vic was a great guy who worked hard to raise our industry standards."
Quotes
"When you are making generic parts you are just another fish in the pond."
"I've played football at USC, raced ocean boats and ski boats, but I've never felt anything like the adrenaline rush I get in a race car."
"It's the love affair of the automobile, remember that!"
"I've been through recessions and bumps in the road because I've been around for a while."
READ MORE: Ken Sugimori & Pokémon
Trivia
Edelbrock Jr. earned his pilot's license in 1968. He often flew his own plane from Edelbrock's Torrance headquarters to the company's foundry in San Jacinto.
He was a fan of numerous forms of racing from NASCAR to NHRA.
The Edelbrock logo is prevalent in NASCAR.
Vic Edelbrock Jr. – Net Worth
Vic Jr. earned most of his wealth from managing the Edelbrock Company for almost 6 decades. In 2000, the company had more than $100 million in annual sales. In 2004, the revenue exceeded $125 million. In addition, he was a past president of the SEMA.
Therefore, at the time of his death, Vic Edelbrock Jr. had an estimated net worth of $140 million.
READ THIS NEXT: Michael Connelly Age
References

https://www.hotrod.com/legacy-generosity-vic-edelbrock-jr
https://www.sema.org/sema-enews/famer-vic-edelbrock-jr-passes-away
https://www.dailynews.com/hot-rod-scion-vic-edelbrock-jr-dies-leaving
https://www.hotcars.com/most-famous-hot-rod-builders/