Bri Barlup (complete name – Brianna Lyn Barlup) is an Instagram celebrity who first gained fame after appearing on the reality series Little Women: Atlanta.
Biography
Lyn was born on April 20, 1992, in the USA.
She has achondroplasia, a type of rare genetic bone disorder.
A girl with achondroplasia will reach an average adult height of about 4 feet, 1 inch, while a boy with achondroplasia will reach an average adult height of about 4 feet, 4 inches.
The characteristics of achondroplasia include:
a flattened bridge of the nose;
a trunk of relatively normal length;
a prominent forehead;
disproportionately short legs and arms;
crowded teeth, due to a small upper jaw;
a flat mid-face;
a large head;
shortened feet and hands;
reduced joint mobility in the elbow;
bowed legs.
Her mother also has achondroplasia dwarfism.
Her father died in a car accident when Barlup was nine years old.
In her twenties, Bri worked as a dancer known as "Left Cheek."
Little Women: Atlanta
Barlup is one of the main cast members of Little Women: Atlanta, a reality TV series that chronicles the lives of a group of little women living in Atlanta.
The series debuted on January 27, 2016.
Little Women: Dallas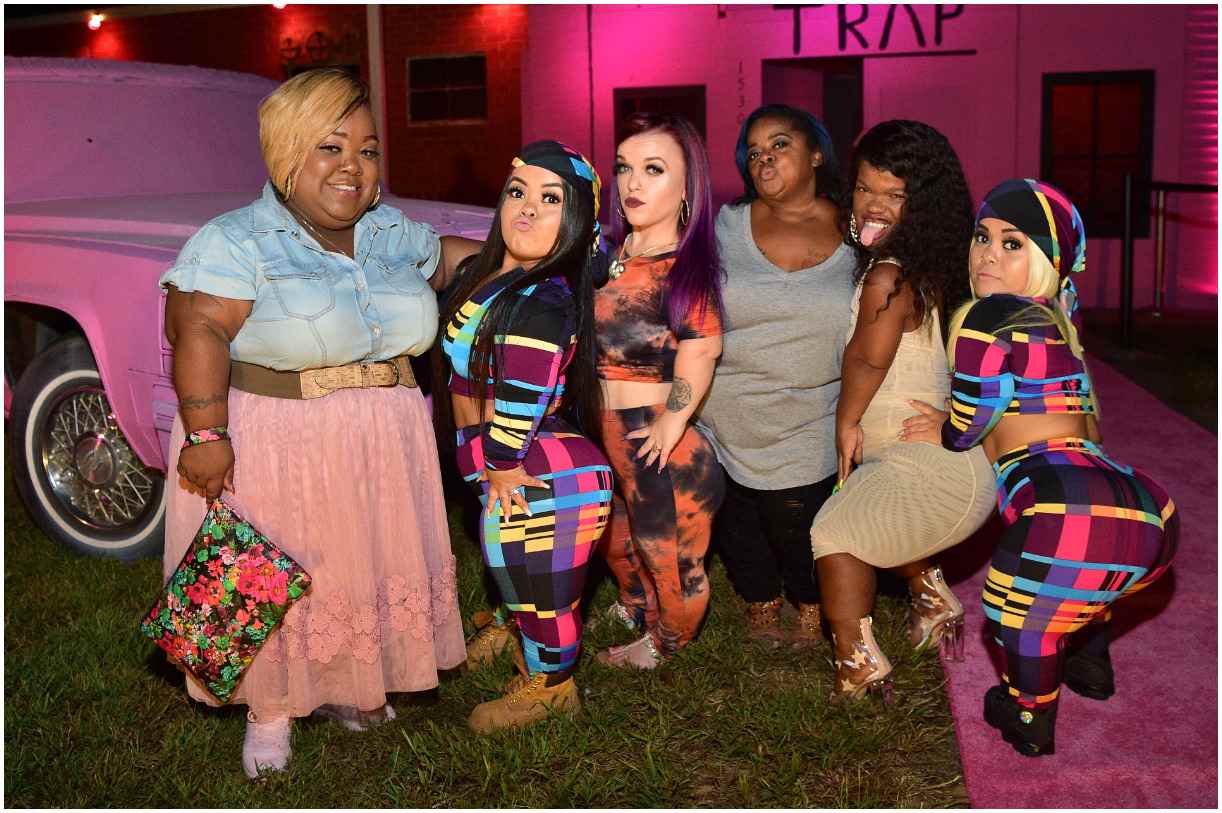 She was also a main cast member on Little Women: Dallas, a reality TV series that debuted on Lifetime on November 2, 2016.
In 2017, CableTV.com named Little Women: Dallas Texas' favorite reality TV show. In the meantime, the show was canceled.
YouTube
Barlup and her best friend Emily Fernandez have a Youtube channel named "OFFICIALLCRC." The channel was started on August 6, 2012. It has over 26 million views and more than 203,000 subscribers.
In 2017, they released four singles named – Run That Check, HD, Gettin Rich, and Poppin' Bottles.
The most popular video on their channel is titled – "Poppin Bottles." The upload has more than 16 million views.
On June 8, 2019, Barlup and Fernandez released a song called "Project X." The music video received over 2.3 million views. On the song, Bri and Emily collaborated with Tiny Twinz (Amanda Salinas Castillo and Andrea Salinas).
Instagram
Lyn has more than 546,000 followers on Instagram.
Breast Augmentation
Bri had a procedure called breast augmentation. This procedure is performed to enhance the shape and size of a woman's breasts.
This type of breast enhancement procedure can:
create a more balanced hip-to-breast ratio;
increase the projection, shape, and size of the breasts;
improve asymmetry or volume loss;
improve breast fullness.
Every year, around 300,000 American teenagers and women have breast augmentation.
Barlup has done the procedure in 2016 while appearing on a season 2 episode of the Lifetime series called, "Atlanta Plastic." It is a show where women get plastic surgery.
Boyfriend
Bri Barlup briefly dated Jamarcus in 2017.
Children
She has two sons named Malik and Karter.
Karter is average-sized, while Malik has achondroplasia dwarfism.
Karter Lee Bowen was born on February 9, 2018.
Bri said for ET Online:
"Wooda and I are overjoyed to add baby Karter to our family. He is a dream fulfilled."
Lyn went on to say:
"I'm most excited to watch Meek and Karter grow up together and be best friends! I'm the luckiest mommy."
The father of her children is Cordero "Wooda" Bowen (also known as Ratchetasswooda), an American rapper who has recorded numerous songs and mixtapes, including, "$ex, Drugs, & Pesos," "Thumb Thru It," and "I'm Gone."
In 2017, Cordero "Wooda" Bowen signed with a record label.
Bri and Wooda have a history of breaking up and making up. Cordero denies that they are a couple.
He said:
"Nah, we're not officially a couple, It's one of those things that's kinda hard to explain."
Wooda later added:
"I'd rather not have a title and be happy and live my life."
READ MORE: Casey Holmes Net Worth
Trivia
Lyn is "Left Cheek" while Emily Fernandez is "Right Cheek" on the reality series Little Women: Atlanta.
She and Emily were featured in American rapper Lil Chuckee's music video for his song titled – "Da Wop."
Her natural hair color is blonde.
Bri Barlup – Net Worth
Barlup earned most of her wealth from starring in the series Little Women, advertisements on her YouTube channel, and sponsors.
An Instagram account with over half a million followers can easily make around $10,000 per sponsored post.
Therefore, Little Women star Bri Barlup has an estimated net worth of $1 million.
READ THIS NEXT: Who is Alissa Violet?
References

https://www.dallasnews.com/ladies-little-women-dallas-has-been-canceled/
https://www.tmz.com/little-women-dallas-reunion-bri-barlup-reveals-baby