What is Forgiato Blow's net worth?
Introduction
Forgiato Blow is a rapper based in the United States in Florida.
His real name is Kurtz Jantz, and he first found fame with a hit rap song about Donald Trump winning the 2016 election.
Roger Stone, a 68-year-old veteran lobbyist, was featured in the music video, which showed Forgiato Blow dancing alongside him.
If you're dying to know all the details about Forgiato's personal life, relationships, career history, and net worth, look no further!
We're going to dive into all these details and more in this article, so read on to have all your burning questions answered!
The Origin Story
Born in the year 1988, Forgiato Blow was born and raised in Florida.
He grew up in a very wealthy family, benefitting from the Auto Trader publishing empire of Stuart Arnold.
He is also dubbed as the nephew of Donald Trump.
Other than this, there is very little information available about his family life.
As a boy, he attended school and eventually graduated from his local high school in Florida.
After that, he pursued his music passion, eventually solidifying his role as a talented young rapper.
His real name is Kurtz Jantz, but he decided to go with the name Forgiato Blow as his stage name.
This is the name his fans know him by and the name he makes music under.
Even though the rapper comes from a wealthy family, he has made it known that he's gone through some tough times in his life.
In fact, he recently went through a period of homelessness, though the details on why he was homeless are unclear.
Some of his hobbies, besides rapping, are riding jet skis and sailing on his yacht.
At the time of writing this article, there is no known information on Forgiato's relationship status.
We can assume he's currently single.
Career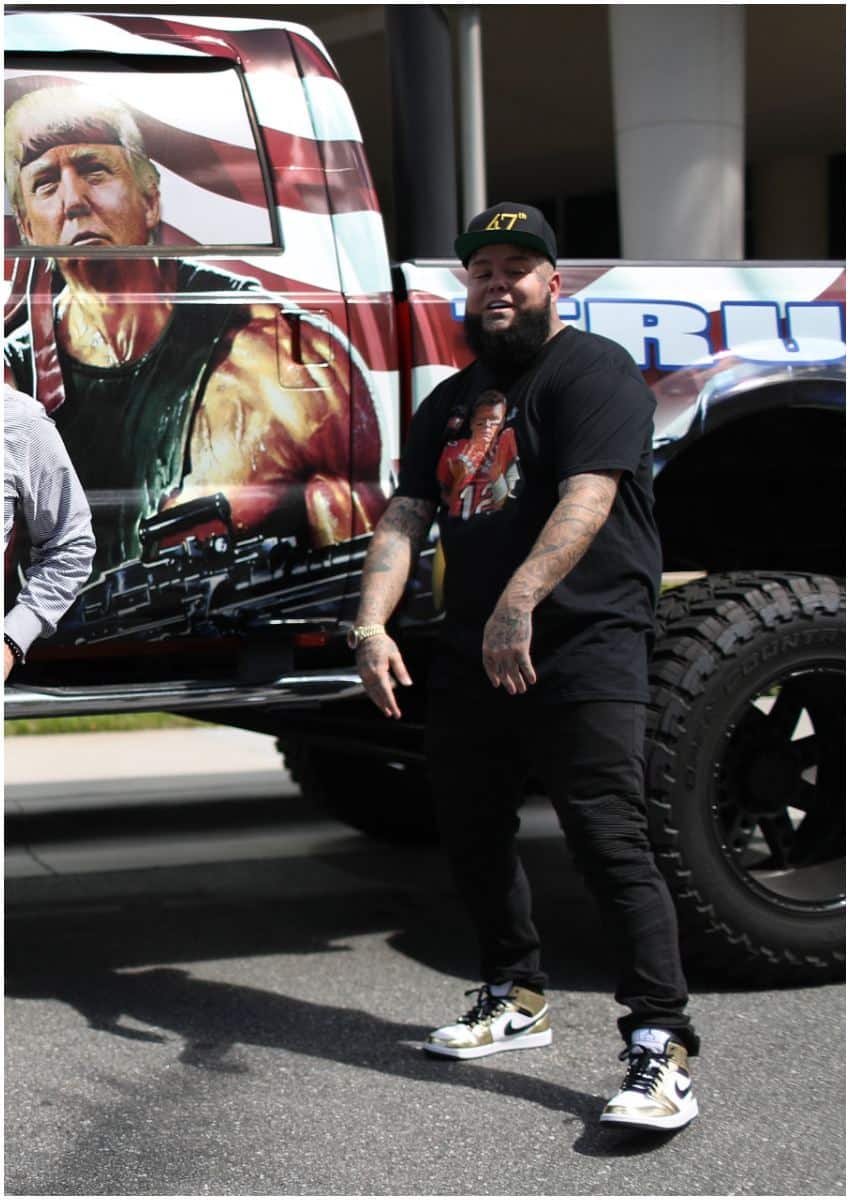 Forgiato Blow's career took off when he started making music about Donald Trump winning the American presidential election.
His music falls under the genre of hip hop and rap, though he primarily raps in his songs.
He has made his support of Trump and his policies very clear, releasing songs that directly praise Trump for his political agenda.
Forgiato's released albums include Red, White, & Blow, All Eyez On Maga, Blow Dirt, and a few others.
Some of his more notable and popular songs include 4 More Years, Vanilla Sprite, We Outside, Trump Truck, and Gun Totin' Patriot.
Many of his songs communicate his strong right-wing political views, and he's not afraid to let his fans know the things he believes in.
In his song Silver Spoon, it's especially apparent what his views and beliefs are.
Forgiato can also thank Rick Ross and Vanilla Ice for some of his fame and popularity, as he did a collaboration with both early in his career.
This collaboration helped to kickstart his fanbase and gave him some renown.
READ MORE: What is the net worth of Paul Di'Anno?
Forgiato Blow – Net Worth
So, we've read all about Forgiato's personal and career life, the things that led him to where he is now.
But what's he worth?
Some of his revenue streams include royalties from his music, ads on his YouTube channel, deals from his social media following, and merchandise sales.
Forgiato has an entire section of his website dedicated to the sale of his very own line of merchandise.
Most of his merch is clothing or flags displaying support of Donald Trump, toting his slogans and his face.
All the merch you'll find on his website is covered in red, white, and blue, American flags, and other patriotic symbols.
He also inherited a cool $5 million from his parents.
Therefore, rapper Forgiato Blow has an estimated net worth of $6 million.
READ MORE: Tokyo Vanity Net Worth
Final Thoughts
Forgiato Blow is an American hip-hop singer and rapper dubbed as the nephew of Donald Trump and the grandson of the founder of Auto Trader, Stuart Arnold.
While his real name is Kurtz Jantz, his fans know him by his stage name, Forgiato Blow.
Kurtz has written many of his songs to show his love and support for DJT.
Hopefully, we've answered all the questions you came here with about Forgiato.
Remember to check back here once in a while, as we'll make sure to update this article with current information as it's released.
READ THIS NEXT: Why does Dolly Parton wear long sleeves?