What is Griffin McElroy's net worth? Also, who is Griffin McElroy's wife?
Introduction
Griffin McElroy, self-described as "sweet baby brother," is an American podcaster. Griffin also worked for the gaming journalism website Polygon as a Senior Video Producer.
McElroy is best known for his work on podcasts, like – "The Adventure Zone and "My Brother, My Brother and Me."
Biography
He was born on April 17, 1987. His mother is named Leslie, whereas his father is named Clint McElroy, a former co-host of WTCR-FM's morning radio show in Huntington, West Virginia.
Griffin McElroy has a degree in journalism from Marshall University.
He said:
"My freshman year of college taught me exactly what that career entailed, and I fell even deeper in love with it."
In 2007, Griffin got a job as a weekend editor for the video gaming blog Joystiq. After declining readership, it was announced that the video gaming blog would be shut down on February 3, 2015.
During the 2008 US presidential election, Griffin acted as MTV's local journalist for the state of West Virginia.
My Brother, My Brother and Me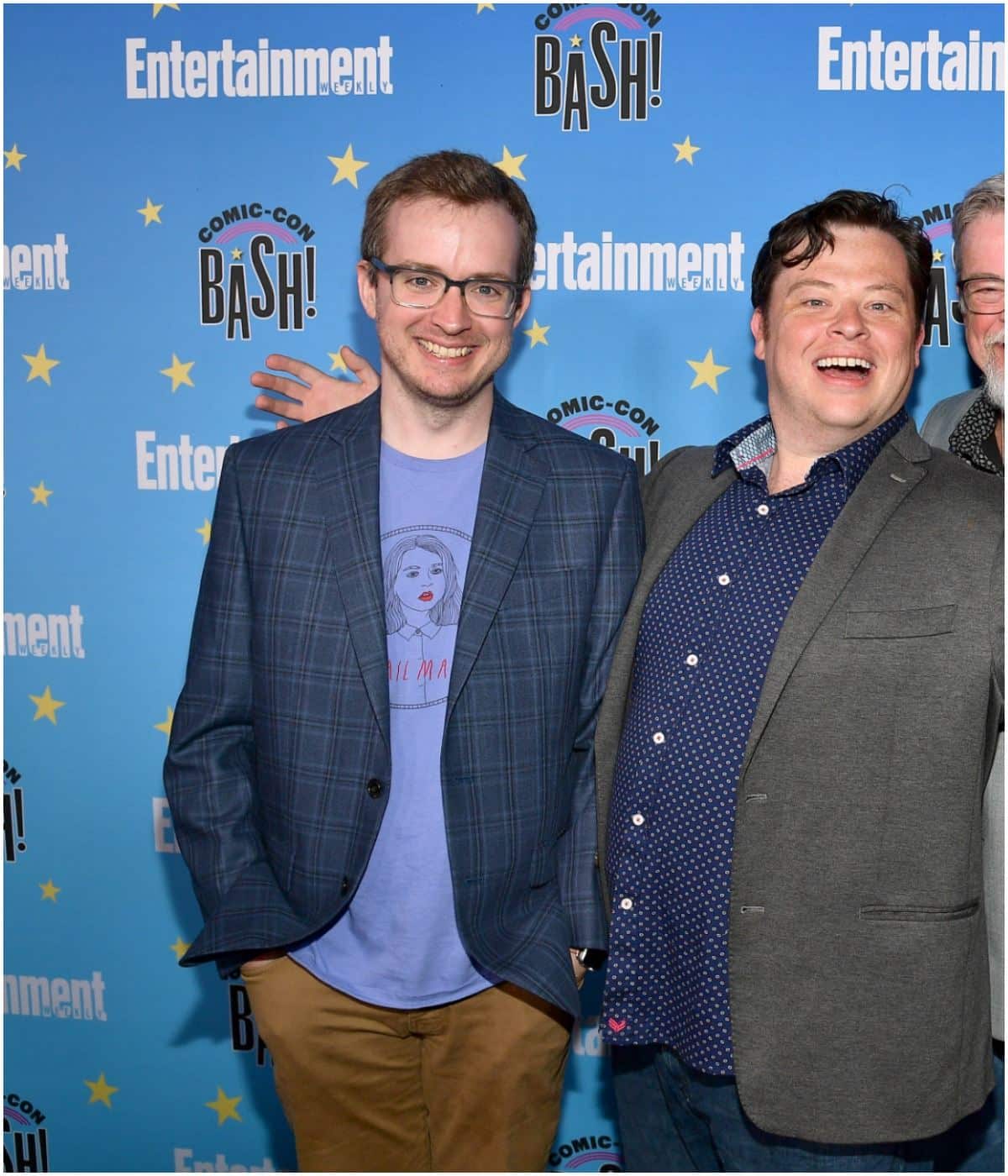 Since 2010, Griffin, along with his brothers Travis and Justin, has co-hosted the comedy podcast "My Brother, My Brother and Me," an "advice show for the modern era" hosted as part of the Maximum Fun network.
The brothers attempt to answer both questions submitted to Yahoo! Answers and listener queries, to hilarious effect.
They also offer advice on the challenges of life and specifically state that they are not experts on anything, however, they try their hardest anyway.
The show occasionally features guest experts who help the McElroy brothers answer questions. Notable past guests include:
Dan Savage, advice columnist, podcast host, and author;
Jimmy Buffett, musician;
Patrick Rothfuss, fantasy author;
Bill Corbett, television and theatre producer, writer, and performer;
John Roderick, musician and podcast host;
Cameron Esposito, stand-up comedian and podcast host;
Jonah Ray, comedian, actor, and podcast host;
Lin-Manuel Miranda, actor, playwright, award-winning composer, and rapper;
Bridget Lancaster, producer and host of America's Test Kitchen;
John Hodgman, author, actor, and podcast host;
Marilu Henner, actress, radio host, producer, and author;
Elizabeth Gilbert, author;
Elsie Fisher, actress.
Polygon
On October 24, 2012, he founded Polygon along with his brother Justin McElroy and Christopher Grant. The gaming blog Polygon is an American video game website that publishes news, reviews, culture, and videos.
As of June 2014, the website ranks 4th among games sites by Comscore web traffic data: behind IGN (a subsidiary of Ziff Davis, itself wholly owned by j2 Global), GameSpot (the site was launched on May 1, 1996, and created by Vince Broady, Pete Deemer, and Jon Epstein), and Kotaku.
Polygon emulates the magazine-style layout of The Verge and uses a pink color palette. The website aims to set its content apart from other games journalism outlets by focusing on the people playing and making the games rather than the games alone.
Polygon's flagship podcast, called The Polygon Show, was launched in 2017 and discusses gaming and culture. In 2018, the podcast was named one of the "10 gaming podcasts every gaming nerd should know" by The Daily Dot.
The Adventure Zone
In 2014, the McElroy brothers launched a tabletop role-playing game podcast entitled The Adventure Zone.
The podcast is a biweekly adventure and comedy show which is based loosely upon the Dungeons & Dragons game series, along with other role-playing games. At some point, the show moved into other game systems in later arcs.
During an interview, Griffin declared:
"We started in 20… 14, I think? So like, four years? I don't know that much about RPGs is the god's honest truth, and D&D we played for three years and I think anybody who ever listened to The Adventure Zone will tell you that I still don't really know how to play D&D."
His father, Clint, also stars on The Adventure Zone.
Til Death Do Us Blart
Since 2015, the brothers also co-host a yearly podcast with Guy Montgomery and Tim Batt, released every American Thanksgiving, called Til Death Do Us Blart, where they review the film Paul Blart: Mall Cop 2.
In 2016, the brothers starred in a 2016 TV show based on the podcast that initially aired on Seeso.
In 2017, Griffin provided voice commentary for the video game 100ft Robot Golf.
In 2018, in order to focus on his podcasting careers and family, Griffin left Polygon. In the same year, he appeared as a guest voice actor for the animated comedy series Big City Greens.
Wife & Wedding
In 2013, Griffin McElroy married Rachel McElroy.
Since September 6, 2017, Griffin and his wife co-host the podcast Wonderful! (a weekly podcast that features the hosts discussing a diverse assortment of things they love, with showcases of submitted topics which listeners are excited about).
The couple had previously hosted Rose Buddies, a weekly podcast that featured the hosts recapping and discussing the most recent episodes of the television series The Bachelor. The podcast initially premiered in January 2016.
READ MORE: Who is Jeannie Klisiewicz's husband?
Children
They have two sons, Henry (born in 2016) and August Clinton (born in 2021).
Height
McElroy is 5 ft 10 (177 cm) tall.
Quotes
"My mom produced a lot of shows, my dad directed and acted in a lot of shows, and me and Justin and Travis all did."
"I've sort of been on emotional thin ice for the last couple days or so since we found out."
READ MORE: Sean Evans Net Worth
Trivia
He is frequently called the "Sweet Baby Brother" or "Baby" of the McElroy brothers.
His favorite games are:
You Have To Burn The Rope;
Bioshock, GTA: San Andreas;
Arcanum: Of Steamworks and Magick Obscura;
the Quest for Glory series;
World of Warcraft (the fourth released game set in the Warcraft fantasy universe);
Burnout 3;
Pokemon Blue;
Legend of Zelda: Ocarina of Time.
He also hosts the documentary podcast The McElroy Brothers Will Be in Trolls 2. In September 2018, the McElroy brothers confirmed that they would be voicing characters in the film Trolls World Tour.
In 2017, Griffin was chosen as one of Forbes' 30 Under 30 for the Media category.
He is credited for producing some of Polygon's most successful video content, including the popular Let's Play series and Monster Factory.
READ MORE: Caroline Heldman Biography
Griffin McElroy – Net Worth
McElroy earned most of his wealth by working at Polygon and hosting his podcasts.
Griffin and his brothers also host live shows. He also has a YouTube channel.
Therefore, American podcaster Griffin McElroy has an estimated net worth of $1.5 million.
READ THIS NEXT: Is P. Allen Smith gay?
Reference

https://mic.com/funny-podcasts-to-distract-you-from