Tank Abbott is an American retired mixed martial arts fighter best known for his fights against the likes of Dan Severn, Pedro Rizzo, Don Frye, Vitor Belfort, and Frank Mir in UFC.
Biography
He was born on April 26, 1965, in Huntington Beach, California, USA, as David Lee Abbott.
He began practicing amateur wrestling when he was 9 years old.
Abbott graduated with a degree in History from California State University, Long Beach.
In July 1995, Tank made his debut at UFC 6 with a win against John Matua via KO. In the same tournament, Abbott won a fight against Paul Varelans and lost the third match against Russian retired mixed martial artist Oleg Taktarov via submission (rear-naked choke) at the 17 minutes mark.
"When I fought in the UFC, it was the most honest time of the UFC for the fact that there was no judges, no time limits and the tougher guy got the win and walked out of the ring, whereas now you've got judges and all sorts of things and it turned into more like a circus," Tank recalled in October 2020 in an interview with UFC.
At Ultimate Ultimate 95, Abbott won a fight against Steve Jennum via submission (neck crank). Later, he lost to mixed martial artist Dan Severn (UFC 5 champion) via decision (unanimous).
At UFC 11, Abbott won vs Sam Adkins in the first round by forearm choke against the cage wall. In the same tournament, Abbott lost against Scott Ferrozzo via decision (unanimous). After the match, Scott had to go to the hospital.
At Ultimate Ultimate 96, Abbott won his first match against Cal Worsham, a former U.S Marine. In his second match, Tank won again vs. Steve Nelmark via KO. He lost to Don Frye, who managed to capture his back and lock a rear-naked choke.
In 1997, Tank appeared in the TV series Friends as himself in "The One With The Ultimate Fighting Champion," defeating a guy who was dating Monica at the time.
On October 16, 1998, Tank lost against Pedro Rizzo at UFC Brazil.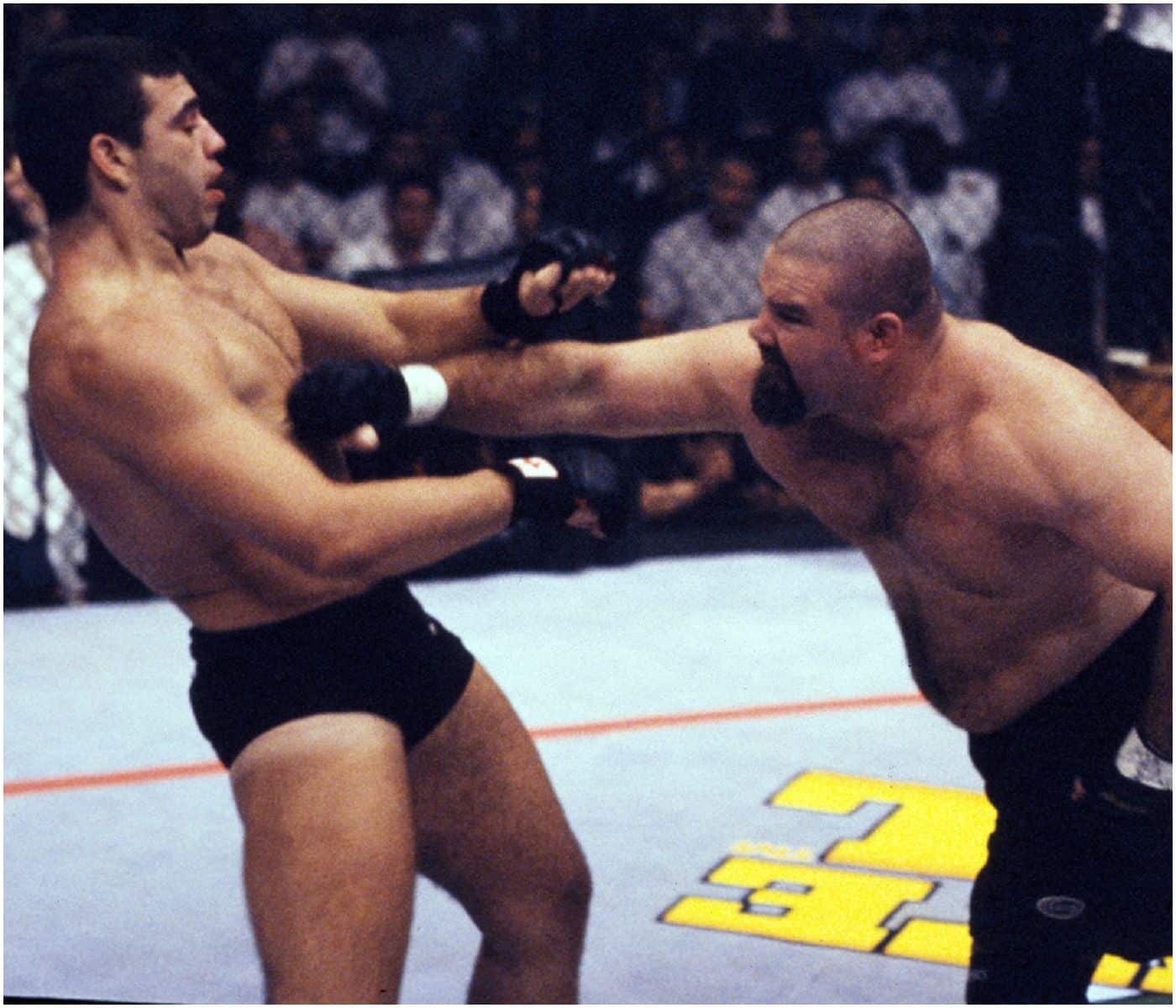 On February 28, 2003, Abbott lost the fight against Frank Mir at UFC 41 via submission (toe hold).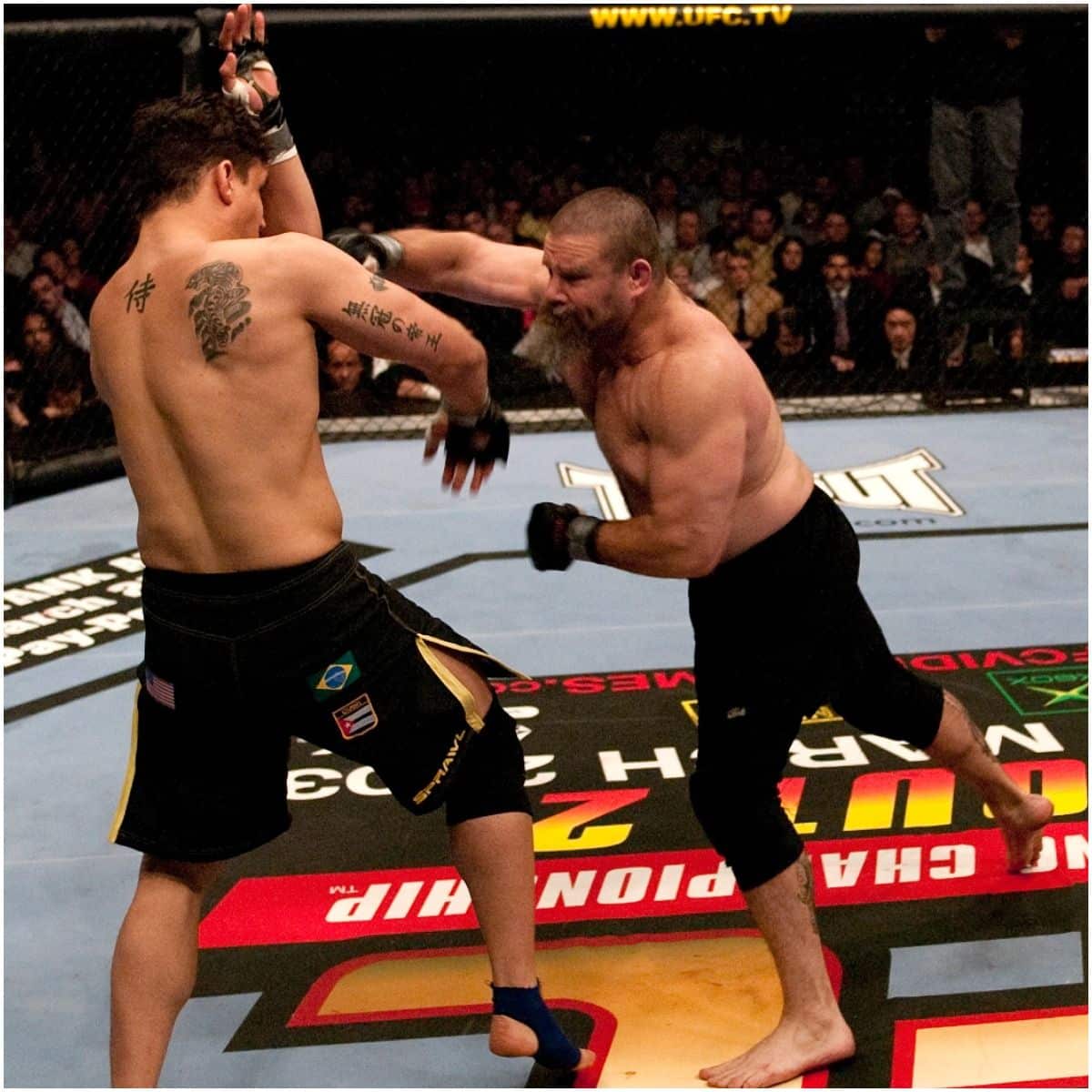 On May 5, 2005, he defeated mixed martial artist Wesley Correira at Rumble on the Rock 7 via KO.
In August 2005, Tank lost a fight against ex-Olympic Gold Medalist Judo master Hidehiko Yoshida in Pride GP Final Round.
On June 20, 2012, Tank penned the book "Bar Brawler."
In April 2013, he lost by TKO to Ruben Villareal.
In 2015, Abbott said he offers $100k if Ronda Rousey can beat him. "[Ronda] is a girl," Tank said on the Proving Grounds podcast. "I will fight you, and if I win, which is going to happen, and you're going to get bashed up good, you have to make me a sandwich. If you win, I'll give you a hundred thousand dollars."
READ MORE: Carli Lloyd & Brian Hollins
Liver Transplant
In 2018, Tank underwent a liver transplant. The operation has led to him losing 100 pounds.
"I got a nice transplant, and everything is moving right along," Abbott said in December 2018 on THE HANNIBAL TV. He went on to say: "It was not without complications, though. I died five times on the operating table, had over six strokes, but I'm still here. This is the hardest fight I've ever had. I spent 107 days in the intensive care unit."
"It's my Liverversary and Re-Birthday," Tank wrote on his Instagram in May 2020. "2 years ago, I died on the table during liver transplant surgery. I am forever grateful to my organ donor, and Dr. Nissen, the Amazing Dr. Todo, the entire staff at Cedars Sinai, and as always, my wife, Sally."
In 2019, Abbott underwent kidney transplant surgery.
Wife
Tank Abbott married his wife, Sally, in 2018.
Here is a photo of the couple.
Height
6′ (1.83 m)
Quotes
"Illegal supplements I've never taken, and I never will."
"I lose strength when I get down in fat."
READ MORE: James Stewart Jr. Net Worth
Tank Abbott – Net Worth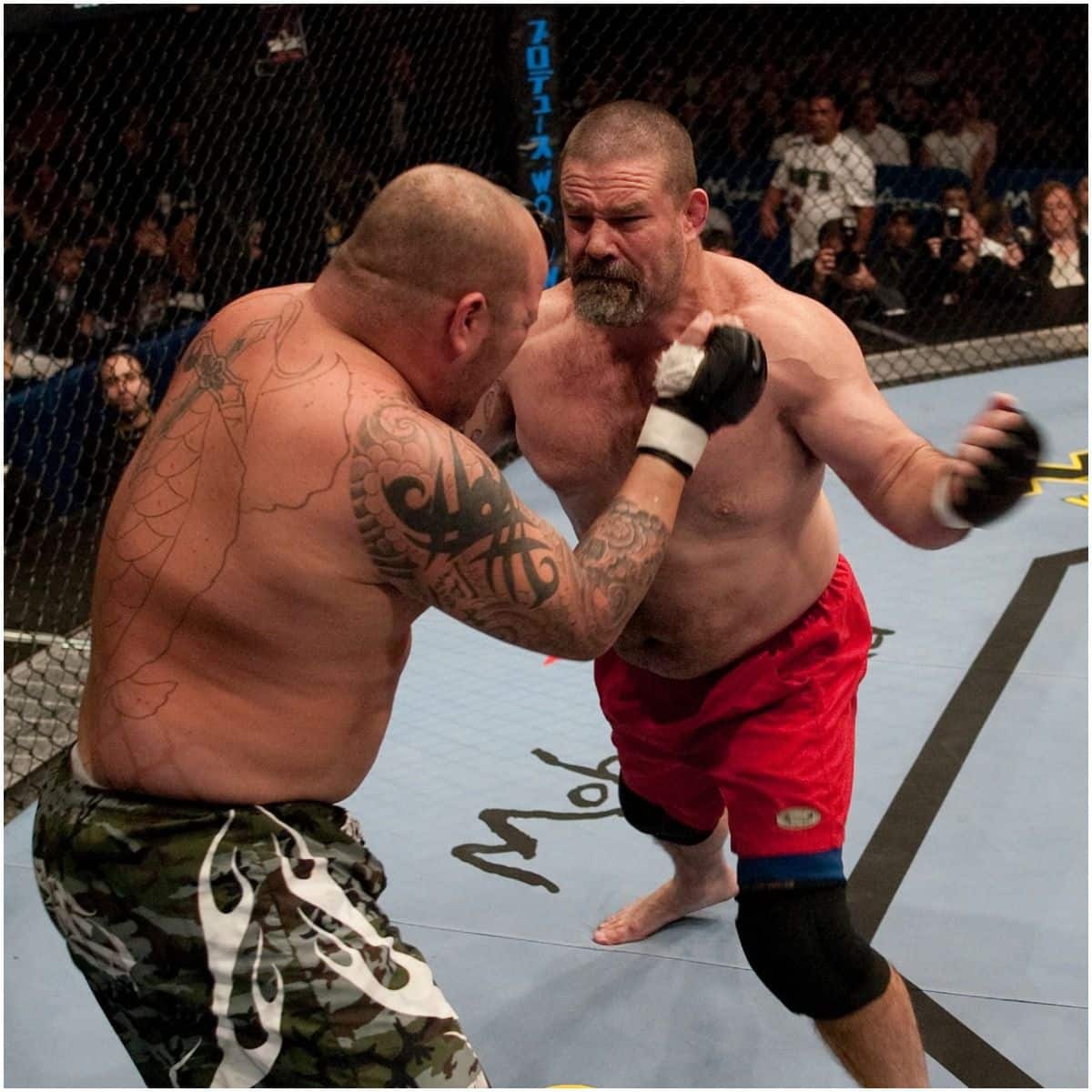 Abbott earned most of his wealth from competing in the early stages of the UFC.
From 1999 to 2001, Tank was a professional wrestler in World Championship Wrestling.
In addition, Abbott competed in Cage Rage, EliteXC, Strikeforce, and the PRIDE Fighting Championships.
Tank has authored a novel entitled – "Bar Brawler." He has appeared in Friends, WCW Worldwide, WCW Saturday Night, and WCW Thunder.
Therefore, retired mixed martial arts fighter Tank Abbott has an estimated net worth of $1 million.
Featured image source – © Getty Images.
READ THIS NEXT: Who is Misty Copeland?