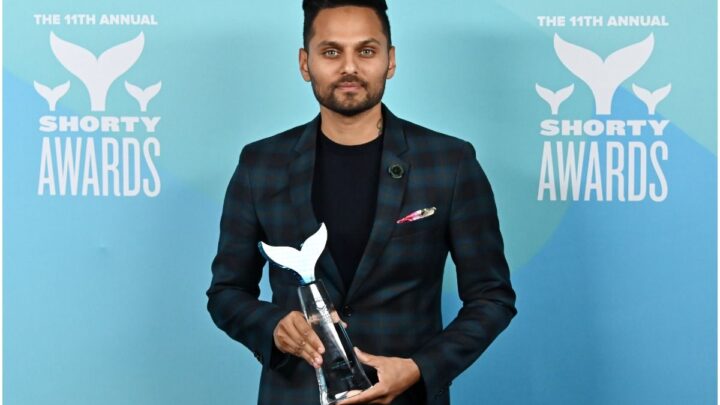 Jay Shetty is a former monk-turned-entrepreneur who has billions of views for his videos and was the host of HuffPost Daily.
Biography
He was born on September 6, 1987, in London, England.
At age 18, Shetty attended a lecture by a monk (Gauranga Das) in London, who inspired him to live a life of purpose and service.
After graduating from the Cass Business School at the University of London at the age of 22, he decided to live as a monk. "I turned down my graduate job offers and decided to go and live as a monk," he said.
He spent three years living as a monk.
"Monk life gives you so much self-awareness that you can't run away from who you are," Shetty told Unity. He added: "I came to the realization that I was very independent, very rebellious, and I really wanted to build something creative, so I could share what I'd learned."
"We would wake up at 4 am, have cold showers, sleep on the floor," Jay said in an interview with Hindustan Times. "I learned how discipline and routine and focus can create an amazing life."
After he returned to the UK, he made inspirational videos that went viral. Later, Shetty started to host a spirituality show for Huffington Post after Arianna Huffington saw one of his motivational talks.
YouTube
On September 19, 2013, Shetty created his YouTube channel.
"I set out just to start giving people an opportunity to watch and listen to something that would help them learn about how they can improve the quality of their life," Jay confessed.
In September 2016, he moved to New York.
In 2017, he was named in the Forbes 30 Under 30 Class of 2017 for being a game-changer in the world of media.
In August 2019, Nicole Arbour called out Shetty for not crediting sources of quotes properly.
Also in 2019, Jay won Best in Health & Wellness at the Shorty Awards.
Book
In September 2020, Shetty released the book – "Think Like a Monk: Train Your Mind for Peace and Purpose Every Day." His part-memoir, part-self-help book details how to overcome negative habits and thoughts.
"What I've been able to communicate in this book, I would never have been able to communicate in a video or any other format, in a podcast, because that's the power of books," Jay told DW.
Wife
In 2016, Jay Shetty married Radhi Devlukia Shetty.
The two met while he was still a monk.
"There's so much I appreciate about you daily and every day watching you just BE you have been some of the greatest gifts," Radhi wrote on Instagram in September 2020. She went on to say: "You forever enthusiastically and genuinely show interest in others because you care so deeply."
READ MORE: Who is Lirik's girlfriend?
Quotes
"I was really fortunate when I started helping people offline."
"One of the things my monk training gave me was the ability to allow myself to be very present and intentional."
"The biggest mistake we make is we think it's too late; we think we're too old."
"I try to give people 100% of my energy even if I'm giving them very little of my time."
"I make wisdom go viral, and that's my mission and purpose in life."
"I think self-awareness—observing your natural organic reactions—is the best exercise."
"We are all naturally wired to serve — as children, people, and humans."
"I believe that people are smarter, deeper, and more compassionate than we even know."
"The best moments in your life are sometimes the most humbling."
"A material desire is: I want for me and for no one else. A spiritual desire is: I will receive in order to serve and give more back."
"The thing that inspires me the most is the quality of humility."
Trivia
The Indian-British influencer was invited to keynote at companies like Facebook, Microsoft, and Google. Shetty has also appeared on the Today Show and The Ellen DeGeneres Show.
READ MORE: Davie504 Net Worth
Jay Shetty – Net Worth
Shetty earned most of his wealth from selling copies of his book, ads on YouTube, and holding motivational speeches.
His book, Think Like a Monk, sells very good, and has 4.9 out of 5 stars from 13,386 ratings on Amazon.
The price to access his personal community, "Jay's genius coaching," is 39$ per month.
Jay also hosts the podcast "On Purpose with Jay Shetty," where he discusses topics such as living by your values, gaining wisdom, addressing mental health problems, and building confidence. Some of his guests have included Kobe Bryant, Ray Dalio, Khloe Kardashian, and Alicia Keys.
On YouTube, Shetty has over 160 million views, meaning about $400,000 in revenue before taxes. Therefore, former monk and motivational speaker Jay Shetty has an estimated net worth of $2 million.
Featured image source – © Guliver / Getty Images.
READ THIS NEXT: Who is Doug DeMuro?