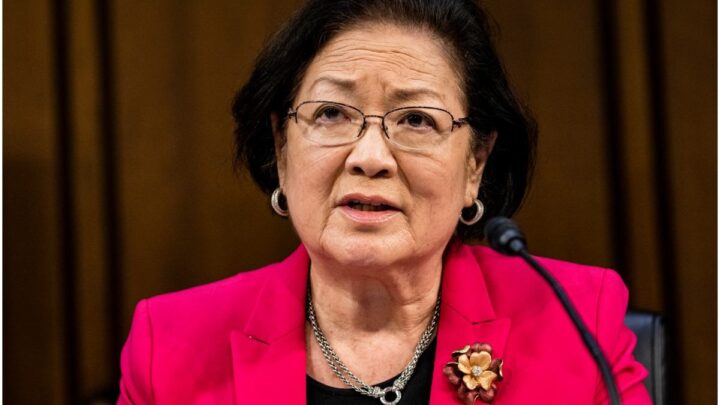 Mazie Hirono is an American politician serving as a member of the U.S. Senate from Hawaii since 2013.
Biography
She was born on November 3, 1947, in Koori, Japan, as Mazie Keiko Hirono.
Mazie was raised on a rice farm in rural Japan.
In 1955, Hirono and her brother Roy moved with their mom to her native Honolulu since her father was an alcoholic and a compulsive gambler.
"My mother decided that she needed to get us all away so that we could have a chance at a better life," Mazie explained. "She showed tremendous courage and risk-taking. She showed me that one person can make a difference."
She never saw her father again.
Mazie became a naturalized U.S. citizen in 1959. "As an immigrant, I learned that a better future doesn't just happen," she tweeted in 2016. "We must work to make the change we seek."
Hirono graduated from Kaimuki High School.
In 1970, Mazie earned a psychology degree at the University of Hawaii in Manoa.
In 1978, she earned a law degree from Georgetown University Law Center. "I went to law school to develop the skills I would need to more effectively advocate for others," Hirono later wrote.
In 1980, she was elected to Hawaii's 12th House district. "When I first ran for office in 1980, there weren't that many women running for office," Hirona remembered in a later interview.
From 1980 to 1994, Mazie served in the Hawaii House of Representatives.
In 1994, Hirono was elected lieutenant governor of Hawaii.
From 2007 to 2013, she was a member of the U.S. House of Representatives.
In 2012, Hirono won the election to the U.S. Senate, becoming the first Buddhist senator, the first female senator from Hawaii, and the first Asian-American female.
"My being the only [Asian-American] woman here and only the second minority woman ever to be elected to the Senate, I think that says we have a ways to go," Hirono said in an interview with Adrienne LaFrance in 2014. "When I go home, I talk with the kids in Hawaii and I say, 'Do you know there's only one person in the Senate who looks like us?'"
Cancer
In 2017, it was reported that Hirono was diagnosed with stage four kidney cancer during a routine physical.
"I face this fight with the same determination I've fought for the people of Hawaii," the Hawaii Democrat told Hawaii New Snow. "And I never quit, especially when things get tough."
On May 17, 2017, Hirono's right kidney was removed. She said in a statement: "I will continue working during my recovery, and look forward to returning to the Senate as soon as possible."
In 2018, she was re-elected as a Democrat to the United States Senate, defeating Republican Ron Curtis. Her current term ends on January 3, 2025.
In 2019, Mazie was one of seven senators to sponsor the Digital Equity Act.
READ MORE: Who is Victoria Osteen's husband?
Husband
In 1987, Mazie Hirono married Leighton Kim Oshima.
They first met at a Young Democrats meeting back in 1973.
Oshima has worked as a litigator in the state attorney general's office.
Quotes
"I've been a fighter all my life. I just don't look like that."
"I knew early that I wanted to do something that would help others – I discovered that politics was a way to make changes."
"I certainly believe in the precepts of Buddhism and that of tolerance of other religions and integrity and honesty."
"I've always been a fighter, but I just didn't have to be so noisy about it."
"I never forget where I came from, who I fight for, and why."
"Like my fellow citizens in Hawaii, I am a proud American."
READ MORE: Scott Yancey Net Worth
Trivia
She has appeared on The Situation Room, Morning Joe, The Cross Connection with Tiffany Cross, State of the Union with Jake Tapper, Make It Plain with Mark Thompson, Erin Burnett OutFront, The Beat with Ari Melber, and This Week.
Mazie Hirono – Net Worth
Hirono earned most of her wealth from serving as a US Senator from Hawaii since 2013. A US senator has an annual salary of $174,000. In the 2012 campaign, she raised $5.2 million.
Mazie served in the U.S. House of Representatives from 2007 to 2013, in the Hawaii House of Representatives from 1980 to 1994, and as a lieutenant governor of Hawaii.
Therefore, politician Mazie Hirono has an estimated net worth of $2 million.
Featured image source – © Getty Images.
READ THIS NEXT: Who is Tim Pool?