Mozart La Para (real name – Erickson Fernandez) is a Dominican rapper who became a star following the success of singles like "Mami Yo Quisiera," "Si Te Puego Cuerno," and "Pom Pom Pom."
Biography
He was born on January 15, 1988, in Los Mina in the province of Santo Domingo, Dominican Republic. His birth name is Erickson Fernandez.
Erickson grew out of the "underground" hip-hop movement in the Dominican Republic, freestyling his way to the top until landing in the "Batalla de los Gallos," an MC competition that is sponsored by Red Bull (an Austrian company created in 1987) that although he did not win, it garnered him national attention.
In 2002, Fernandez began recording songs using the money he was given to go to school.
His name (Mozart La Para) came from the famous composer "Mozart" due to his ability to compose different styles of music, whereas "La Para" meaning "to stop," since Erickson feared he would put in his opponents when it was time to freestyle battle face to face.
In 2011, he had a collaboration with singer Farruko, entitled – "Si Te Puego Cuerno," which soon became a smash hit.
During an interview, he said:
"When I'm in the studio and I hear the music, I get inspired and I start creating without writing."
In 2013, he released several singles, including "En Para Everybody" and "Mi Angelito Favorito." Furthermore, in 2014, Erickson dropped more tracks, including the Billboard tropical-charting "Pa' Gozar."
In 2016, Fernandez received the "Ministerio de la Juventud" award during the Premio a la Excelencia Juan Pablo Duarte for his contribution to Dominican society through his music.
In April 2017, the Dominican superstar announced a minidocumentary, called "Where I'm From."
In this mini-documentary, he is ready to let his fans into his world and let them know his story.
Mozart quoted:
"My fans can look forward to seeing a little more of what my life is outside the music and my beginnings."
He went on to say: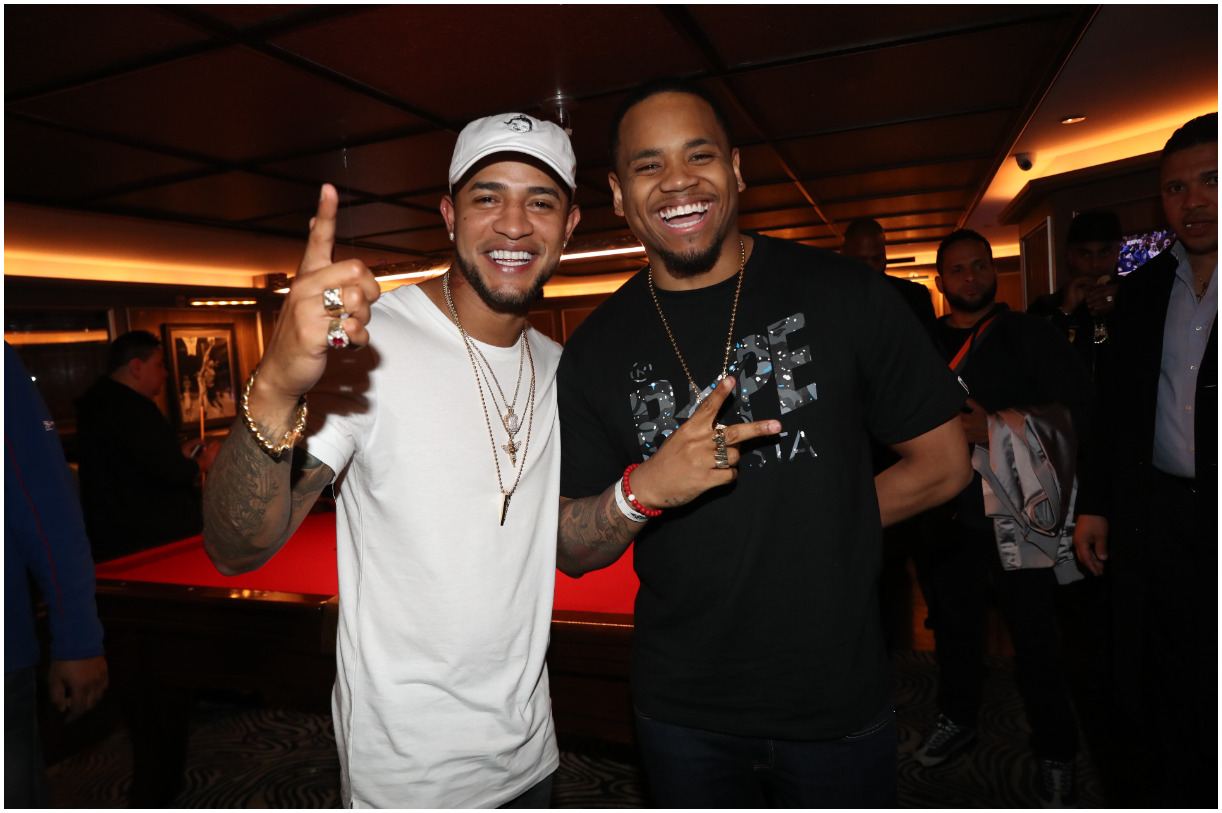 "I felt good with the TIDAL team, and I am grateful for the opportunity to share a bit of my life and my career with their platform."
In 2018, Erickson debuted his new single "Mujeres," alongside Justin Quiles, a Puerto Rican-American reggaeton singer. "Mujeres" was produced by Jumbo (Wisin, Don Omar, Jennifer Lopez), Tainy (Cardi B, Yandel, J Balvin, Daddy Yankee), and Haze (Farruko, Zion y Lennox).
Wife
Mozart La Para married to Romanian-Italian real estate businesswoman Alexandra Hatcu.
In 2019, after 10 years of marriage, they announced that they are in the process of divorce.
The statement issued said it is a decision:
"very thoughtful, mature, by mutual agreement and from the love and respect you have."
Children
The couple has a daughter, Charlotte, who was born in 2013.
Trivia
In 2013 and 2016, Erickson was recognized as Urban Artist of the Year.
He has won 6 Premios Soberano, the most prestigious awards in the Dominican Republic that are awarded annually by the Asociación de Cronistas de Arte of the Dominican Republic in Santo Domingo.
He was born in the Year of the Dragon. In ancient times, Chinese people believed that Dragons are able to control everyone and everything in the world with their personality traits of ambition and dominance. People born in the Year of the Dragon are healthy, energetic, and have the gift of good luck and good fortune.
Moreover, people born in the Year of the Dragon are passionate in all they do and do things in a grand fashion. Also, they are unafraid of challenges, driven, and willing to take risks.
During his first tour of the US, Fernandez performed in front of 20,000 people as a special guest with renowned bachata group Aventura at the Izod Center in New Jersey.
Erickson has been a featured artist on tracks by a number of popular artists, including Sharlene Taule and Shadow Blow.
In 2018, during the months of June and July, Mozart traveled to Europe for a tour which has taken him to conventional venues, as well as renowned festivals, where Erickson shared the stage with artists, like:
Bad Bunny;
Natti Natasha;
Daddy Yankee;
Karol G;
Piso 21.
In March 2019, he began teasing his 4 million fans on Instagram with his new music and video. He wrote:
"New season, another vision."
READ MORE: Charlie Starr Net Worth
Other famous musicians are Mark Chesnutt, Filthy Frank, and Illenium.
Mozart La Para – Net Worth
Erickson earned most of his wealth by selling tickets to his concerts, sponsors, and selling his albums. Also, he has a YouTube channel that has over 450 million views (that translates in about $900,000 in revenue) and an Instagram account with over 4.3 million followers.
He can make around $11,000 on a sponsored post on his Instagram account. Therefore, Mozart La Para has an estimated net worth of $4 million.
READ THIS NEXT: Mindless Behavior Net Worth
Featured image source – © Guliver / Getty Images.
Reference
https://www.billboard.com/mozart-la-para-barbaro-exclusive