What is Ramon Estevez's net worth?
Introduction
Ramon Estevez's name might sound familiar…and with good reason.
The long-time actor and famed director comes from a Hollywood dynasty—one that includes some of the biggest names in past and present show business.
The Irish-Spanish-American celebrity has maintained a pretty impressive career over the last few decades, and here's what we know about him—and the famous company he keeps.
The Origin Story
Ramón Luis Estévez was born on August 7, 1963, in New York City, New York.
He may have been born in the Big Apple, but his family would eventually become California royalty, and the growing family eventually moved there so his dad, Ramón Antonio Gerardo Estévez, could pursue acting.
Ramón Senior and Janet—nee Templeton, and an artist in her own right—welcomed four children, and Ramon was the second.
Younger brother to Emilio Estevez, older brother to Charlie Sheen and Renee Estevez, Ramon would watch as his dad climbed to the heights of superstardom in the film industry—as Martin Sheen.
Martin changed his name in the late 60s to pursue a film career—one which would catapult the whole family into the limelight.
By the early 1980s, Ramon and his siblings were attending school with other celebrity kids, hanging out at the hot spots of Hollywood, and building their own film careers.
All In The Family
Martin Sheen
So, how is Ramon Estevez related to Martin Sheen?
Sheen is his dad.
Martin Sheen's legal name is Ramón Antonio Gerardo Estévez, born August 3, 1940, and the actor is famed for his leading role in the 1979 iconic film, Apocalypse Now.
Sheen went on the play the US president in The West Wing for 7 seasons, and patriarch Robert Hanson in Grace and Frankie from 2015 to 2022.
He has won multiple Best Actor awards, and a BAFTA nomination for his role in Apocalypse Now.
Sheen has also scored himself a Golden Globe, two Screen Actors Guild awards, and an Emmy.
In later interviews, Sheen explained that he changed his name from Ramon Estevez to Martin Sheen to help him gain acting parts.
He stated that he got called in for auditions much more often when he changed his name to Martin Sheen.
Emilio Estevez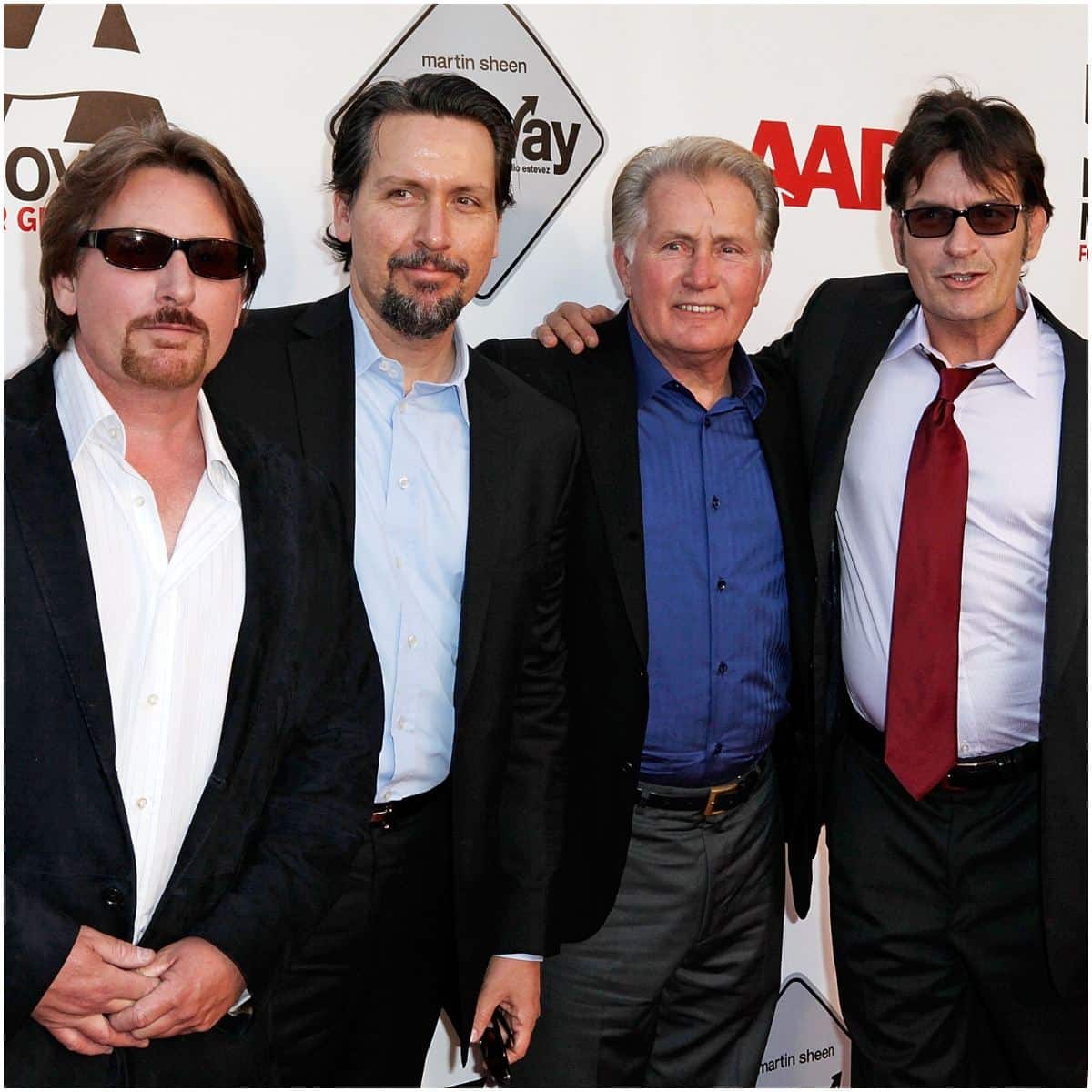 How is Ramon Estevez related to Emilio Estevez?
The two are brothers!
Emilio is a year older than Ramon, and started his career as an actor slightly earlier than his brother did. Emilio—known as one of the founding members of the 80s Brat Pack—starred in movies like The Breakfast Club, St. Elmo's Fire, Might Ducks, Bobby, and the Young Guns franchise.
Emilio was once engaged to Demi Moore—pre-Bruce Willis and Ashton Kutcher—and married for a short time to American Idol's Paula Abdul.
Charlie Sheen
How is Ramon Estevez related to Charlie Sheen?
Charlie is his younger brother! Charlie, who was born Carlos Irwin Estévez in 1965, is arguably the most famous of the siblings these days.
While he was a popular actor right through the 1990s, it was ABC's Spin City that catapulted him to millennial fame—and earned him a Golden Globe.
He then moved to CBS to play Charlie Harper on Two and a Half Men from 2003 to 2011—becoming the highest paid actor on television in 2010.
Sheen has also been married to Denise Richards—the pair have two children together.
In Front of the Camera…
Ramon got his first acting credit in 1985 in older brother Emilio's film, That Was Then…This Is Now.
The film—which was the first time Emilio had written a screenplay and starred in a full feature-length production—wasn't a major hit.
Neither was Ramon's role a major one, but it didn't matter—he was hooked.
He scored another role in 1990 in Cadence, but ended up going incognito with glasses and a hat to avoid being recognized as Charlie Sheen and Emilio Estevez's brother. The Last POW, Alligator II, Sandman, and The Expert followed.
Ramon branched out into television a few times, taking minor roles in The West Wing, Zorro, and The Dame Edna Treatment, before co-producing the hit show, Anger Management, with Charlie Sheen in 2012.
In the late 80s and early 90s, Estevez—much like his brothers—was spending a lot of time on the club scene.
He met and befriended Tennessee country music sensation, Diamond Rio, for whom he ended up writing songs. He starred in their 1996 music video for It's All in Your Head.
READ MORE: Fabian McCallum Net Worth
…And Behind It
Ramon Estevez has long been involved in Estevez Sheen Productions—named for his father's real and stage names—alongside his siblings.
The Los Angeles based company has been credited with many of the family's productions.
In 2010, Ramon teamed up with his father and producer Michael Ritchie to stage a play titled The Subject Was Roses.
The play, which was created by Sheen back in the early 60s, showed at the Mark Taper Forum, with Sheen taking on the role of John—father of the character he had played almost three decades earlier.
Ramon Estevez – Net Worth
Estevez earned most of his wealth from performing in 22 movies and TV series.
Ramon also co-founded Estevez Sheen Productions. He served as the producer of Anne of Green Gables, Anger Management (99 episodes), and more.
Therefore, Ramon Estevez has an estimated net worth of $5 million.
READ THIS NEXT: Who is Aria Brooks?