Yoo Jae-suk is a popular comedian and TV host, known as the "MC of the nation" for his kindness and generosity.
He is best known for presenting and being part of Running Man and Infinite Challenge.
He was voted the "most popular comedian" for six years running, from 2004 – 2009.
The Origin Story
Yoo was born on the 14th August 1972 in Seoul, South Korea, and has two younger sisters.
From a young age, he showed an exceptional talent for making others laugh and described his personality as "playful and interesting."
He loved making his friends laugh, and this is where the dream of being a comedian was born.
Yoo attended the Seoul Institute of the Arts, but he didn't receive his degree because he was too busy with his career.
Being a comedian took up much of his time and meant he missed his chance to graduate, deciding to prioritize his job and dream.
The Road To Fame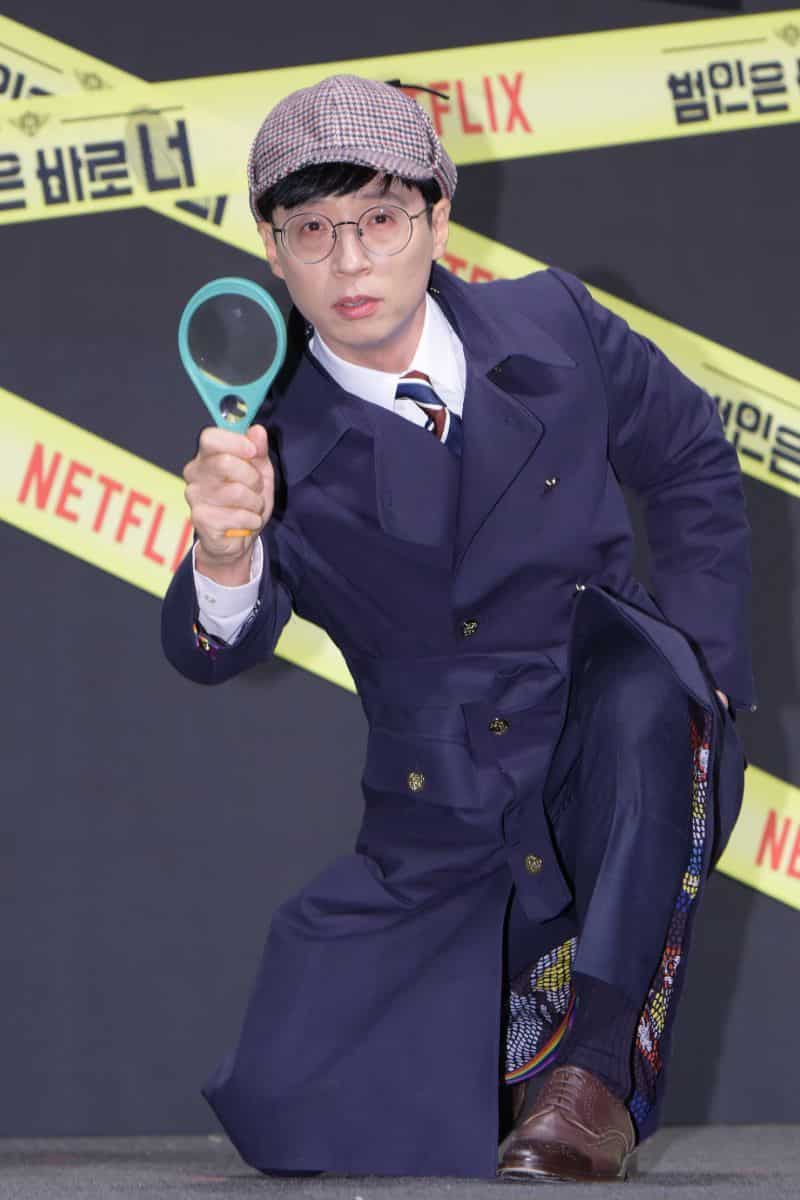 Yoo Jae-suk had a highly successful career, gaining popularity as a big TV personality in Korea.
His career began in 1991, where he debuted on KBS. He was 19 years old at the time – the youngest comedian to perform on the channel.
During the next ten years, Yoo's career would be stationary due to camera shyness and introversion.
He only made minor roles and small TV appearances. Eventually, things changed for Yoo in 2001 – he was invited onto the Seo Se-Won Show, a popular Korean talk show, where his personality and sense of humor shined.
After the talk show appearance, his career started to take off. He appeared in several TV shows, but it was becoming a TV host of various game shows that won the hearts of fans, as well as his humanitarian views.
Yoo has appeared, starred, and hosted 20 TV shows since 2001, including Infinite Challenge, which ran from 2006 – 2018 and had 508 episodes, and Running Man, which debuted in 2010 and has 544 episodes.
In 2019, he released a three-track trot album, Bbong For Yoo. "If I go for the second album, I think I need to further advance my singing skill," Yoo told The Korea Herald.
READ MORE: Who is Marc D'Amelio's wife?
Wife
Yoo Jae-suk is married and has children.
Yoo met his wife, announcer Na Kyung Eun on MBC's Infinite Challenge.
The couple married in 2008 and have two children – Ji Ho, who was born in 2010, and Na Eun, who was born eight years later.
Yoo Jae-Suk is very much a family man and has spoken fondly and candidly about both the lows and highs of fatherhood and family life in an interview with MBC's PowerFM's "Ji Suk Jin's 2 O'Clock Date."
In this interview, he mentioned how his mother calls his children "human flowers," meaning they make her gasp and smile in the same way a person would at seeing a new flower blooming.
READ MORE: Arrogant Tae Net Worth
Yoo Jae-suk – Net Worth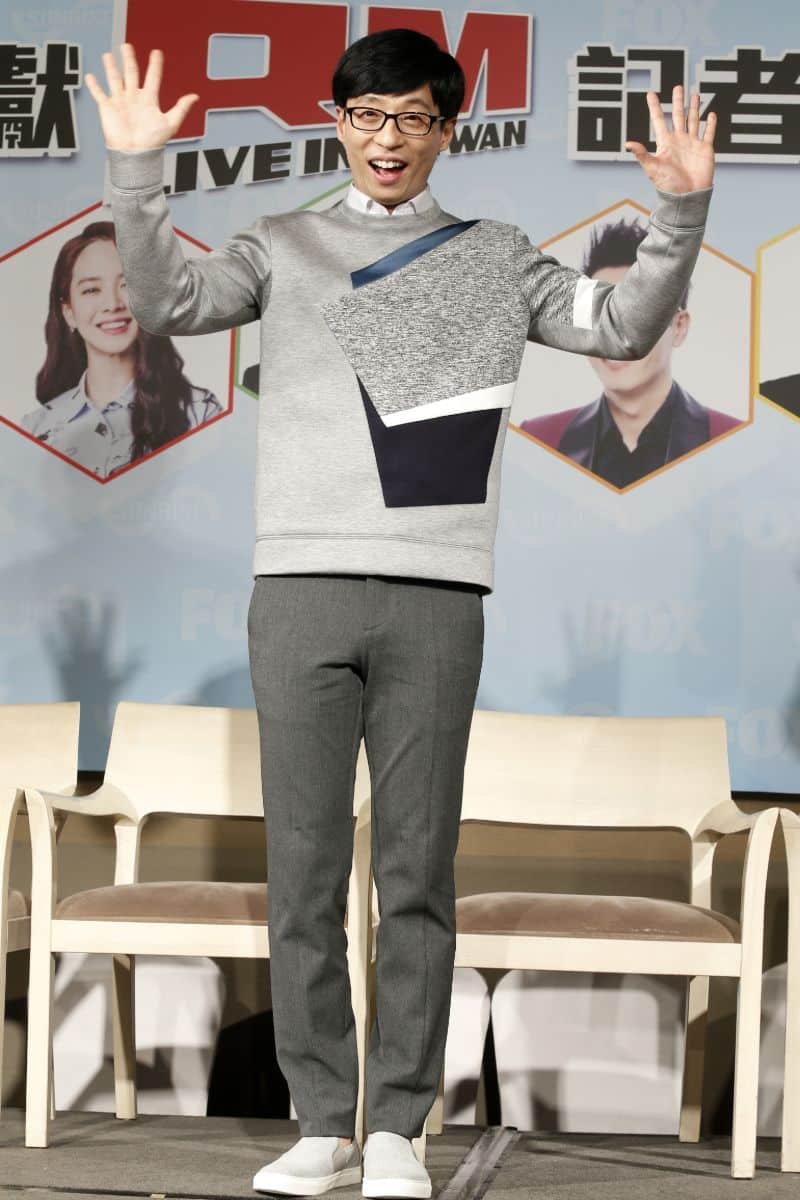 As Yoo's notoriety and fandom have risen, so have his earnings.
In his rookie days with Rumor Number One back in 1991, Yoo was making $56 per episode and would only appear on two of the four episodes per month, meaning he was trying to survive on a wage of $106 a month.
Fast forward to the late noughties, Yoo made around $22,000 per episode for cable TV.
He earns $12,000 per episode of Running Man, a show that has 508 episodes, and $13,000 per Infinite Challenge episode, a series that has 545 episodes.
Yoo Jae-Suk is a wealthy comedian, which is not just reflected in his impressive TV show-hosting history but in his charitable nature too.
Yoo Jae-Suk has spent his career being an incredibly selfless person, donating millions to several causes and endorsing smaller projects for charity, such as a $40 watch.
He has given a meaningful donation of coal briquette for years and makes an annual donation to the Comfort Women charity.
He donated 100 million KRW to help flood victims in Korea, donated feminine hygiene products to 500 low-income teens, and even became a sponsor for a father-of-five's surgery.
As well as his copious donations to charities, he's also helped people closer to home, such as trying to shine a spotlight on upcoming comedians and has helped struggling comedians to pay their rent.
Yoo has won 65 awards and had 69 nominations, his awards including Baeksang Arts Award for Best Male Variety Performer in 2006 and 2020, SBS Entertainment Award Grand Prize in 2019, the Baeksang Arts Award Grand Prize in TV in 2021 and 2013, and the SBS Entertainment Award for Global Star in 2017.
Based on his earnings as a TV show host and comedian, Yoo Jae-Suk's net worth is $10,000,000.
READ THIS NEXT: Who is Tape Face?