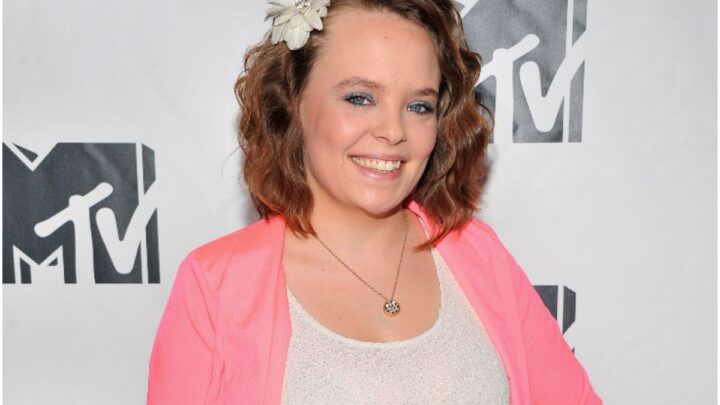 Catelynn Baltierra is an American author and reality television personality, who first gained fame for appearing in the reality TV series "16 and Pregnant."
Biography
She was born on March 12, 1992, in Port Huron, Michigan, USA, to David Lowell and April Brockmiller.
In 2009, Catelynn was cast in "16 and Pregnant," a reality TV series that followed the stories of several girls who got pregnant while in high school.
In December 2009, Lowell was cast in Teen Mom, the first spin-off of "16 and Pregnant." Teen Mom follows the lives of Farrah Abraham, Amber Portwood, Catelynn, and Maci Bookout. Mackenzie McKee joined the cast of Teen Mom in August 2019.
In June 2011, Catelynn graduated from high school.
In 2018, she appeared on "The Dr. Oz Show."
Husband
On August 22, 2015, Catelynn Lowell married Tyler Baltierra.
Some of the guests at their wedding included:
Javi Marroquin;
Kailyn Lowry;
Matt Baier;
Amber Portwood;
Maci McKinney.
"We're really opposite, but we have a lot of similarities," Lowell said about her husband in an interview. She added: "I just think really open, honest communication [works]."
Tyler said about Catelynn: "I believe Cate was brought into this world and destined to be loved by me, cherished by me, admired by me, and forever cared for by me."
The couple first met when they were both 12 years old. Tyler and Catelynn began dating at 13.
"I met Tyler in the 7th grade, and it was like love at first sight," she later explained. Lowell went on to say: "We broke up for a short time in 8th grade but continued dating in the 9th grade and have been dating ever since."
On March 15, 2015, Lowell and Tyler published a book, titled – "Conquering Chaos." In the book, the two detail their struggle to cope with problems in their families.
In December 2016, Catelynn and Tyler had a show on MTV, called Reunited. The show was canceled after just one airing.
In February 2020, the two renewed their vows in an outdoor ceremony in Hawaii, during the Teen Mom OG season 8 premiere. Baltierra wrote via Instagram at the time:
"Sunrises in Hawaii laying next to my wife @catelynnmtv doesn't really get much more magical!"
Children
On May 18, 2009, Catelynn gave birth to a baby girl named Carolynn "Carly" Elizabeth Baltierra. Lowell had Carly when she was just 17 years old.
The young parents realized that they couldn't provide Carly the life she deserved and made the incredibly difficult decision to give her up for adoption. Carly's adoptive parents are Brandon and Theresa Davis.
Catelynn and Tyler receive photos regularly from Carly's adoptive parents. In addition, they see their daughter in person once a year. Lowell and Baltierra chose an open adoption through Bethany Christian Adoption Services.
Both have tattoos in honor of their daughter.
In 2015, Catelynn and Tyler welcomed a baby girl, named Novalee Reign.
In 2017, Lowell suffered a traumatic miscarriage. Later, the Teen Mom star spent time in a treatment facility for depression.
Catelynn gave birth to her third daughter, Vaeda Luma, on February 23, 2019.
Quotes
"I'm a very humble person, I put my life out there to help others."
"I think honestly the biggest thing in relationships are communication and trust and learning how to express your needs."
"Children and babies are the most innocent, vulnerable, helpless creatures on the planet."
"Things aren't a mistake if you're bettering yourself from the things you thought were mistakes." (Cosmopolitan)
READ MORE: Bishop Eddie Long Net Worth
Catelynn Lowell – Net Worth
Lowell earned most of her wealth from starring in "16 and Pregnant" and its spinoff "Teen Mom OG." According to reports, Teen Mom OG cast members make $25,000 an episode. So far, Lowell appeared in 75 episodes of Tenn Mom.
In addition, Catelynn is the CEO of the children's line Tierra Reign.
On November 19, 2019, Lowell and her husband received a federal tax lien for $535,010.97 for the 2016 and 2017 years, while for 2018, they received a federal tax lien in the amount of $321,789.06.
Catelynn also made some money from selling her book "Conquering Chaos." Therefore, Catelynn Lowell has an estimated net worth of $0.1 million.
Featured image source – © Guliver / Getty Images.
READ THIS NEXT: Who is Osmel Sousa?