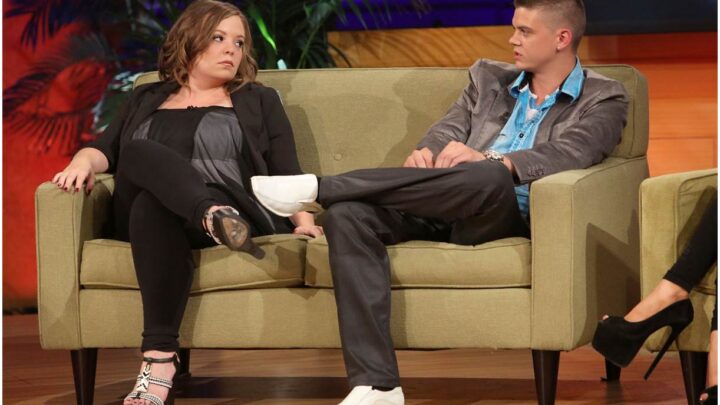 Tyler Baltierra is an American author and MTV personality who appeared on the show Teen Mom, a follow-up of the MTV series 16 and Pregnant, alongside his wife Catelynn Lowell.
Biography
He was born on January 19, 1992, in Mount Clemens, Michigan, the USA to Butch and Kim Baltierra.
His father, Butch Baltierra, had a rough childhood and grew up doing drinking and drugs, which eventually spiraled into addiction.
Tyler graduated high school in 2011.
He also attended Baker College (a not-for-profit American college in Michigan which was founded in 1911) with a major in psychology and a minor in creative writing.
Wife
Tyler met Catelynn when they were both 12 years old. They began dating at 13. The two have been together ever since. Tyler Baltierra and Catelynn Lowell got married in August 2015.
Catelynn is also the CEO of the children's line Tierra Reign. She is also a Teen Mom star who became an advocate for adoption in the hopes of working with pregnant mothers who struggle with a similar decision she had to make as a teenager.
In 2018, Catelynn and Tyler hit a rough patch and decided to try 30 days of trial separation. The temporary separation proved to be a positive one, and they reunited after one month, stronger and happier in their relationship.
During an interview, she said:
"Our relationship, I feel like we're always strong. I think that we just go through bumps and it makes you stronger as a couple too, but yeah, we're in a really good place."
Children
Catelynn became pregnant when she was 16. However, Catelynn and Tyler gave up their daughter Carly for adoption as they both felt that they were too young to raise a child.
The couple chose an open adoption through Bethany Christian Adoption Services, allowing them to stay in periodic contact with their daughter and her adoptive parents.
Tyler and Catelynn both got tattoos in honor of their daughter.
Since making the decision to place their daughter into an adoptive home, the couple has traveled the entire US, speaking to thousands of teens and young adults at community centers, high schools, universities, and colleges, discussing their experiences.
On January 1, 2015, Catelynn and Tyler welcomed a daughter named Novalee Reign Baltierra.
In September 2018, the two announced they were expecting another baby. During an interview, Catelynn confessed:
"We were not planning it, especially after the miscarriage and how I went downhill with my mental illness."
She continued:
"We were going to wait a really long time. We were using protection and everything and still got pregnant."
Catelynn later added:
"This baby just wanted to be here. It was very unexpected."
Their daughter – Vaeda – was born in February 2019.
Teen Mom
Teen Mom is an American reality TV series that is broadcast by MTV. Maci Bookout, Amber Portwood, Farrah Abraham, and Catelynn Lowell were the first original Teen Mom stars to hit the reality TV stage. Gary Shirley was also part of the reality series.
Catelynn and Tyler were an integral part of Teen Mom, letting prospective teen mothers know that there are options.
In order to keep their lives as normal as possible, Tyler and Catelynn had strict curfews when they appeared on Teen Mom. They were only filmed after school.
Producer Kirsten Malone explained:
"They had school and had to do their homework, which I thought was fantastic."
Kirsten Malone later added:
"It did not make our jobs easy, but we did it, and we're still super respectful of the kids and their schedules."
During the course of the Teen Mom television series, Tyler helped his wife through the pregnancy as well as thinking of his future career.
READ MORE: Things You Didn't Know About Robyn Dixon
Clothing Line
In 2017, Catelynn and Tyler launched their own kids' clothing line called Tierra Reign. According to their website, the items are personally designed by Catelynn and Tyler and are handmade in Michigan.
Book
Catelynn and Tyler authored a book together, titled – "Conquering Chaos."
In the book, Tyler has written about the sexual abuse he faced when he was 9 years old.
Trivia
There have been some rumors going on that Tyler had been cheating on Catelynn, however, he said that these rumors are all false.
His father was in and out of jail most of his life.
Tyler has a sibling named Amber.
READ MORE: Who is Dave Asprey dating?
In 2016, his wife has gone through rehab and suffered mental health and drug issues.
Tyler wrote on his Twitter account:
"For better or for worse…through sickness & in health…I will NEVER stop fighting for my wife. Keep her in your prayers…thank you."
In a different post, Tyler wrote:
"We love ya too Amb…its just hard to see her go through all this & be away from her for so long."
Tyler has stated that he wants to become a social worker, with the aspiration of working with at-risk youth.
Tyler Baltierra – Net Worth
Baltierra earned most of his wealth from appearing on the reality television series Teen Mom. How much he earned for appearing in the TV series was not released to the public. According to reports, the cast of Teen Mom receives 6-figure paychecks, about $250,000 a season.
Additionally, Tyler earned some money from co-authoring a book, and from his clothing line for children – Tierra Reign. But, as of April 2019, it seems that Tierra Reign is no longer active. Therefore, Tyler has an estimated net worth of $0.5 million.
Featured image source – © Guliver / Getty Images.
READ THIS NEXT: Scotty Kilmer Net Worth
References

https://people.com/tv/teen-mom-og-where-are-they-now/
https://www.eonline.com/inside-catelynn-lowell-and-tyler-baltierra
https://www.doctoroz.com/oz-quiz-what-s-your-digestion