Doris Day was an American actress, animal welfare activist, and singer who played the blonde, blue-eyed love interest in a few romantic comedies in the 1950s and 1960s. In 1955, Doris scored her most successful film to that date with Love Me or Leave Me.
Biography
She was born Doris Mary Ann Kappelhoff on April 3, 1922, in Cincinnati, Ohio, to William Joseph Kappelhoff, a music teacher and choirmaster, and Alma Sophia (Welz), a housewife.
Doris had two brothers, Paul, a few years older, and Richard, who died before she was born.
Her grandparents were all German immigrants. Her mother named her after her favorite silent film star, Doris Kenyon.
Her parents divorced while she was still a child, and she lived with her mother. From age 6, Day had taken dancing lessons, and that was the career she ultimately intended to pursue.
At age 15, she landed her first professional singing gig.
In 1948, she appeared in her first movie – "Romance on the High Seas."
In 1950, Doris got the nickname "Clara Bixby" when Billy De Wolfe told her, on the set of Tea for Two (a 1950 American musical film directed by David Butler), that she didn't look like a "Doris Day," but more like a "Clara Bixby."
In 1950, U.S. servicemen in Korea voted Day their favorite star.
In 1953, Doris sang "Secret Love" in the musical western Calamity Jane, in which she played a rough-and-tumble cowgirl.
In 1956, she underwent a hysterectomy (an operation to remove a woman's uterus) during the filming of Julie after being diagnosed with a tumor the size of a grapefruit that was growing into her intestines. In the same year, Day starred in Alfred Hitchcock's 1956 film "The Man Who Knew Too Much" with Jimmy Stewart.
Day went on to appear in the comedy "Pillow Talk" in 1959. In 1960, Doris was nominated for the Academy Award for Best Actress. In 1963, she appeared in "Move Over, Darling," alongside Rock Hudson.
In 1965, Doris turned down the role of Maria in The Sound of Music with the explanation:
"I'm too American to play a nun from Austria."
From 1968 to 1973, Day starred in "The Doris Day Show," a weekly television series.
In June 2004, Day was awarded the Presidential Medal of Freedom by George W. Bush. Doris did not attend the White House award ceremony because of her intense fear of flying.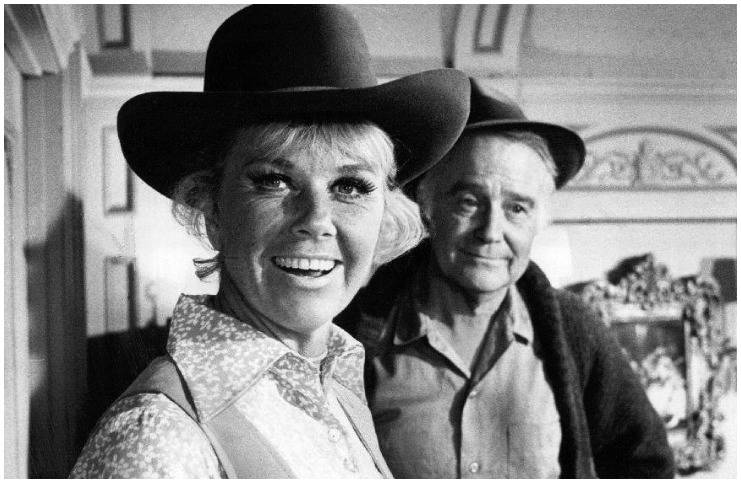 President Bush stated:
"In the years since, she has kept her fans and shown the breadth of her talent in television and the movies. She starred on screen with leading men from Jimmy Stewart to Ronald Reagan, from Rock Hudson to James Garner."
George W. Bush later added:
"It was a good day for America when Doris Marianne von Kappelhoff of Evanston, Ohio decided to become an entertainer. It was a good day for our fellow creatures when she gave her good heart to the cause of animal welfare. Doris Day is one of the greats, and America will always love its sweetheart."
In 2008, she was awarded a Grammy Lifetime Achievement Award. In the same year, Day appeared on the Southern California radio show of longtime friend and newscaster George Putnam.
In 2011, she released an album entitled – "My Heart," which featured a compilation of songs she never released.
In January 2012, the LA Film Critics Association presented Day with a Lifetime Achievement Award.
On August 12, 2018, Doris was honored with a day of her film work during the TCM Summer Under The Stars.
READ MORE: Andrew Gower Net Worth
Death & Cause of Death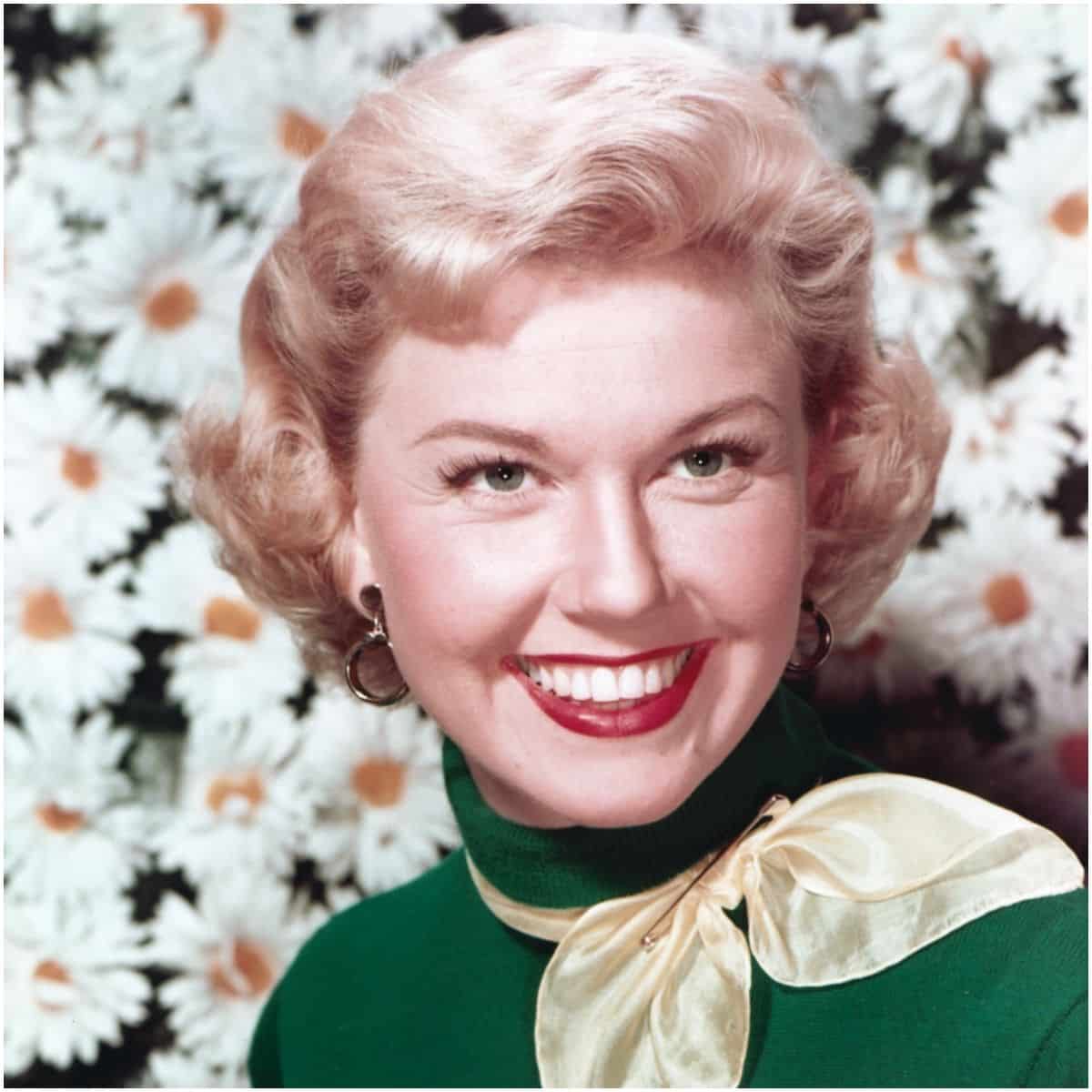 Doris died on May 13, 2019, at her home in Carmel Valley, California. She was 97.
The Doris Day Animal Foundation declared that Doris was surrounded by close friends and:
"had been in excellent physical health for her age, until recently contracting a serious case of pneumonia."
Moreover, it was revealed that Day requested that no funeral or memorial service take place.
Interestingly, in April 2018, Day spoke about her "good health" as she said she had no regrets about dedicating her life to rescuing animals in need.
Note – she smoked 2-1/2 packs of cigarettes a day until about 1951.
Fashion designer Stella McCartney wrote on Twitter:
"The one, the only, the woman who inspired so much of what I do… Doris Day I love you, my calamity Jane. An iconic woman who I was hugely honored to meet and share precious moments with. Rest in peace."
Luke Evans also wrote on Twitter:
"Goodbye Doris Day, there was only one of you! I have always loved your voice and the beautiful songs you made eternal."
READ MORE: Is Travis Willingham married?
Husbands
In March 1941, she married Al Jorden, whom she met while both were performing in Barney Rapp's band. They divorced on February 8, 1943.
On March 30, 1946, Doris married George Weidler. The couple divorced on May 31, 1949.
On April 3, 1951, she married Martin Melcher. Her third husband produced 18 of her movies between 1956 and his death on April 20, 1968.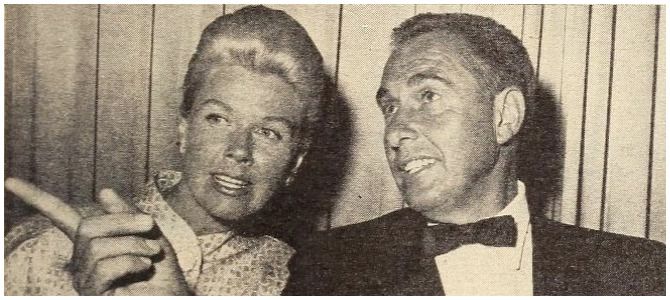 By the time Melcher died, Day had discovered that she was millions of dollars in debt. Doris learned that Martin had squandered almost all of her considerable earnings, however, Day was eventually awarded $22 million by the courts in a case against a man that Martin had unwisely let invest her money.
On April 14, 1976, she married Barry Comden. They met at the Beverly Hills Old World Restaurant where Barry worked. On April 2, 1982, they divorced.
Son
Doris and Melcher had a son named Terry, who was a record producer and a musician. She gave birth to her only child at age 19.
She and her son Terry co-owned the Cypress Inn in Carmel-by-the-Sea, CA, a small "Hotel California-esque" inn built in a Mediterranean motif.
Terry died of melanoma on November 19, 2004, aged 62.
READ MORE: Peter Mullan Net Worth
Trivia
Her portrayal of Jan Morrow in the romantic comedy "Pillow Talk" is most likely one of her finest performances.
From 1959 through 1969, Doris received 6 Golden Globe nominations for best female performance in one drama (Midnight Lace), three comedies, and one musical (Jumbo).
Doris lied about her age so that she could sing professionally with big bands.
She became one of the founding members of Actors and Others for Animals, along with other stars who wanted to use their celebrity to raise awareness about the bad treatment of animals. Day also founded the Doris Day Animal Foundation and the Doris Day Animal League.
In Germany, Edith Schneider dubbed her voice in most of her films.
Doris Day – Net Worth
Day earned most of her wealth from singing (for instance, Doris has released 31 albums and was awarded a Grammy Lifetime Achievement Award) and from acting (she appeared in 39 films). Therefore, actress Doris Day had a net worth of $210 million at the time of her death.
READ THIS NEXT: Peter Mullan Net Worth
References

https://www.bbc.com/news/entertainment-arts-48257670
https://www.vanityfair.com/hollywood/2019/05/why-doris-day-retired