Gilbert Arenas is a former professional basketball player who began his career playing for the Golden State Warriors –San Francisco's team–, and went on to play for a variety of other teams throughout the years.
He has been the recipient of a series of awards such as the NBA All-Star and a member of the All-NBA Team –three times–, and was once a rising star in the world of basketball.
The Origin Story
Gilbert was born on January 6th, 1983, in Tampa, Florida.
His father was the grandson of a Cuban immigrant and a college student, while his mother, Mary Francis Robinson, was still in her teenage years. The two were unmarried, and months after Gilbert was born, when the relationship was no longer working, Mary left with the baby.
It was only two years after graduating college that Arenas Sr. received a phone call from his former girlfriend's mom telling him to come pick up the then three-year-old because his mother was in trouble.
Jay grew up with his dad and grandparents in Tampa, but when he was seven, his father's lifelong dream of becoming an actor led him to take a leap of faith and move their whole lives across the country to pursue it in LA.
The duo made it to their destination with only 25 dollars in hand and no place to stay.
They spent a couple of days sleeping in their car in different spots and parking lots of the Hollywood area before a clerk gave them shelter in the Y's auditorium at the YMCA.
Soon after, a man noticed Gilbert playing basketball and his liking for it; this same man offered Gilbert Sr. a job as a clerk at his company which enabled them to get a loan and pay rent on an apartment in the Van Nuys suburbs of the San Fernando Valley, over Hollywood Hills.
Gilbert didn't have any contact with his mother up until his twenties when he was in Florida for a basketball game.
Arenas didn't start playing basketball with a serious intent until he was about twelve.
When he entered Grant High School in the Valley Glen district of Los Angeles, he signed up for the basketball team and was eventually assigned to the junior varsity.
He later accepted a scholarship offer to the University of Arizona in Tucson, in which he played for the Wildcats and even helped lead the team to the national championship game, where they lost to the Blue Devils.
By his sophomore year, the 1.90 meters tall athlete was drafted by the Golden State Warriors with the 31st pick in the 2001 NBA draft.
Although he was not many teams' ideal candidate due to him being a part of the third round of drafting, he managed to get himself a position as a point guard. "With hard work and dedication to my craft, anything can happen," he said.
The player spent two years playing for the Warriors, during which he received the NBA Most Improved Player Award for the 2002-03 season and was also named Most Valuable Player of the rookie-sophomore game during the NBA All-Star Weekend.
Arenas was nicknamed "Agent Zero" after the number he picked for his jersey, a reference to the amount of minutes experts had predicted he would play for the NBA. He was also given the nickname Hibachi which can be translated from Japanese to "bowl of fire."
Washington Wizards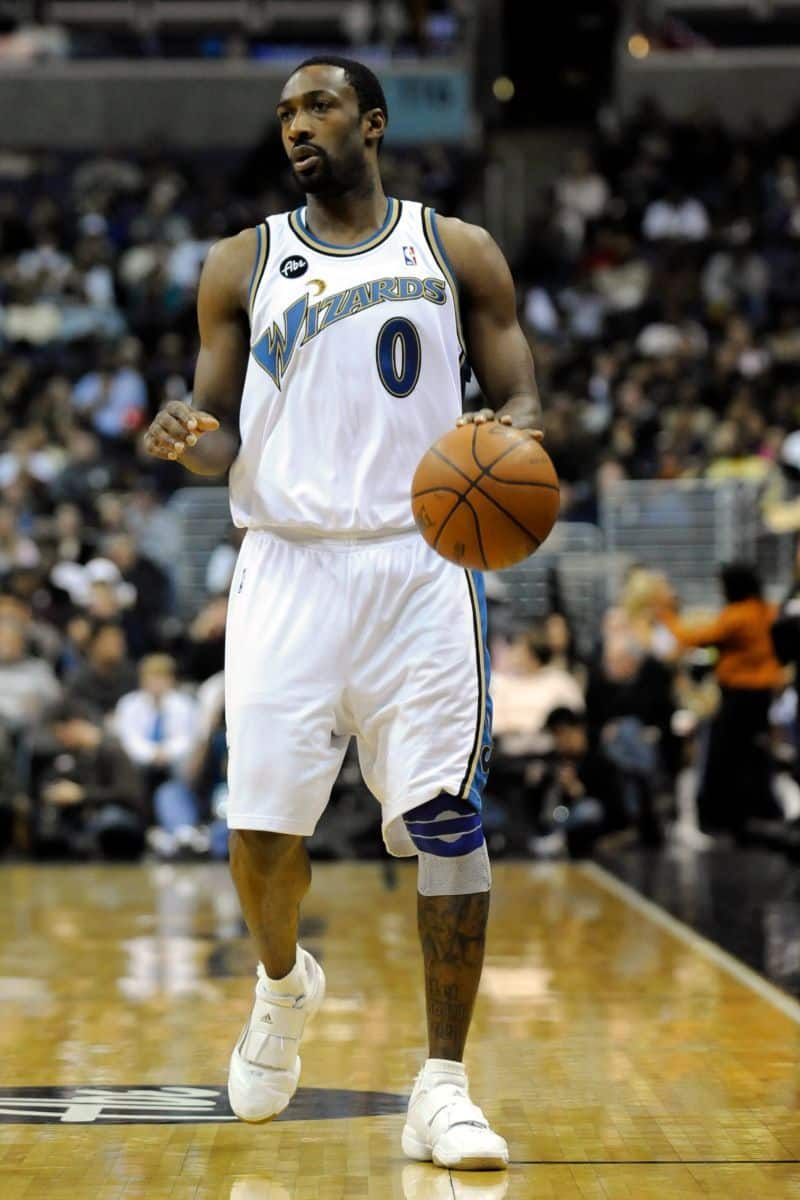 For the upcoming season, he was offered spots in several teams, including the Washington Wizards, GS Warriors, and the Los Angeles Clippers.
The Wizards made him an offer of a six-year 60 million dollar contract, which he accepted.
Arenas made a home for himself in the Washington team up until 2010.
In 2010, he was traded to the Orlando Magic for a whole season, signing a contract for $17 million.
He spent a brief time as a part of the Memphis Grizzlies in 2012 and became a part of the Shanghai Sharks, the CBA team, as a player for the 2012-13 season, his last one before retiring.
READ MORE: Butterbean Net Worth
Personal Life
Arenas' love life has been a very public topic from the beginning. In 2002 he began dating Laura Govan from the Sacramento Kings' public relations department.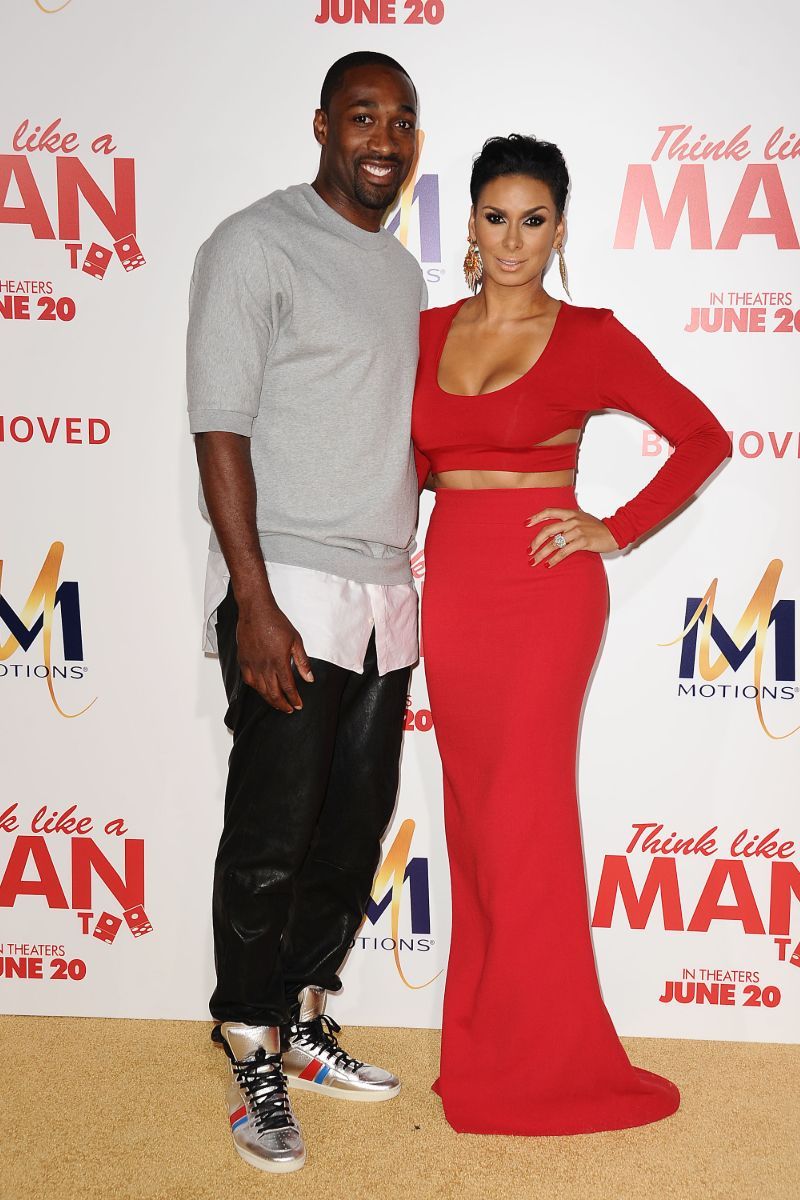 Laura, originally from Oakland, California, and the former basketball pro-player, had a twelve-year tumultuous relationship that involved a lot of breaking up, getting back together, and the birth of four kids: two daughters, Izela (born in 2005), Hamiley (2009), and two sons, Alijah (2007) and Ali (2011).
Both Izela and Alijah have immersed themselves in the world of basketball, following their father's footsteps.
Among the run-ins that Govan and Arenas had in the past, one stands out, when the reality star of the television show Basketball Wives LA served the player child support and custody documents during the halftime break of a game.
Gilbert Arenas – Net Worth
Arenas earned most of his wealth from playing from Shanghai Sharks, Memphis Grizzlies, Orlando Magic, Washington Wizards, and Golden State Warriors.
During his career as a professional basketball player, Gilbert earned over $163 million.
Arenas also had an eight-year contract with Adidas that was worth $40 million.
He sold three of his estates between 2014 and 2016, each with a value of over 2.5 million dollars.
Gilbert is the owner of a Mercedes and a Porsche and, at some point, was the owner of a Lamborghini and two Chevrolet Impalas from 64' and 65'.
Therefore, Gilbert Arenas has an estimated net worth of $35 million.
READ THIS NEXT: Who is Leo Santa Cruz?