What is Guy Harvey's net worth? Also, who is Guy Harvey's wife?
Introduction
Guy Harvey is a German-born Jamaican nature enthusiast who is best known for his paintings of aquatic animals as well as for his marine conservation work.
Biography
He was born on September 16, 1955, in Lippspringe, Germany, to a family of British heritage. Harvey spent the majority of his childhood in Jamaica.
Growing up in Jamaica, he spent many hours diving and fishing with his father along the Island's south coast. In his words:
"I grew up in southwest Jamaica, where my parents farmed beef cattle. They also had a small beach cottage on the coast at Belmont."
Guy later added:
"Each time I was at home on school holidays I went fishing with my parents or a local charter boat captain."
In a different interview, he said:
"Mum was a very keen horse rider … we went on rides every day."
Harvey continued:
"She was a naturalist; she loved pointing out birds and teaching us to learn the names of birds and flowers and plants, and I appreciated that from very early on."
He earned an honors degree in Marine Biology from Aberdeen University. In addition, Guy received his doctorate in Fisheries Management from the University of the West Indies. Guy also became a professor of fisheries biology for a short time.
In 1985, Harvey depicted Ernest Hemingway's famous fishing story, The Old Man & the Sea, through a series of 44 original ink and pen drawings.
In January 1987, both of his legs were severely injured by a boat propeller, leaving him unable to walk for about 12 months.
Guy Harvey Research Institute
In 1999, he formed the "Guy Harvey Research Institute" at the Nova Southeastern University in Florida.
The mission of the institute is to provide the scientific information necessary to conserve, understand, and effectively manage the world's marine fishes.
GHRI scientists, collaborators, and students are conducting many different research projects, including:
identification of essential habitat requirements for coral reef fish;
gamefish distribution, migration, and ecology;
artificial reef function;
stingray conservation and ecology;
gamefish behavior;
shark ecology and conservation.
In 2001, Harvey released Santiago's Finest Hour (with permission from the Hemmingway family), a compilation of 56 pen and ink drawings.
In 2015, Nova Southeastern University named its newest research facility the "Guy Harvey Oceanographic Center."
The President of Nova Southeastern University, George L. Hanbury II, declared:
"Nova Southeastern University has had a long-standing relationship with Dr. Harvey, and we're thrilled that will continue for many more years to come."
George L. Hanbury II went on to say:
"His generosity is ensuring today's leaders in marine sciences teach and pass on their expertise to tomorrow's researchers. I am very pleased that Guy Harvey is putting his name – literally – on the growing legacy of our Oceanographic Center."
Camp Mack in Florida would join his company's hospitality system and be called Camp Mack, a Guy Harvey Lodge, Marina & RV Resort on March 19, 2018.
In May 2019, his foundation received a $300,000 donation in support of shark genomic work being done at the GHRI.
The donor said in a statement:
"It is my great honor to help support the GHOF shark genomic research."
According to a statement from the institute:
"Sharks genetic makeup makes them predisposed to low cancer rates, rapid wound healing, and anti-aging characteristics."
READ MORE: Tanya Scott Husband
Norwegian Escape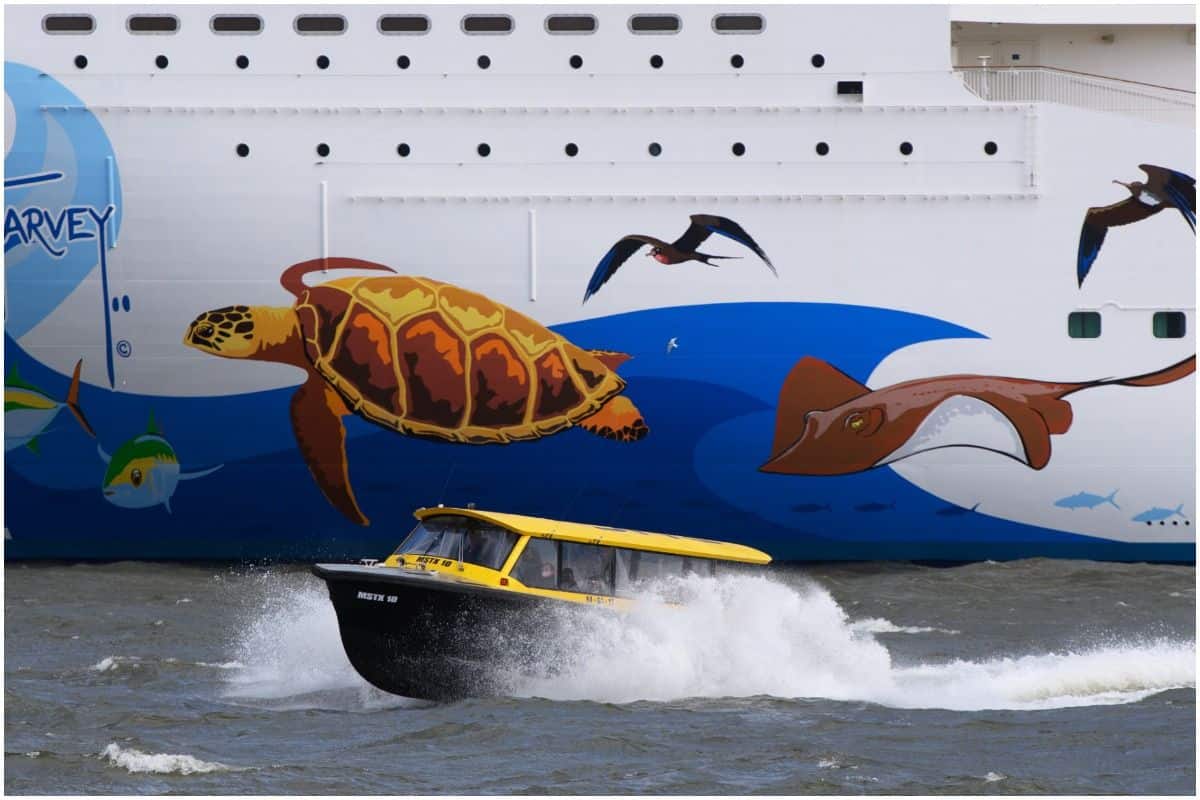 In 2014, Harvey was selected to paint the hull of the Norwegian Escape cruise ship.
Launched in August 2015, Norwegian Escape can often be seen in Grand Cayman's George Town harbor.
Guy's thoughts about the process of painting the hull:
"one of the most moving experiences of my life and the greatest artistic achievement I've ever had."
Spanning over 1,000 feet in length from bow to stern, the custom-designed artwork features a scene of marine wildlife that blends 2 underwater seas seamlessly.
In 2018, Norwegian Cruise Line partnered with Nova Southeastern University's Guy Harvey Research Institute and the Guy Harvey Ocean Foundation to host the 2nd annual ocean conservation-themed cruise on Norwegian Escape.
The president and chief executive officer of Norwegian Cruise Line, Andy Stuart, declared:
"We're honored to continue our relationship with Guy Harvey, as one of the leaders in conservation education."
Andy Stuart continued:
"To further showcase the importance of preserving the beauty and well-being of marine life for future generations to enjoy."
Wife
Guy Harvey married Gillian on January 7, 1989.
His wife is the daughter of a respected and well-known racehorse breeder in Jamaica.
They had started dating in 1984.
READ MORE: Who is Rachel Hollis's husband?
Trivia
In 2013, he was inducted into the ISDHOF in recognition of his contribution to the growth and success of recreational scuba diving.
When asked about what the average person can do to ensure the future health of our oceans, Guy responded:
"I encourage people who fish to join a local angling club, a regional angling organization and a national conservation organization to stay informed and participate in the educational and conservation process."
Harvey later added:
"I encourage anglers, divers, and boaters to pursue their hobby responsibly, and obey laws governing bag limits, size limits, marine parks, etc."
In January 1988, Guy survived a shootout in a home invasion. Due to personal security concerns over the high crime rate in Kingston, he moved his family from Jamaica to the Cayman Islands in the following year.
In 2008, Harvey won the International Game Fish Association's Lifetime Achievement Award.
READ MORE: Dhar Mann Net Worth
Guy Harvey – Net Worth
Harvey earned most of his wealth from his original pen and ink drawings. In addition, he sells fish-emblazoned T-shirts as well as Harvey-decorated sandals, posters, dog collars, doormats, cell phone covers, and coffee mugs. For instance, his T-shirts cost between $15 and $30.
Moreover, he owns The Guy Harvey Magazine, an award-winning magazine that is published quarterly and was launched in 2010. Guy has two books currently in print which also bring some revenue.
Therefore, marine wildlife artist Guy Harvey has an estimated net worth of $1.5 million.
Featured image credit – https://commons.wikimedia.org/wiki/File:Guy_Harvey_.jpg
READ THIS NEXT: David Baszucki & Roblox
References

https://www.prnewswire.com/artist-and-conservationist-honored
https://eu.usatoday.com/norwegian-cruise-ship-hull-art
https://www.elon.edu/artist-guy-harvey-awarded-medal-from-elon