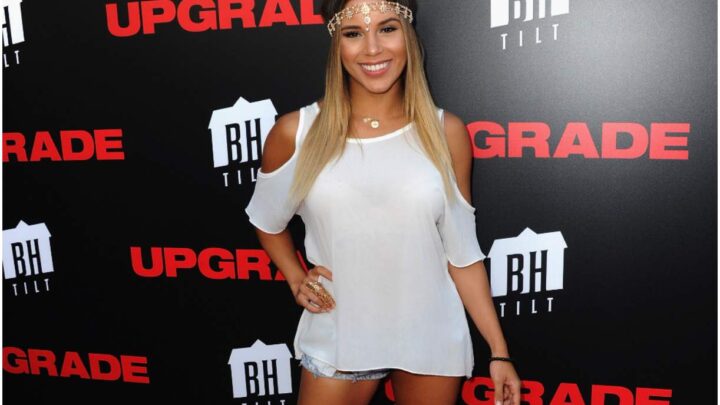 Magga Braco (birth name – Magdielle Bracoviche) is a fitness instructor and professional dancer who gained fame through the use of social media platforms YouTube and Instagram.
Biography
Bracoviche was born on a Saturday, March 5, 1988, in Venezuela.
She has danced alongside artists like Pitbull.
Magga had become world-famous thanks to her video dancing to the song Despacito by Luis Fonsi & Daddy Yankee.
YouTube
Braco started her YouTube channel on September 25, 2011. Currently, the channel has over 111 million views and more than 1.54 million subscribers.
On the platform, Bracoviche has uploaded a popular series of dance tutorials and videos.
The most popular video on her channel is titled – "APRENDE A MOVER LAS CADERAS." The video has over 16 million views and it was uploaded on February 1, 2018.
The second most popular video on the channel is named – "APRENDE A BAILAR SHUFFLE BÁSICO." The video was released on June 20, 2018, and it has more than 15 million views.
READ MORE: Jessie Moses Husband
Instagram
Bracoviche has over 569,000 followers on her Instagram account.
READ MORE: Taina Marie Meléndez Net Worth
Boyfriend
Magga Braco used to date Sherhan Rodriguez, a professional dancer who was born in Humacao, Puerto Rico.
Rodriguez is the lead choreographer for ALL STARS USA ENTERTAINMENT as well as a backup dancer for Ricky Martin.
In November 2015, Sherhan has allegedly repeatedly slapped Bracoviche while she drove them back from a bar.
Sherhan has been charged with criminal mischief, burglary, and battery. She wrote on her Instagram:
"Today, Dec 6, 2015, I'm taking the courage to confess: Unfortunately, I, Magga Bracoviche, was the victim of domestic violence on Nov 26."
Bracoviche also wrote:
"Ironically, Nov 25 (the day prior) was Anti-Gender Violence or Domestic Violence Day."
According to the police report, the two were at a bar in Miami when Sherhan became angry after he saw text messages and pictures on Bracoviche's phone.
Braco later posted a picture that showed her injuries from the night of the alleged attack.
A one-year restraining order has been issued against Sherhan allowing him only to return to Braco's apartment once to collect his things.
Bracoviche said:
"It is important to remember that the attacks will only become more frequent, more intense, more dangerous."
The professional dancer went on to say:
"A man who mistreats and abuses will never stop. It's time to tell them goodbye."
Sherhan was defended in court by attorney Jose Baez, who said that Braco was the aggressor in the relationship. Baez said:
"The November 26 incident was not the first time that things had gotten physical."
Jose Baez continued:
"Ms. Bracoviche has hit my client many times before. She was often the aggressor; that was the nature of their relationship."
Height
Braco is 5 ft 3 in (160 cm) tall.
READ MORE: Robin McGraw Age
Magga Braco – Net Worth
Braco earns most of her wealth from working as a fitness instructor and professional dancer. In addition, she has a Patreon account. Also, Magga makes money from posting on Instagram and YouTube.
On YouTube, earnings are hard to calculate since they depend on many factors (like views location, video length, audience retention, or time of the year). But, on average, 1 million views translate into $2,000 as revenue. Hence, from her 111 million views on YouTube, Bracoviche earned around $230,000 in revenue before taxes.
On Instagram, the professional dancer makes money from posting sponsored posts. An account with over half a million followers can easily receive around $5,000 per sponsored post. Therefore, Magga Braco has an estimated net worth of $0.3 million.
Featured image source – © Guliver / Getty Images.
READ THIS NEXT: Emily Compagno Net Worth
References

https://www.vix.com/venezuelan-model-shares-experience
https://people.com/ricky-martins-backup-dancer