Marco Antonio Barrera, nicknamed "The Baby Faced Assassin," is a former Mexican boxer and world champion.
Early in his career, he received many comparisons to Julio Cesar Chavez, a multiple-time world champion in three weight divisions.
Biography
He was born on January 17, 1974, in Mexico City, Distrito Federal, Mexico. Barrera is a member of an affluent Mexico City family.
His father wanted him to take over the family business, supplying sets for television plays, commercials, and films.
Barrera made his professional debut at the age of 15, He did so, beating David Felix by a knockout in round 2 on November 22, 1989.
After this victory, Marco won his first 43 bouts.
In 1990, he had 7 fights, including a win over veteran Ivan Salazar, by a decision in 8 rounds.
WBO Super Bantamweight Title
In 1995, he won the WBO super bantamweight title with a 12-round win over Daniel Jimenez (a former Puerto Rican boxer who is best known for having won the WBO title).
Additionally, Barrera successfully defended it 8 times, including wins over:
Kennedy McKinney (an American former professional boxer, who, at the 1988 Summer Olympics, won the bantamweight gold medal);
Eddie Croft (the former WBC Continental Americas Super Bantamweight champion);
Jesse Benavides (an American former professional boxer who won the WBO super bantamweight title with a win over Orlando Fernandez in 1991).
First Loss
Barrera suffered his 1st career loss and lost his title to American boxer Junior Jones on November 22, 1996.
In 1998, Marco announced a comeback, and he started by defeating Angel Rosario by a knockout in round 5.
On November 27, 2004, Barrera fought Morales for the 3rd time and became a 3-division world champion by defeating Morales in a majority decision to capture the WBC Super Featherweight title.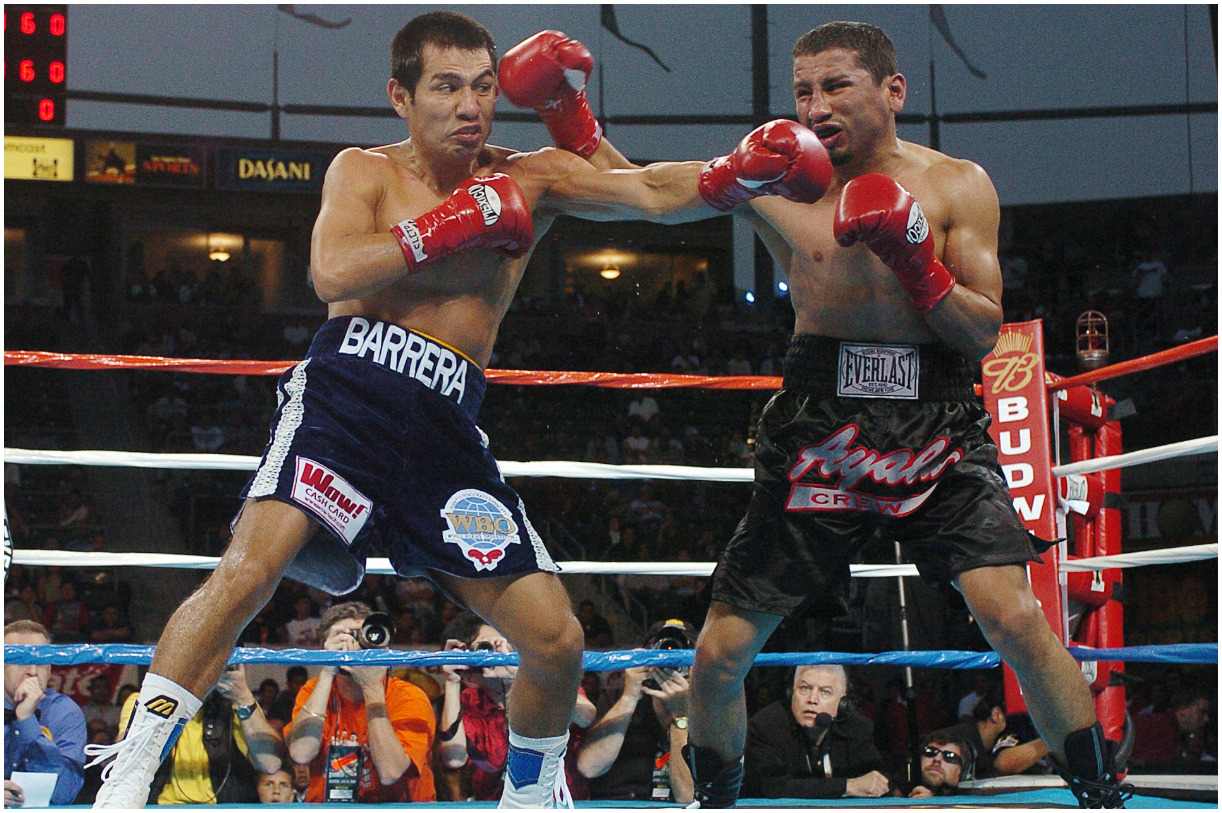 Interestingly, Morales refused to give Marco Antonio Barrera any credit for his victory; however, Morales admitted he had lost.
After the fight, Morales said – "When you lose, you lose. My body didn't respond the way it is supposed to."
On March 17, 2007, he lost his WBC Super Featherweight title to Mexican boxer Juan Manuel Márquez (the 3rd Mexican boxer to become a world champion in 4 weight classes) by unanimous decision.
READ MORE: Trey Canard Net Worth
Interesting Facts
Barrera was managed by Ricardo Maldonado, who also managed world champion boxers Daniel Santos (who competed from 1996 to 2009) and Alex El Nene Sanchez (who held the WBO minimumweight title from 1993 to 1997).
In 2017, he was inducted into the International Boxing Hall of Fame in Canastota, New York. After the event, Barrera said: "It's like the Nobel prize of the sport; it is the biggest award there." He added: "I could not imagine this, when I started boxing, I just dreamed of being a world champion."
Barrera was one of the fighters in HBO's "Boxing After Dark" series (premiere in April 1996).
In 2019, Barrera met with Erik Morales. Morales said:
"People remember us because of our efforts, because of our careers, and because of our dedication to the sport."
Marco trained at De La Hoya's training facility in Big Bear, California.
His birth sign is Gemini. The Gemini Zodiac sign belongs to the quality mutable and the element air. The Sanskrit name for Gemini is "mithuna." A Gemini has 3 lucky stones – Topaz, Emerald, and Agate.
Barrera is now an analyst for TV Azteca.
READ MORE: Lorenzo Gordon Salary
Wife
Marco Antonio Barrera is married to Sandra Barrera.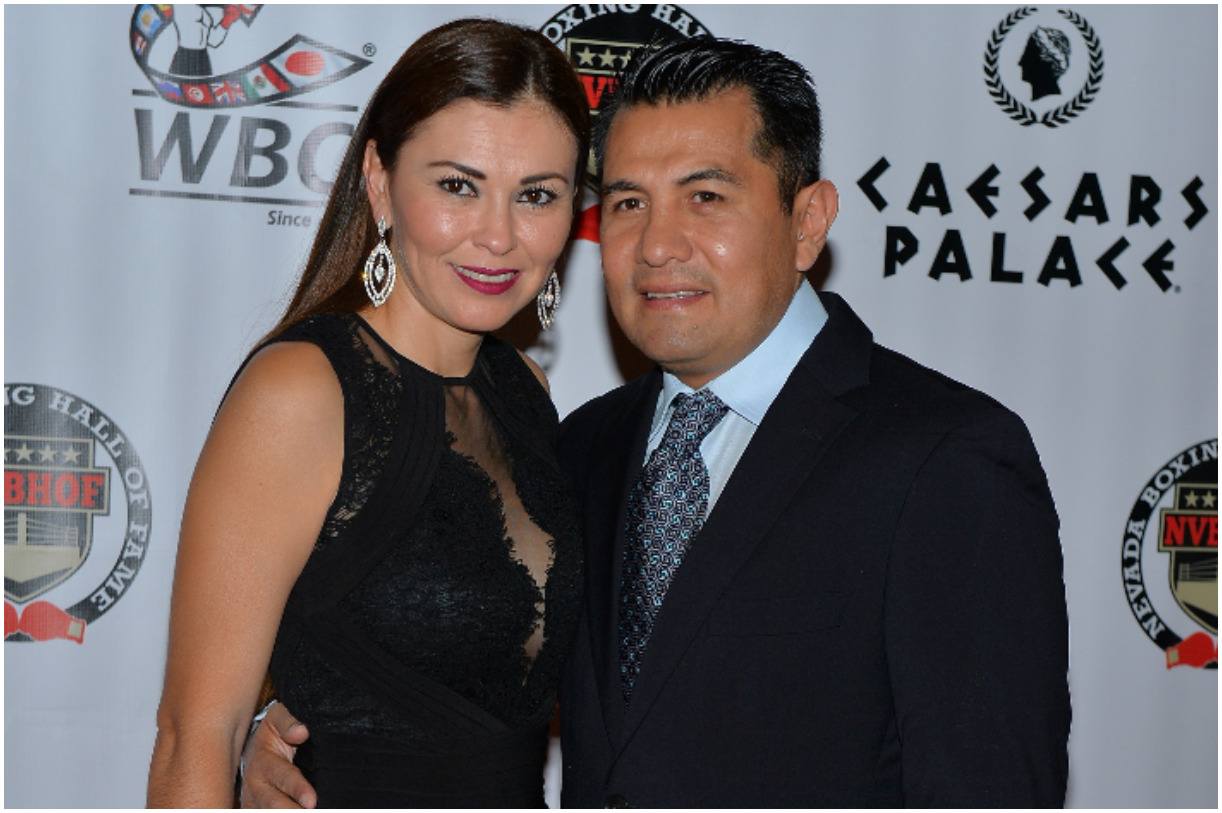 READ MORE: Cliff Dixon Net Worth
Boxing Record
Barrera is a multiple-time world champion in 3 weight classes, holding the WBO junior featherweight title two times between 1995 and 2001.
In 2001, Barrera held the IBO featherweight title. Furthermore, he held the Ring magazine featherweight title from 2002 to 2003 as well as the lineal featherweight title from 2001 to 2003.
Between 2004 and 2007, he held the unified IBF and WBC super featherweight titles.
Before losing his first amateur contest, he had an undefeated record of 56–0. His professional boxing record is 67 wins and 7 losses.
Marco Antonio Barrera – Net Worth
Barrera earned most of his wealth from fighting in professional boxing matches. Marco also served as a commentator for ESPN Deportes' weekly boxing show Golpe a Golpe. Therefore, former professional boxer Marco Antonio Barrera has a net worth of $2 million.
Featured image source – © Guliver / Getty Images.
READ THIS NEXT: Who is Antron Brown?
References

https://news.abs-cbn.com/marco-antonio-barrera-to-be-inducted-into-hall-of-fame
http://www.espn.com.au/miguel-berchelt-defends-junior-lightweight-world-title-9th