What is Antron Brown's net worth? Also, who is Antron Brown's wife?
Introduction
Antron Brown is an American drag racer who is best known for winning the 2012, 2015, and 2016 Top Fuel championships.
Brown is presently driving the Matco Tools Top Fuel dragster for Don Schumacher Racing in NHRA Mello Yello Drag Racing Series (the top competition series of the NHRA which comprises four classes, including – Pro Stock Motorcycle, Pro Stock, Funny Car, and Top Fuel Dragster).
Biography
He was born on March 1, 1976, in Chesterfield, New Jersey, USA. As of the 2010 US Census, Chesterfield's population was 7,699.
His father Albert was a drag racer at the sportsman level and ran a septic tank service.
He actually lived in Trenton, New Jersey until he was six years old. Following the death of his grandfather, his family moved to a 10-acre farm in Chesterfield Township.
Antron studied at Northern Burlington County Regional High School. In high school, Brown ran his first competitive drag race.
From 1998 to 2007, he raced in the NHRA's Pro Stock Motorcycle division. In the first 3 years, Brown ran with Vincent's Team 23 Racing.
After first winning a major auto racing title, he said:
"I am just glad we could bring it home for Don Schumacher Racing."
Brown went on to say:
"To win the world championship the way the competition has been this year in Top Fuel and to run and compete how we've been doing all season long is just phenomenal."
In August 2015, Antron became the first driver to complete a run in 3.6 seconds. This time became a national record time at Brainerd, Minn.
In 2018, he had one of the worst seasons in his drag racing career. According to statistics, Brown managed just one win.
Wife
Antron Brown is married to Billie Jo Brown. They met in 1998, at Antron's first Pro Stock Motorcycle race in Gainesville.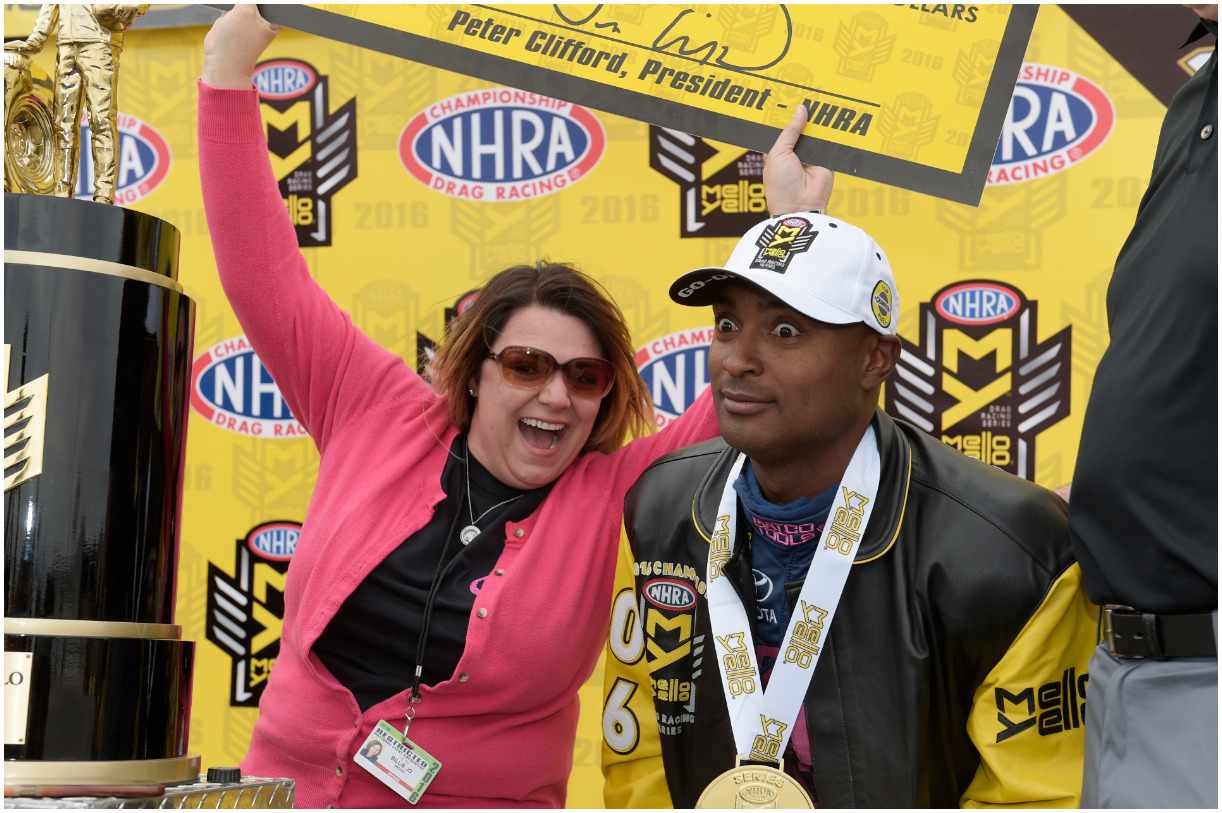 Children
The couple has a daughter and two sons.
His 13-year-old son, Anson, is also into drag-racing. Anson represents the 4th generation of drag-racing Browns. Antron declared about this:
"It's always been fun, but it also can teach you so much. It goes back to what my grandpops instilled into my dad and uncle, and they instilled that into me."
Brown later added:
"Now I try to take those same morals and values and instill them into my children."
Quotes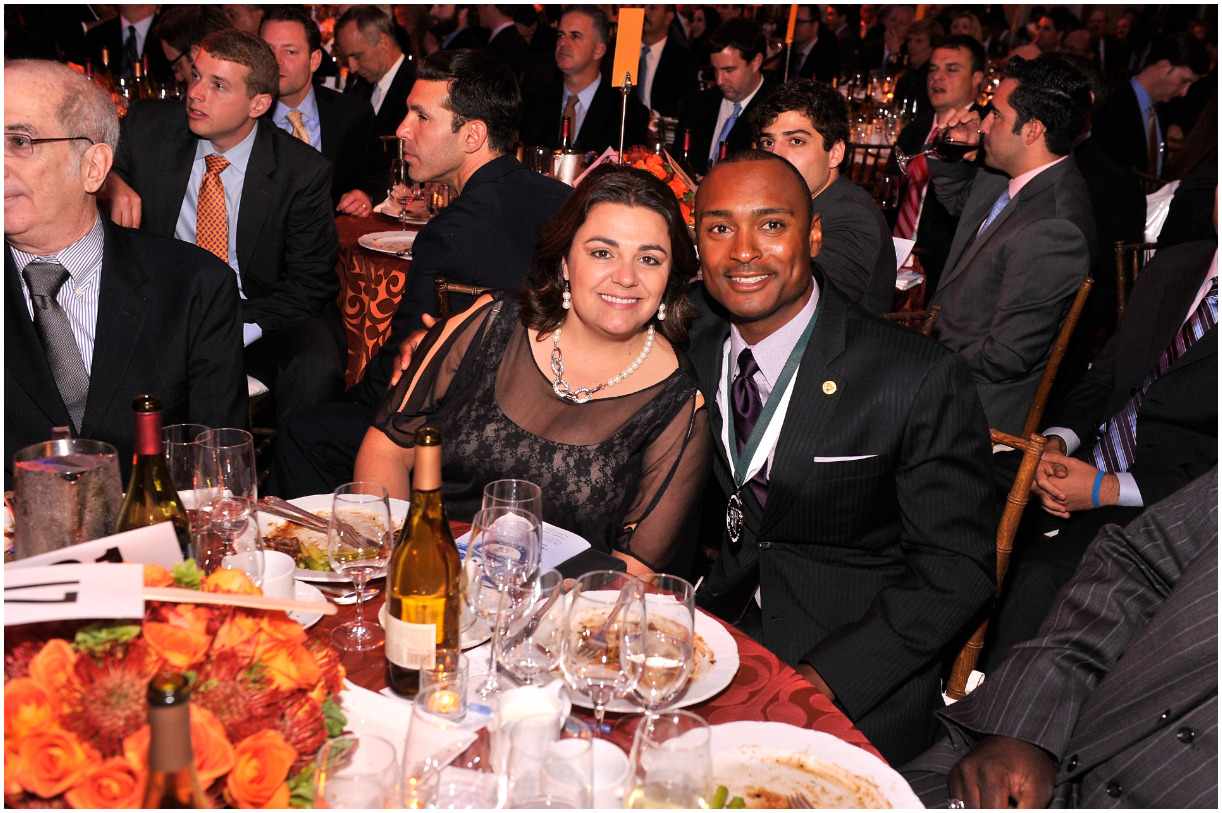 "Our main focus is to be in a good position heading into the Countdown to give us a chance to bring it home."
"There's nothing that can compare you to the rate of acceleration in a Top Fuel car."
"We became a part of history as one of the few and only Top Fuel drivers to ever win Indy."
"To be truthful, when we come in here, we're here to bring the pain to other teams."
"The goal is to win as many races as we can, but it will be tough because the competition is outstanding in Top Fuel."
READ MORE: Who is Shaun White's girlfriend?
Trivia
Antron currently co-hosts Top Gear America, a motoring television series for BBC that is based on the original UK version. Top Gear America was announced in April 2017.
He co-hosts the television series with:
William Fichtner, an American actor who is known for his roles in the following movies – Teenage Mutant Ninja Turtles, Independence Day: Resurgence, Elysium, The Lone Ranger, Date Night, The Dark Knight, Mr. & Mrs. Smith, The Longest Yard, Black Hawk Down, Blades of Glory, Crash, Go, The Perfect Storm, Armageddon, Contact, Heat, Prison Break, and Invasion;
Tom Ford, a motoring television presenter and journalist who was the co-host of Fifth Gear from 2002 until 2009.
Antron became the first African-American driver in history to win a major auto racing title.
Brown appeared in episode 3 of Idris Elba: No Limits.
He also had an appearance as an appraiser in episode 8 ("The Fast and The Curious") of the 3rd season of Storage Wars, an American reality television series that premiered on December 1, 2010.
Season one of Storage Wars had 19 episodes, 17 of which were filmed at different self-storage facilities throughout California.
The reality television series can be seen internationally in:
Turkey;
India;
Singapore;
Russia;
Canada;
Argentina;
Croatia;
Brazil;
Australia;
New Zealand;
the United Kingdom;
Denmark;
Ireland;
France;
the Netherlands;
Spain;
Sweden;
Germany;
Finland;
Poland;
Norway;
Portugal;
Italy.
Gateway Motorsports Park has always been a favorite stop for Antron and his Don Schumacher Racing Matco Tools/U.S. Army Top Fuel dragster team. For example, he has won the last 3 Top Fuel events and 4 overall at Gateway.
Gateway Motorsports Park (currently named – World Wide Technology Raceway at Gateway) is a motorsport race track in Madison, Illinois. It hosts an annual National Hot Rod Association event. Antron declared about this race track:
"It's the atmosphere, the people in the stands, everything. It's one of the best tracks in the country as far as a racing surface."
Brown continued:
"When you get the great weather with the great people and the time of the year we run, you mix all that together and our team thrives in that type of atmosphere."
He won sixteen events in the motorcycle division. Additionally, Antron had a best finish of second in points in 2001 and 2006. However, Brown left the motorcycled division and moved to Top Fuel dragsters in 2008.
READ MORE: Marco Antonio Barrera Net Worth
Antron Brown – Net Worth & Salary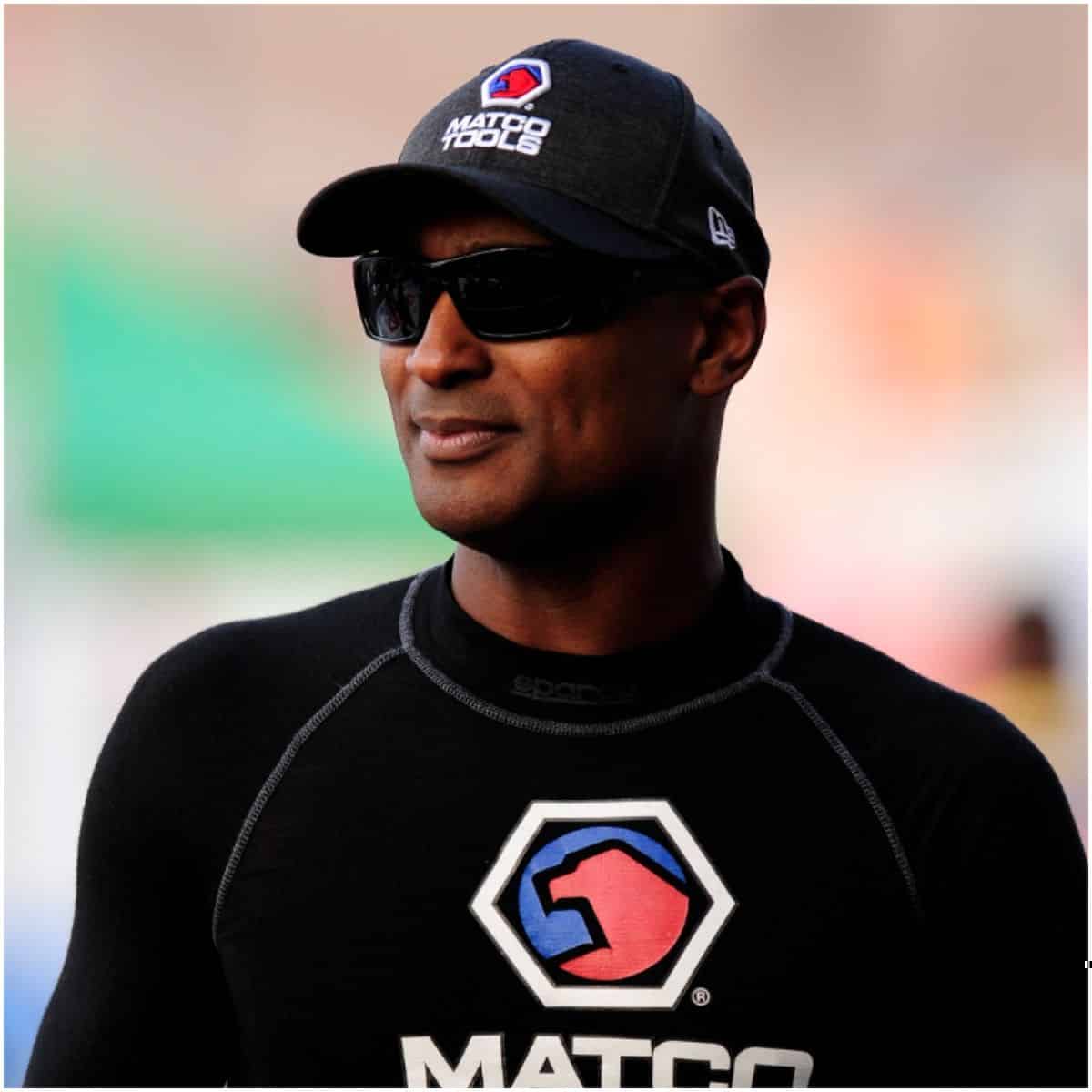 Brown earned most of his wealth from participating in drag racing. His salary was not released to the public.
According to his website, Brown has several sponsors, including:
Streamlight, Inc. – it is a company that has designed, marketed, and manufactured high-performance flashlights;
The U.S. Army Accessions Command – it is a subordinate command of U.S. Army Training and Doctrine Command;
Matco Tools – it is an American professional tool distribution franchise for the automotive industry which has sold automotive products and tools to professional mechanics.
Therefore, American drag racer Antron Brown has an estimated net worth of $5 million.
READ THIS NEXT: Who is Brooks Laich's wife?
References

https://autoweek.com/article/nhra/happy-fathers-day-nhra-champ-antron-brown-celebrates-four-generations-racers
https://www.motorsport.com/nhra/news/don-schumacher-racing-interview-with-antron-brown/356018/