What is Miki Sudo's net worth?
Introduction
Miki Sudo (birth name – Miki Victoria Sudo) is an American YouTuber and competitive eater who has taken prizes in turkey-eating championships, bratwurst eating contests, and pie-eating contests.
Sudo also has a self-titled YouTube channel.
Miki estimates she can hold about 12 pounds of food in her stomach.
Biography
Sudo was born in 1985, in New York, USA, to a Japanese father and a European American mother.
At the age of five, Miki moved to Japan with her family.
While in Japan, Sudo competed in sumo tournaments. She said in an interview:
"There was a national competition, and in my division, I took second place in the country."
Miki returned to the United States after seven years of living in Japan.
She graduated from the University of Nevada, Las Vegas, with a bachelor's degree in business administration.
Miki won her first money from competitive eating on a dare at a local restaurant. She said for Mel Magazine:
"If you could eat the entire meal within a given amount of time, you won $1,500."
Sudo went on to say:
"I turned out to be the only person to ever complete that challenge."
She entered her first official competitive eating tournament in August 2012. At that competition, she devoured seven pounds of ramen.
Miki signed with Major League Eating (an organization that organizes professional competitive eating events) in April 2013.
In 2014, Sudo won her first Nathan's Hot Dog Eating Contest, an annual American hot dog competitive eating competition that is held each year on Independence Day. The competition also falls within National Hot Dog Month. She has eaten 34 hot dogs in 10 min and beat the long-running champion Sonya "The Black Widow" Thomas.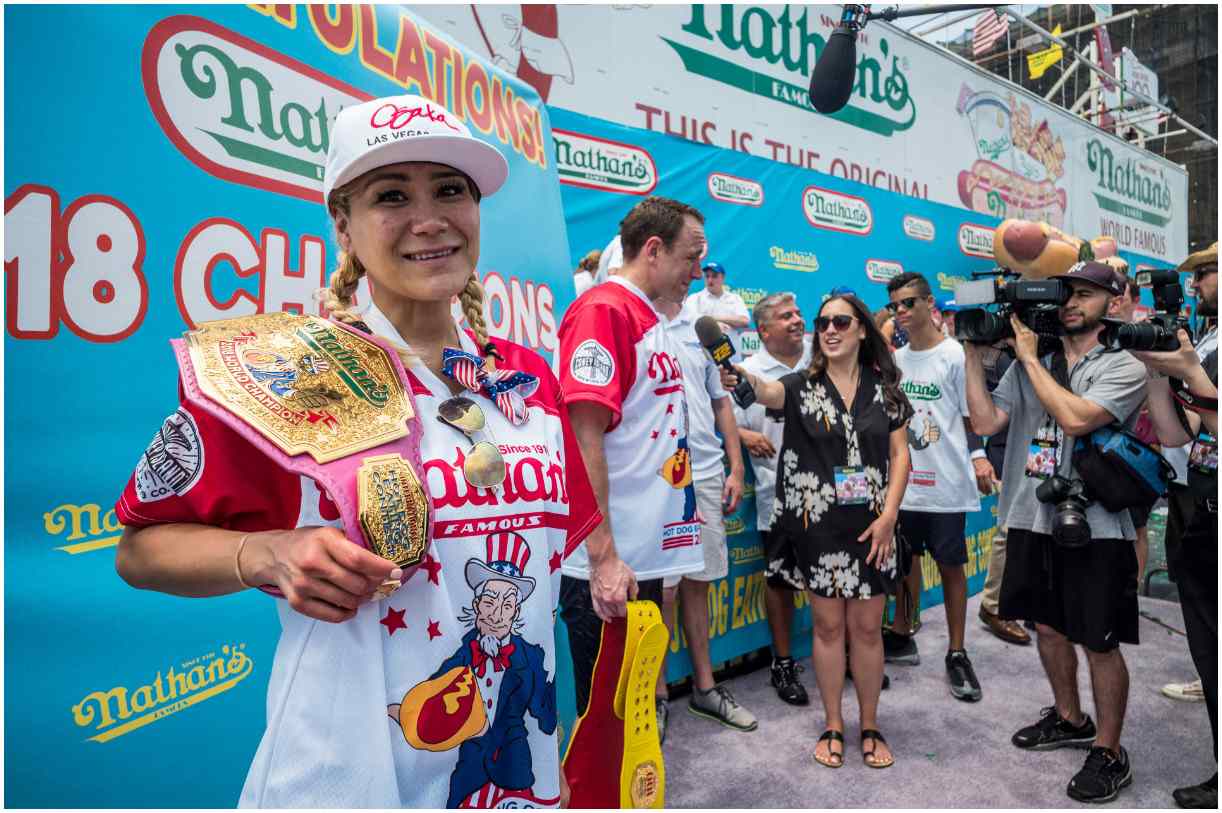 Sonya holds the all-time women's record of 45 hot dogs in 10 minutes. Miki said:
"To be the first person to beat Sonya Thomas at hot dogs is surreal."
In 2014, Sudo became Major League Eating's top-ranked female competitive eater.
In 2015, she won her second Nathan's Famous Hot Dog Eating Contest – women. She consumed 38 hot dogs in 10 min. She said before the competition: "I'm not in my normal physical condition, so my performance might be disappointing."
Later that year, she won Western Days Festival World Tamale Eating Championship. On November 21, 2015, Miki won Foxwoods World Turkey-Eating Championship.
In 2015, Sudo reached the top three overall in Major League Eating rankings.
In 2016, she won her third Nathan's Famous Hot Dog Eating Contest by devouring 38.5 hotdogs in 10 minutes.
After the competition, Miki declared:
"During a competition, it just completely takes over."
Sudo later added:
"I try to pay attention when the emcee calls time or announces where another competitor is in terms of quantity, but other than that, I don't see or feel anything."
On July 4, 2017, Miki consumed 41 hotdogs in 10 minutes. With that performance, she won her fourth Nathan's Famous Hot Dog Eating Contest.
In 2018, she won another Nathan's Famous Hot Dog Eating Contest (41 hotdogs). She told reporters afterward: "I really wasn't looking to beat my personal best or even a record." Miki added: "A win is a win."
In 2019, Sudo consumed 31 hotdogs in 10 minutes to win her sixth Nathan's Famous Hot Dog Eating Contest. She said afterward: "I feel like I should eat a couple more."
On July 4, 2020, Miki won her 7th Nathan's Famous Hot Dog-Eating Contest by consuming 48.5 hot dogs and buns in 10 minutes.
Sudo won her 8th Nathan's Famous Hot Dog-Eating Contest on July 4, 2022.
READ MORE: Biography of Mary Jo Buttafuoco
Boyfriend
Miko Sudo used to date Juan Rodriguez, a competitive eater, and personal trainer.
Sudo called in a false bomb threat to US Airways after Rodriguez had stolen her credit card to book a flight in 2010.
In February 2012, she pleaded guilty to a felony for making a false bomb threat on September 11, 2010, reported ReviewJournal.
Miki received a sentence of 10 months of home confinement.
Starting in 2018, Miki Sudo is dating fellow competitive eater Nick Wehry.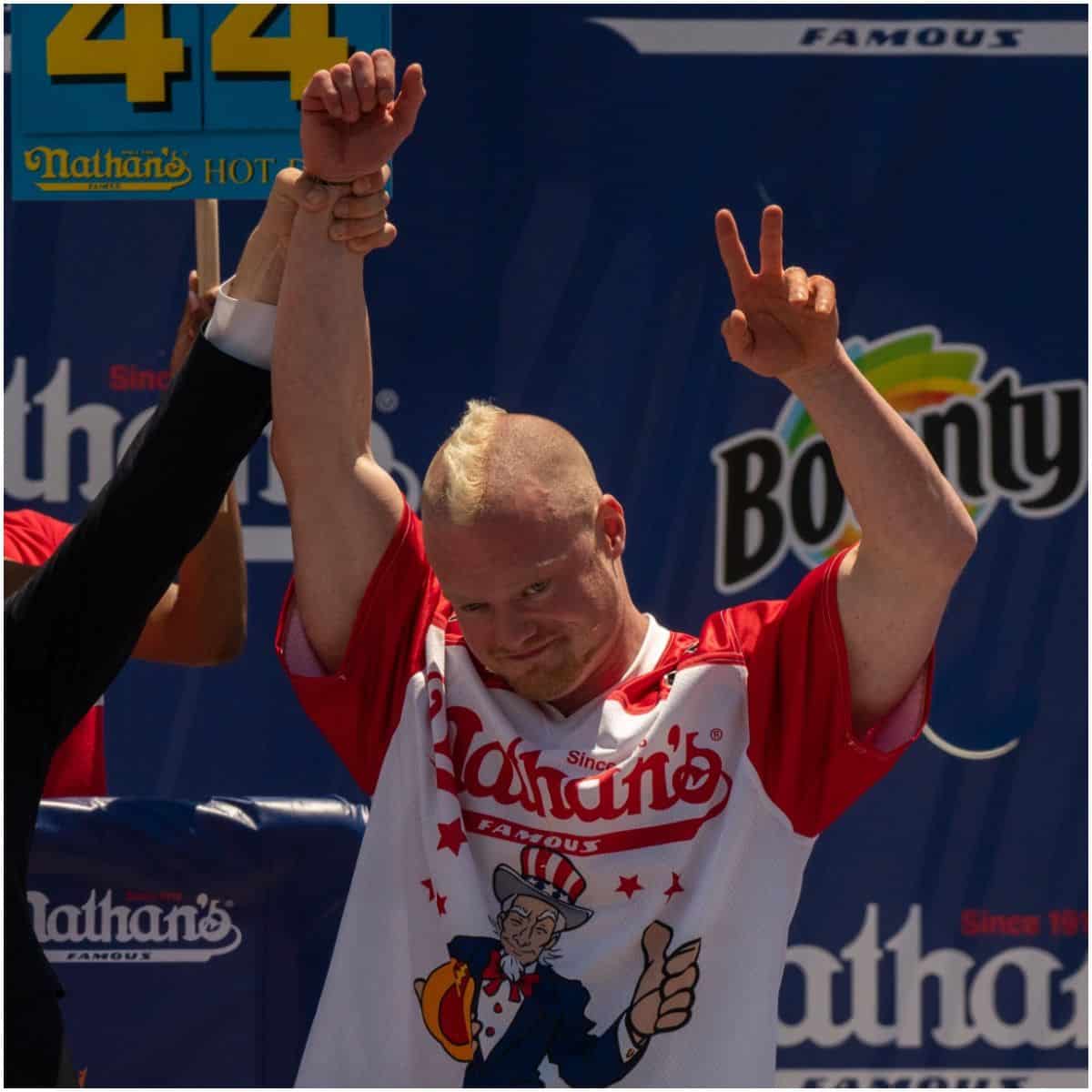 READ MORE: Gordon Sondland Net Worth
Children
Her son, Maxwell Samuel Wehry, was born on July 8th, 2021.
Height
Sudo is 5 ft 4 in (162 cm) tall.
Trivia
She works in the gym four days a week for an hour each day. Miki explained: "I usually go about four times a week, but I don't like running." She also said: "Plus, I have a job at a restaurant, which keeps me on my feet."
In the two days leading up to the competitive eating event, Sudo'll juice all her meals.
Miki Sudo – Net Worth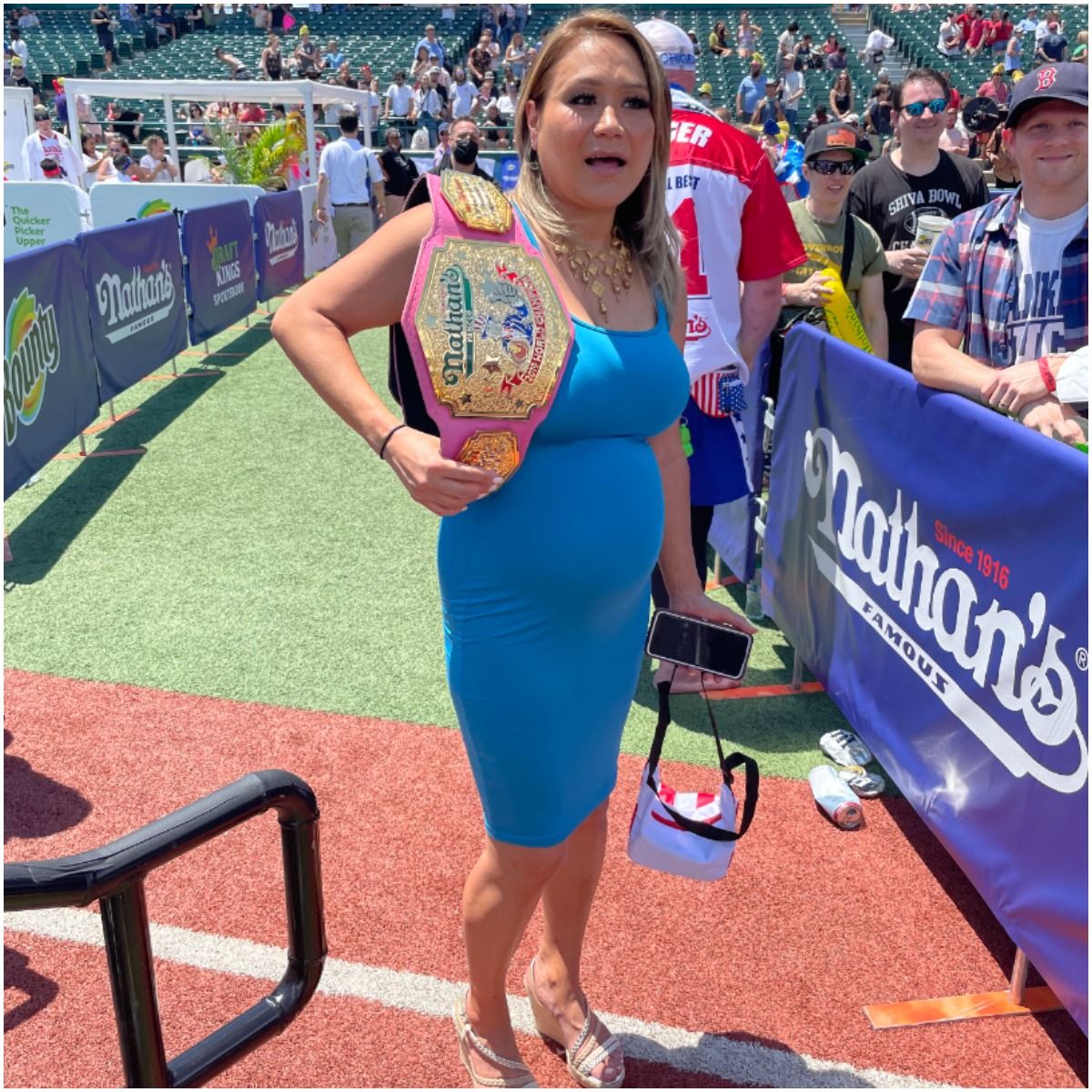 Sudo earns most of her wealth from prize money in competitive eating competitions, having a day job, and sponsors.
For instance, for every win at Nathan's Hot Dog Eating Contest, she received $10,000.
Therefore, American competitive eater Miki Sudo has an estimated net worth of $500,000.
READ THIS NEXT: Who is Molly Yeh?