Rickie Fowler is an American professional golfer who was the PGA Tour Rookie of the Year in 2010. For 37 weeks, spanning 2007 and 2008, Rickie was the top-ranked amateur golfer in the world.
He was born on December 13, 1988, in the USA.
Fowler's middle name – Yutaka – comes from his maternal grandfather, Taka Tanak.
His mother, Lynne, is half Navajo and half Japanese. His father, Rod, was once a competitive dirt biker who won the Baja 1000 in 1986 and currently owns a trucking company.
Rickie attended Murrieta Valley High School.
After high school, Fowler attended Oklahoma State University in Stillwater.
In 2005, he competed in the U.S. Amateur.
In the follow-up year, he shot a 137 for two rounds at the U.S. Junior Amateur.
In 2007, Rickie represented the US in its victory at the 2007 Walker Cup.
In 2009, Fowler helped the United States defend the Walker Cup by winning all 4 matches.
In 2010, he notched his 3rd PGA Tour runner-up finish at the Memorial Tournament in Dublin, Ohio.
In 2011, after he secured a 6-shot victory over opponent Rory McIlroy, Fowler won his first major win as a professional golfer at the OneAsia Tour's Kolon Korea Open.
In 2012, Fowler won his first PGA Tour win, defeating professional golfer from Northern Ireland Rory Mcllroy in a playoff at the Wells Fargo Championship.
In 2013, Rickie finished runner-up in the Australian PGA Championship.
In the next year, Fowler placed 3rd place at the PGA Championship and 2nd in the US Open.
During an anonymous poll conducted in 2015 by Sports Illustrated, PGA Tour pros voted English professional golfer Ian Poulter and Rickie Fowler as the most overrated players in golf with both receiving 24% of the vote.
In 2015, Fowler was announced as an official ambassador for PGA Junior League Golf.
In 2016, he finished 5th in the Hyundai Tournament of Champions in Hawaii.
In 2017, Rickie won The Honda Classic for his 4th PGA Tour win.
In 2018, he shot a 72-hole score of −14 (274) to finish in second place to champion Patrick Reed by 1 stroke at the Masters Tournament.
In 2019, he won the Waste Management Phoenix Open.
Girlfriend
Rickie dated a Pepperdine University graduate – Alexandra Browne. Alexandra's father, Olin Browne, plays on the Champions Tour and the PGA Tour.
In 2014, Rickie Fowler started dating Alexis Randock, an interior designer and model from Arizona. At one point, Alexis was signed by the Wilhelmina Models, a talent and modeling agency based in London, Los Angeles, New York City, Miami, and Chicago.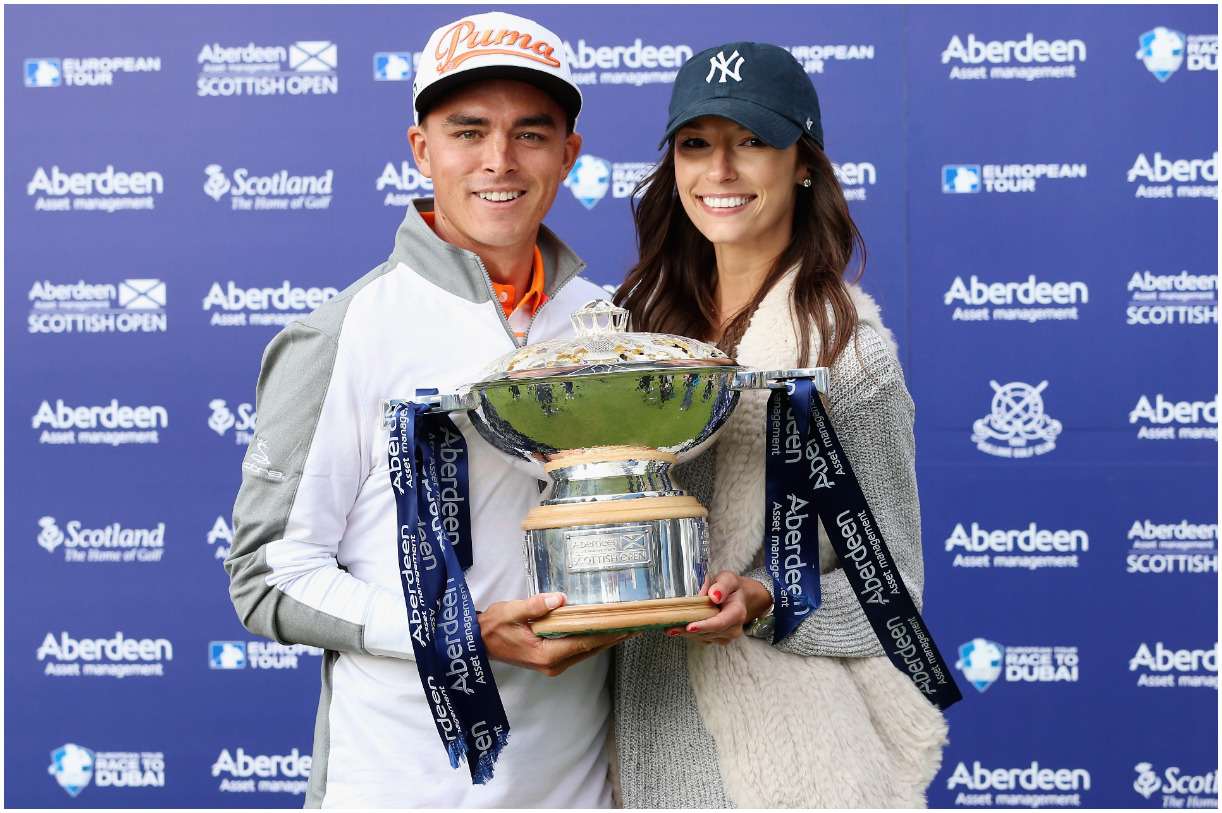 During the 2015 Masters Par-3 Contest (a golf competition that precedes the Masters Tournament at Augusta National Golf Club in Augusta), Alexis served as Fowler's caddie. They broke up in 2016.
According to several reports, Rickie may have been the one to break up with Alexis, leaving her to date a former contestant on the hit ABC reality show The Bachelor – Lauren "LB" Barr.
Note – the relationship between Fowler and LB was never confirmed.
Wife
In June 2018, Rickie Fowler announced his engagement to Allison Stokke, a current pole vaulter and a former track and field star at the University of California.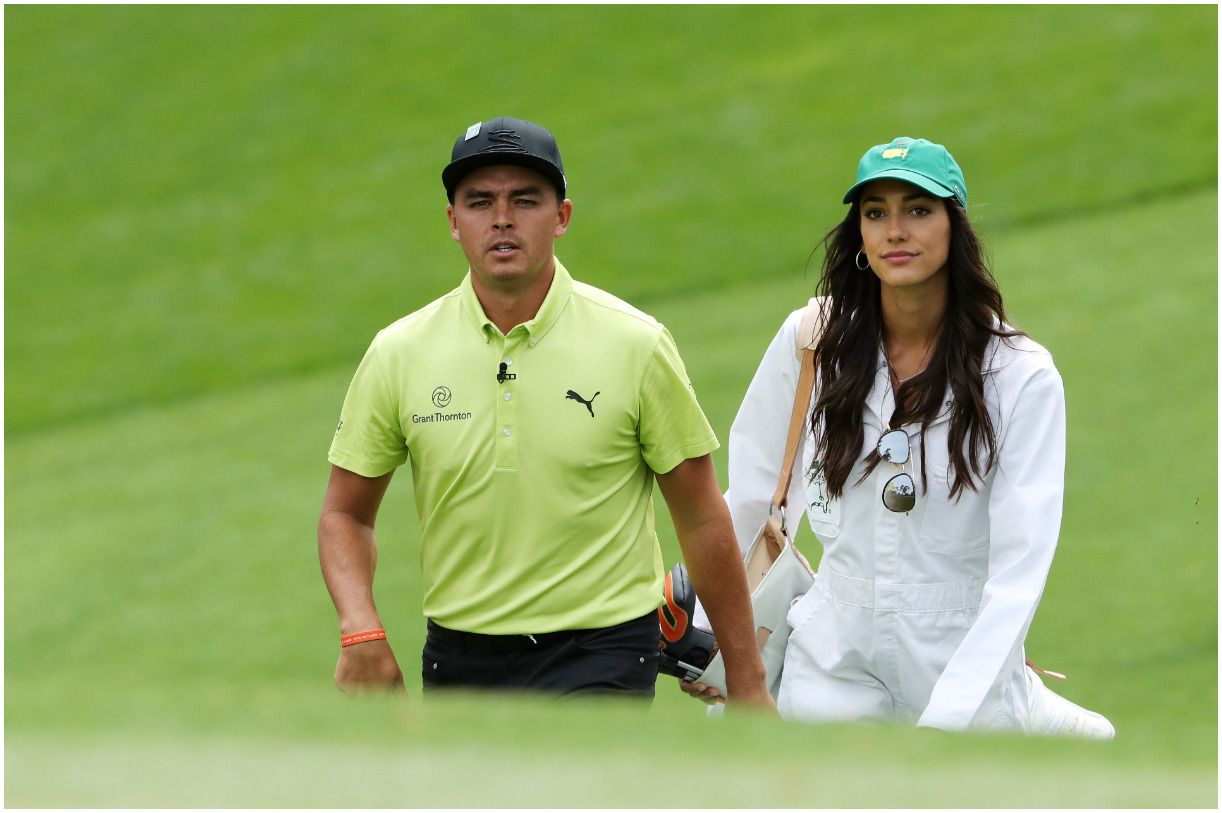 Allison was born on March 22, 1989, in Newport Beach. Stokke became a sportswear model, appearing in campaigns for Uniqlo, Athleta, and Nike in 2015.
Rickie announced the engagement on his Instagram account.
Allison replied to the Instagram post:
"Yes!!!!!!!!!!!!!!!!!!!!!!!!!!!!!!!!!! And happy national best friend day to my best best best friend! I love you!!!"
Rickie Fowler married Allison Stokke in October 2019.
Height
Fowler is 5′ 7″ (1.7 m) tall.
Quotes
"There's a lot of other things that I'd love to be remembered by, work off the golf course and making a difference and changing people's lives."
"There's still nothing I love more than being in the air. I've always liked speed and things on wheels, going out there and putting it all out there, being on the edge."
"I want to be known more for my golf than my clothes and my hat."
"Some of the girl fans will message me online, saying, 'You're the reason I watch golf.' "
"Well, the expectations and the pressure on myself, that I put on myself is a lot more than what's coming from the outside."
"I love being able to sign autographs when I get that extra free time after a round just to be able to give back to the fans."
Trivia
Rickie was selected by fans to be featured alongside the renowned professional golfer Tiger Woods on the cover of the video game Tiger Woods PGA Tour 13.
Fowler said:
"It's pretty cool to see yourself on a video game."
In 2016, Rickie bought a mansion in Jupiter, Florida which is where he currently lives.
In 2008, he was given the Ben Hogan Award.
He has three tattoos. One is of the Olympic symbols. Another contains the name Yutaka Tanaka in Japanese script. The third one is a block "G" near his left elbow in honor of Georgia Veach, the daughter of a friend and Seattle pastor.
Fowler earned most of his wealth from being a professional golfer. For instance, he has two European Tour wins and 5 PGA Tour wins under his belt.
In 2016, following his victory in the Abu Dhabi HSBC Golf Championship, Rickie reached a career-high fourth in the Official World Golf Ranking. He also became the 3rd golf player, after Tiger Woods and Jack Nicklaus, to have top-5 finishes in all 4 majors in one calendar year.
Moreover, Fowler became the twenty-seventh golfer in the history of PGA Tour to win at least $30,000,000 in earnings. For instance, he earned more than 37 million from golf competitions.
He also earns some money from sponsors. For example, he signed a multi-year deal to use TaylorMade golf gloves and balls. Therefore, Rickie Fowler has an estimated net worth of $28 million.
Featured image source – © Guliver / Getty Images.
READ THIS NEXT: Who is Chris Heria?
References

https://www.golf.com/ian-poulter-and-rickie-fowler-voted-most-overrated-player
https://nypost.com/2016/01/15/did-rickie-fowler-dump-model-gal-pal-for-bachelor
https://www.golfchannel.com/media/best-rickie-fowler-and-allison-stokke