Sherrilyn Kenyon is a #1 New York Times bestselling author who is best known for her Dark Hunter series.
Biography
She was born on December 11, 1965, in Columbus, Georgia, USA, as Sherrilyn McQueen, while her father was stationed at Fort Benning.
Sherrilyn said that her mother raised her with one principle – "judge no one until you've walked in their moccasins."
Her parents often fought while she was growing up. As a child, Sherrilyn took solace in books to escape that environment of physical and verbal abuse.
Kenyon started to write fiction at age 7.
"Writing was my outlet for it," Sherrilyn later explained. She added: "My anger went out on the page. You have to let it out."
Her parents divorced when Sherrilyn was 8.
She began writing the Dark Hunter series in 1986. The Dark Hunters are immortals who cannot be in sunlight. Some of the books in the series are:
Night Pleasures;
Night Embrace;
Dance with the Devil;
Kiss of the Night;
Night Play;
Seize the Night;
The Dark-Hunter Companion.
In 2003, Kenyon started B.A.D. (Bureau of American Defense) Agency series. Founded 9/13/01, Bureau of American Defense is a covert agency set up by the Executive Branch with one mandate.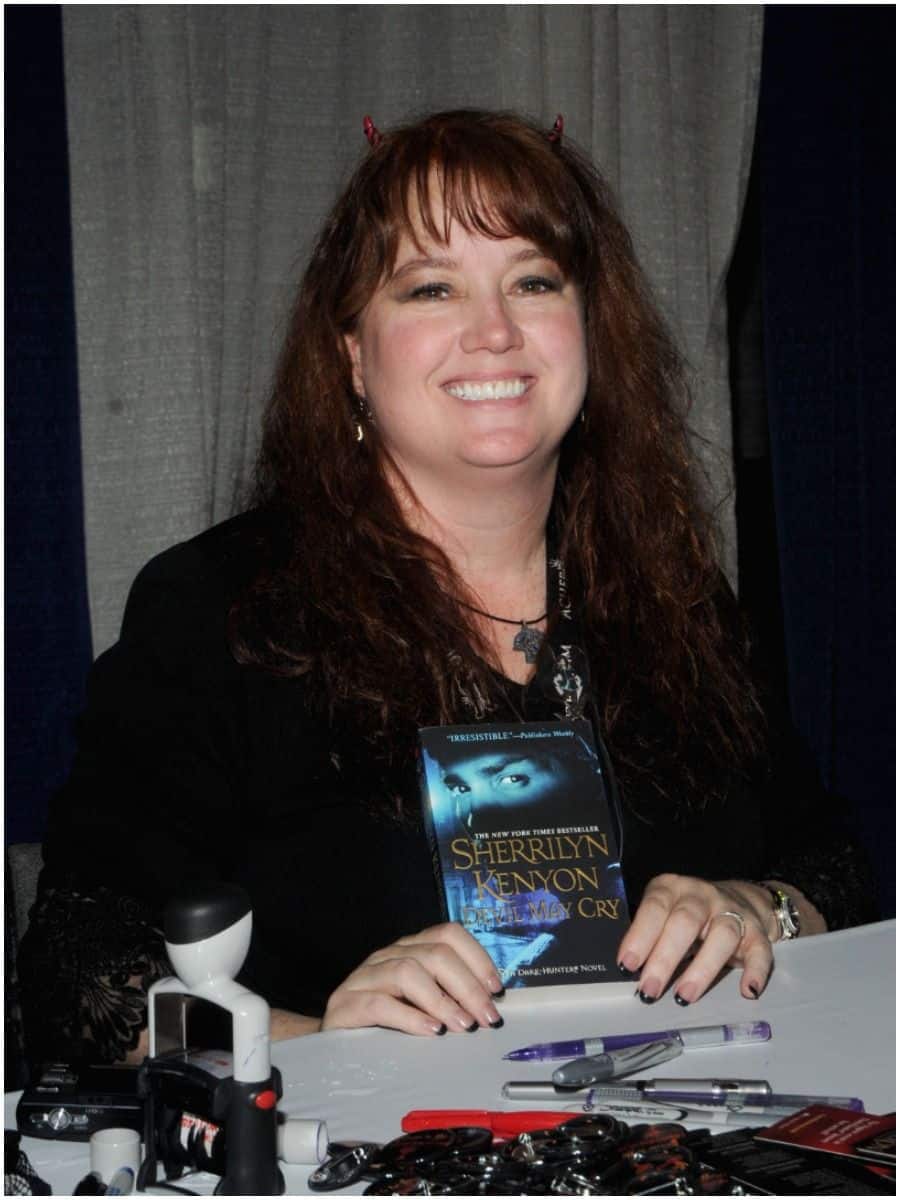 Some of the books in the series are:
Big Guns Out of Uniform;
Born to be Bad;
Bad Attitude;
Phantom in the Night;
Whispered Lies;
Deadly Promises.
In 2008, she started Belador series with Dianna Love. Some of the books in the series are:
Dead After Dark;
Blood Trinity;
Fire Bound;
Alterant;
Rise of the Gryphon.
In 2016, Kenyon sued Cassandra Clare for "wilfully copying" her novels.
Husband
On August 23, 1990, Sherrilyn Kenyon married Lawrence Kenyon.
Lawrence filed for divorce in 2018.
"I thought I had a happy marriage," Sherrilyn said of her marriage. "Compared to what I was used to, he was awesome."
On January 7, 2019, she filed a lawsuit against Lawrence Kenyon and his assistant, Kerrie Ann Plump, claiming they had poisoned her in order to sabotage her health for his financial gain.
She wrote: "While I thought I was in a happy marriage, the man I believed to be a noble hero had been plotting against me for a very long time while lying to my face."
The suit alleges that tests concluded her levels of thorium, barium, tin, and lithium were at a dangerous level of toxicity.
The lawsuit also alleged that Sherrilyn experienced symptoms such as facial swelling, memory loss, trouble breathing, anemia, broken teeth, hair loss, vomiting, and nausea, after eating the food prepared for her.
She said that Plump and Lawrence "would force her to eat [tainted food] and become enraged any time she failed to consume it" and that they had "systematically poisoned her since 2015."
Sherrilyn also said that Lawrence "stood to gain millions of dollars upon her demise through life insurance and the value of her estate."
In June 2019, Kenyon decided to dismiss the lawsuit due to the financial impact it was having on her family. "I am confident in the facts and evidence of my case and look forward to revisiting this lawsuit at a future time," she also stated.
Her request to dismiss the complaint was accepted on July 26.
"Mrs. Kenyon opted to dismiss all allegations rather than face presenting her case and her outlandish allegations to scrutiny by a jury of her peers," Lawrence said in a statement.
In December 2019, Sherrilyn was ordered to serve 10 days in the Williamson County Jail for contempt of court. Her appeal bond was set at $2,500.
Children
Sherrilyn has three children.
READ MORE: Who is Catelynn Lowell's husband?
Height
5′ 2″ (1.57 m)
Quotes
"A happy woman makes a happy home. An unhappy one makes us drink."
"Old enough to know better, pissed enough not to care."
"Everyone suffers at least one bad betrayal in their lifetime."
"I know what it's like to hurt and feel invisible."
READ MORE: Michael Seibel Net Worth
"Grudges seldom hurt anyone except the one bearing them."
"Have you ever noticed that salvation, much like your car keys, is usually found where and when you least expect it?"
"Life isn't finding shelter in the storm. It's about learning to dance in the rain."
"In your past lies your future."
Sherrilyn Kenyon – Net Worth
Kenyon earned most of her wealth from selling more than 70 million copies of her books in print in over 100 countries.
Therefore, bestselling US writer Sherrilyn Kenyon has an estimated net worth of $25 million.
Featured image source – © Guliver / Getty Images.
READ THIS NEXT: Who is Jay Sekulow?