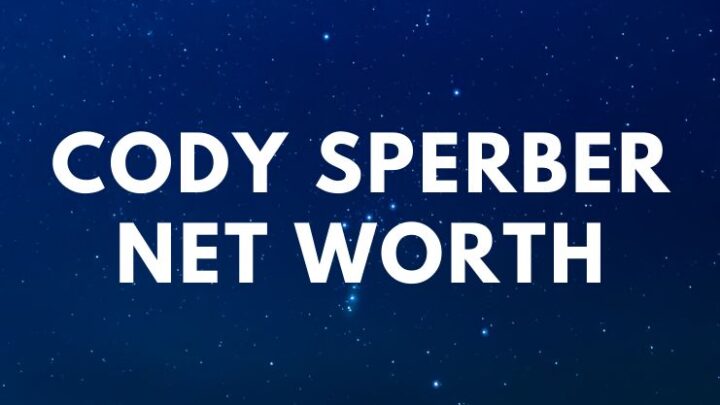 Cody Sperber, nicknamed The Clever Investor, is an American real estate entrepreneur who is best known as the founder of Clever Investor, LLC.
According to Cody, anybody has the capacity to be extremely wealthy, however, to accomplish your goals, you have to be willing to take action. He once said:
"I truly believe I always win, even when I make mistakes or something happens that could be interpreted negatively."
Biography
Sperber was born in 1978 in the USA.
US Navy
In 1998, he joined the United States Navy.
While in the US Navy, he was awarded the Navy Achievement Medal.
In 2002, Cody completed his service as an E-5, Petty Officer 2nd Class.
He was released with an honorary discharge.
Arizona State University
In 2006, Sperber graduated Summa Cum Laude with a Bachelor of Science Degree in Finance with an emphasis in Accounting from Arizona State University.
During his time at Arizona State University, Sperber witnessed a friend flip a house and make more than $80,000.
After college, he worked as a bookkeeper for about one year.
Clever Investor
In 2010, he founded Clever Investor, LLC, a real estate investing educational company that is dedicated to tech-savvy real estate investors looking to grow their investing businesses.
According to the company bio:
"Our goal in everything we create, from education and software to corporate culture and personal relationships is to have it live up to the highest moral standards in our industry."
In 2015, INC. 5000 named his company the #648 fastest growing company.
In 2016, Clever Investor, LLC changed its PR strategy. Cody explained during an interview:
"We spent 11 months working with a firm to develop the new CleverInvestor.com."
Sperber went on to say:
"With Clever Investor, we always focus on the product first."
He continued:
"Is it actually providing value to our target market? Could we back that up with thousands of reviews and testimonials?"
Cody added:
"Once we could answer those questions, we knew it was a no brainer to double down on PR."
He also trains and mentors many dedicated investors. His course – Fast Track Profit System costs $297.
YouTube
Sperber started his YouTube channel on March 20, 2011. The channel has over 72,000 subscribers and over 20 million views.
Instagram
Cody's Instagram account has over 1.2 million followers.
Books
He released two books:
"Cryptocurrency Secrets: How to Invest and Build Wealth with Bitcoin and Other Digital Currencies" – in the book, he details everything you need to know about digital currencies;
"Clever Investor No Money Down Real Estate Investing Guide" – in the book, you will learn the fundamentals of successful marketing, short sale investing, foreclosure, lease-options, and wholesaling.
Wife
Cody Sperber is mаrrіеd tо Ѕhаnnоn Ѕреrbеr.
Children
Тhе соuрlе has twо сhіldrеn, nаmеlу Вrуnlее Ѕреrbеr and Нudѕоn Ѕреrbеr.
READ MORE: Darcizzle Offshore Net Worth
Quotes
"Conversion is, without a doubt, the most important step in the real estate investment business."
"Being awesome is an understatement!"
"I recommend spending about 4 hours per day (don't you roll your eyes at me!) on this high-level online marketing."
"Always remember to connect with your prospects."
"Branding is the practice of creating a name and an image for your business that identifies and differentiates you from other businesses."
"Be sure to eliminate the negatives and reinforce the positives in all your marketing materials."
"I strongly suggest getting into a rhythm with your sellers where you pace, pace then lead."
READ MORE: Who is Dean Graziosi's wife?
Trivia
Sperber has been featured in:
Million Dollar Listing Los Angeles;
Huffington Post;
Buzzfeed;
Entrepreneur;
INC;
Forbes.
Matthew Miller is the Mentoring Advisor for Clever Investor.
In 2012, Cody helped to raise over $23,000 for the Sandy Hook Elementary (when Adam Lanza shot and killed 26 people) shooting victims.
READ MORE: Keala Kanae Net Worth
Cody Sperber – Net Worth
Sperber earned most of his wealth from managing his company Clever Investor, LLC. So far, he has flipped over 1,000 properties, worth about $200 million.
In addition, Cody earns money from selling courses on his website. Therefore, real estate entrepreneur Cody Sperber has an estimated net worth of $20 million.
READ THIS NEXT: Who is Jamie Vernon?
References

https://www.reviewopedia.com/cody-sperber-reviews
https://www.forbes.com/pr-re-starts-when-and-how-to-pivot-from-a-bad