Kirstjen Nielsen (birth name – Kirstjen Michele Nielsen) is an American former chief of staff to John F. Kelly, who is best known as the sixth Secretary of Homeland Security from December 6, 2017 to April 10, 2019.
Biography
Nielsen was born on May 14, 1972, in Colorado., USA.
Her parents, James McHenry Nielsen and Phyllis Michele Nielsen, were both Army doctors.
She has a brother and a sister named Ashley.
Kirstjen graduated with a Bachelor of Science degree from Georgetown School of Foreign Service, a school of international relations. In 1999, Nielsen earned her Juris Doctor (the highest law degree in the United States) from the University of Virginia School of Law.
After graduating from law school, Kirstjen practiced corporate transactional law for the international corporate law firm Haynes and Boone, LLP.
Later, she served during the George W. Bush administration as senior director for prevention, preparedness, and response as well as a special assistant to the president.
From 2012 to 2016, Nielsen served as the founder and President of Sunesis Consulting LLC, a consulting firm that responds to catastrophic events focusing on infrastructure interdependencies.
DHS
Starting January 20, 2017, she served as John F. Kelly's chief of staff at the US Department of Homeland Security.
In that position, Kirstjen was responsible for advising the Secretary on all legal and operational matters, including border security, cybersecurity, and counterterrorism.
On October 11, 2017, she was formally nominated to the secretary of the U.S. Department of Homeland Security by US President Donald Trump.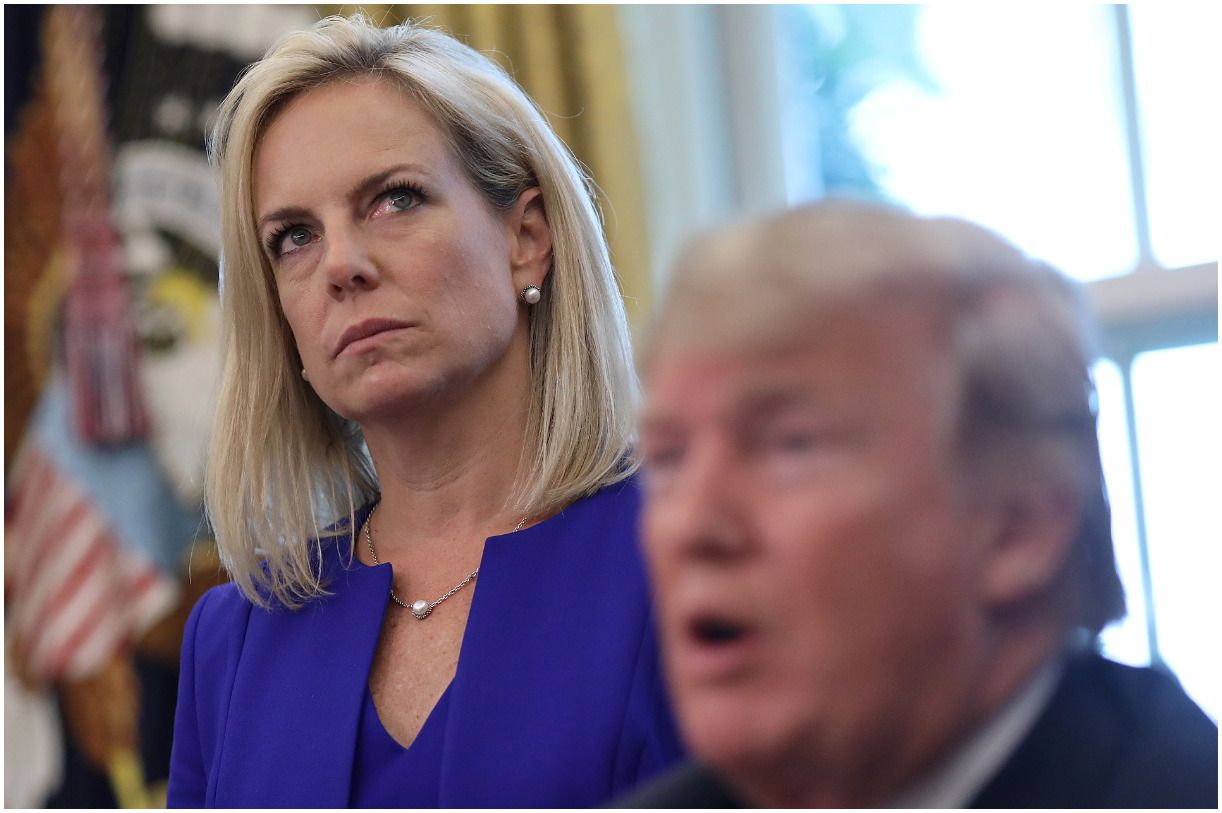 On December 5, 2017, Nielsen was confirmed by the Senate by a vote of 62-37.
Kirstjen was sworn in as secretary of homeland security on December 6, 2017.
In her opening statement, Kirstjen said:
"While each aspect of the Department's mission is important, I believe one of the most significant for our nation's future is cybersecurity and the overall security and resilience of our nation's critical infrastructure."
Nielsen went on to say:
"The scope and pace of cyberattacks against our federal networks and the control systems that run our critical infrastructure are continually increasing, with attacks growing evermore complex and each more sophisticated than the last."
As Homeland Security chief, she became the face of the Donald Trump administration's controversial "zero-tolerance" immigration policy.
In January 2019, FBI Director Christopher Wray, Commerce Secretary Wilbur Ross, Acting Attorney General Matthew Whitaker, and Kirstjen announced 23 criminal charges against Huawei and its CFO, Meng Wanzhou.
READ MORE: Anton Kreil Net Worth
Resignation
In April 2019, President Trump announced that Nielsen is leaving her position as Homeland Security Secretary.
According to CNN, she did not resign willingly but was under pressure to do so. She wrote in her resignation letter:
"I hereby resign from the position of Secretary of the U.S. Department of Homeland Security (DHS), effective April 7th, 2019."
Kirstjen also wrote: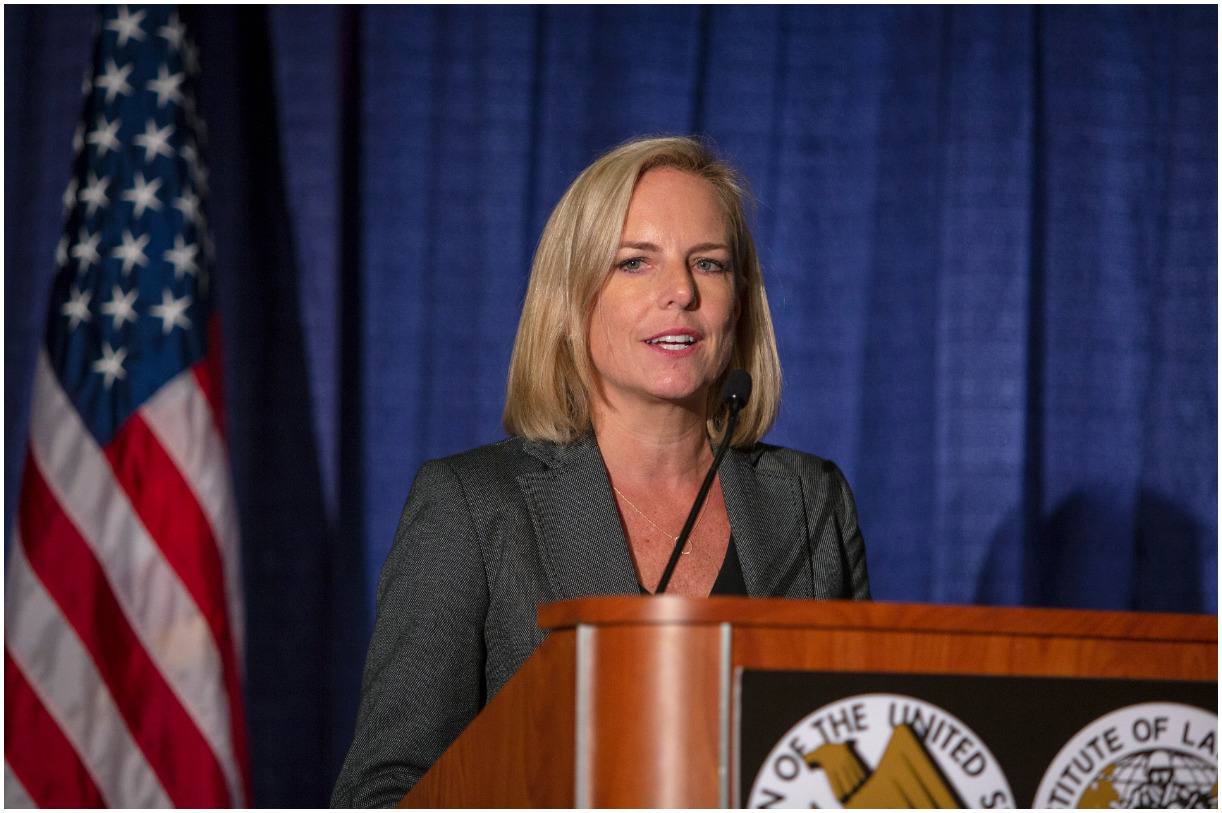 "Despite our progress in reforming homeland security for a new age, I have determined that it is the right time for me to step aside."
Nielsen added:
"I hope that the next secretary will have the support of Congress and the courts in fixing the laws that have impeded our ability to fully secure America's borders."
Donald Trump wrote on Twitter:
"Secretary of Homeland Security Kirstjen Nielsen will be leaving her position, and I would like to thank her for her service."
Her resignation came just days after President Trump withdrew the nomination of Ronald Vitiello to lead the US Immigration and Customs Enforcement agency.
READ MORE: Who is Dan Harmon's wife?
Nancy Pelosi, Speaker of the United States House of Representatives since January 2019, said about Kirstjen's resignation:
"The President's dangerous and cruel anti-immigrant policies have only worsened the humanitarian suffering at the border and inflicted vast suffering on the families who have been torn apart."
Thad Bingel, a former George W. Bush administration Homeland Security official, said:
"I think Nielsen has been treated unfairly."
Mike Rogers, the U.S. Representative for Alabama's 3rd congressional district, stated:
"Secretary Nielsen served her country honorably as Homeland Security Secretary, despite facing numerous challenges including dire conditions at our southwest border."
Dara Lind, a well-known journalist who is working as Vox's Senior Immigration, wrote that Kirstjen had been "arguably the most aggressive secretary in the department's short history."
In the first interview since her resignation announcement, Kirstjen said:
"I don't have any new announcements. I just want to thank the president again for the tremendous opportunity to serve this country."
Later, she was interviewed by PBS Newshour's Amna Nawaz at Fortune's Most Powerful Women Summit. During the interview, Kirstjen talked about the reason for her resignation, saying:
"What led me to resign is there were a lot of things that there were those in the administration who thought that we should do."
Husband/Boyfriend
Kirstjen Nielsen is not married. Also, there is no information regarding Kirstjen Nielsen's partner.
Height
Nielsen is 5 feet and 5 inches (1.65 m) tall.
READ MORE: Eugenia Cooney & Anorexia
Quotes
"Congress makes immigration law. It's that simple. That is how our system works."
"I took an oath when I became secretary of homeland security to defend and support the Constitution."
"I do absolutely believe that the climate is changing."
"There is no need for a wall from sea to shining sea."
"Border security is the most basic and necessary responsibility of a sovereign nation."
Kirstjen Nielsen – Net Worth
Nielsen earned most of her wealth from working for the law firm Haynes and Boone, as well as for being part of George W. Bush and Donald Trump's administration. In 2011, the annual salary of the secretary of the U.S. Department of Homeland Security was $199,700.
Therefore, Kirstjen Nielsen has an estimated net worth of $1.2 million.
READ THIS NEXT: Etika Biography