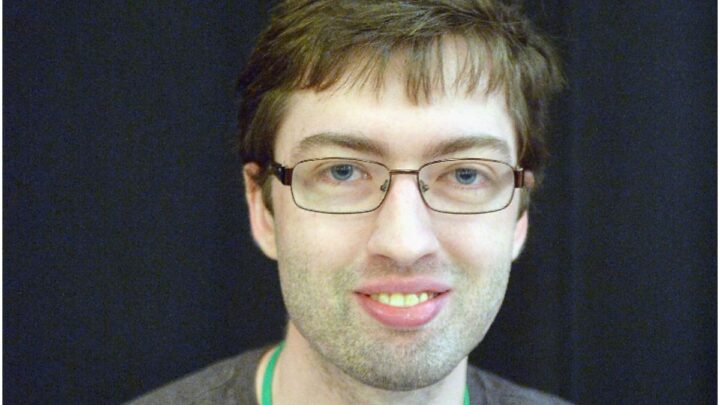 Andrew Hussie is an American author and artist best known for the popular webcomic Homestuck.
Biography
He was born on August 25, 1979, in the United States.
Hussie graduated from Temple University with a degree in computer science.
Andrew launched the website MS Paint Adventures in 2007.
Jailbreak is his first written adventure. The second adventure is titled Bard Quest. It was the first adventure to be hosted on its own website.
Later, Hussie released Problem Sleuth — the second-longest comic on his website. It ran from March 10, 2008, to April 7, 2009.
Homestuck
On April 13, 2009, Andrew launched Homestuck, a webcomic that follows four teenagers who unwittingly bring about the end of the world by installing a copy of a computer game that inadvertently triggers the apocalypse.
Homestuck uses a combination of instant message logs, animated GIFs, and static images. It is the longest adventure with over 8,000 pages and more than 800,000 words.
"The way the story worked was, I set up some basics and a few initial conditions, readers gave feedback — 'commands' — I updated the story very rapidly in response, and it just goes where it goes," Hussie said about Homestuck.
"Everything I did before Homestuck was unspeakable garbage," he told Comics Beat. Andrew added: "Homestuck sort of is too, but it's the one thing where I started harnessing my garbage-making tendencies into a more constructive and organized direction."
On September 4, 2012, he announced a Kickstarter to raise funds to develop the Homestuck adventure video game. The Kickstarter raised $2,485,506. The set goal of $700,000 was reached within less than two days of donations opening up. The game is now called "Hiveswap."
On April 13, 2014, Paradox Space, an anthology spin-off webcomic, was launched.
On September 14, 2017, the first act of Hiveswap was released. The video game follows a human girl who gets swapped with a troll boy from the planet Alternia as she tries to get back to Earth.
In October 2017, he announced that Homestuck would be collaborating with American distributor of anime and manga Viz Media to release the entire webcomic (Homestuck) in book form. As part of this deal, Viz Media acquired the Homestuck publishing rights.
On April 13, 2019, The Homestuck Epilogues was released.
Homestuck 2
On October 25, 2019, Homestuck 2: Beyond Canon was released. It follows the epilogue, which provided two possible endings for the original story of Homestuck. The release on October 25 coincides with a sort of "Homestuck holiday" since the #1025 holds great significance in Homestuck.
Homestuck 2 has a writing team lead by Hussie and Kate Mitchell. It is a collaboration between Snake Solution Studios LLP and What Pumpkin.
The first teaser trailer for Hiveswap: Act 2 was unveiled on October 31, 2019.
Girlfriend
There is no information regarding Andrew Hussie's girlfriend.
READ MORE: Who is Hikaru Nakamura's girlfriend?
Quotes
"The mix of silly and serious is an aspect of the type of story I want to tell." (DHS Stanford)
"I try to put myself in the shoes of readers a lot when making it, especially ones who approach it."
"I write jokes to serve as commentary in the books and answer questions such as these, and that's about it."
"Writing a conversation is not much more time consuming than crafting a simple panel or two."
Trivia
Undertale, a role-playing video game about a child who has fallen into the Underground, was made in Hussie's basement by another creator, Toby Fox.
Actor Dante Basco is a fan of Homestuck. Basco said about the webcomic: "Homestuck is one of those cool, culty comics — one of those 'Are you in on the inside jokes of this whole secret society world?'"
Homestuck has been compared to James Joyce's Ulysses by PBS's Idea Channel.
READ MORE: Anthony Jeselnik Net Worth
Andrew Hussie – Net Worth
Hussie earned most of his wealth from producing the webcomic Homestuck. Since its launch in 2009, it has gained a large online following in the millions. Homestuck 2: Beyond Canon was released on October 25, 2019. Homestuck also has a Patron page with over 1,921 patrons.
A video game based on Homestuck was released on September 14, 2017.
Andrew is also a managing member of the company What Pumpkin, LLC that sells t-shirts and fan art prints related to Homestuck. Hussie also makes money from selling the entire webcomic in book form. Therefore, Andrew Hussie has an estimated net worth of $1.5 million.
Featured image source – © Guliver / Getty Images.
READ THIS NEXT: Who is Dr. Steve Sjuggerud?