What is Koyoharu Gotouge's net worth?
Introduction
Koyoharu Gotouge is a Japanese mangaka (manga artist).
Gotouge is best known for the manga series Demon Slayer: Kimetsu no Yaiba.
Though the work has gained widespread popularity, Gotouge has remained anonymous.
The name "Koyoharu Gotouge" is a pseudonym meant to conceal the true identity of one of manga's greatest artists.
It's no wonder fans are dying to know more!
Below, we've collected as many details as we could, and combined them in one place for you.
So, read on for a brief Koyoharu Gotouge biography + net worth.
The Origin Story
Gotouge was born on May 5th, 1989.
Without knowing personal details beyond legal/public records, we can make a few inferences from their birth date alone. Note – Gotouge has not uncovered their gender and just uses they/them pronouns.
May 5th indicates that our famous mangaka is a Taurus, a sign represented by the symbol of a bull. Taurus is commonly associated with the following personality traits: intelligent, dependable, dedicated, and stubborn.
From the well-written and widely-received series to Gotouge's dedication throughout their career, it's safe to say at least some of this might check out.
We've also gathered from an interview that Demon Slayer: Kimetsu no Yaiba was inspired by three other mangas: Jojo's Bizarre Adventure, Naruto, and Bleach.
Before Demon Slayer
Gotouge started with "one-shot" works, meaning projects that were standalone instead of serialized like Demon Slayer.
Their debut is Kagarigari: released in 2013 and entered in the 70th Jump Treasure Newcomer Manga Awards that same year (when Gotouge was 24).
They followed up with three more one-shots: Monju Shirou Kyoudai and Rokkotsu-san in 2014 and Haeniwa no Zigzag in 2015.
Demon Slayer: Kimetsu no Yaiba was their first serialized work: originally published in Weekly Shonen Jump in 2016.
The series was licensed for English release by Viz Media. An anime TV adaptation by Ufotable aired in Japan from April to September 2019.
READ MORE: Celebrities who watch anime
Best Manga of All Time
With 150 million copies circulating, Demon Slayer is the 9th bestselling manga of all time.
In 2021, it was the second most popular manga series in Japan, with 29.51 million copies sold.
The 23rd volume sold 5,171,440 copies in one year.
What is Demon Slayer: Kimetsu no Yaiba about?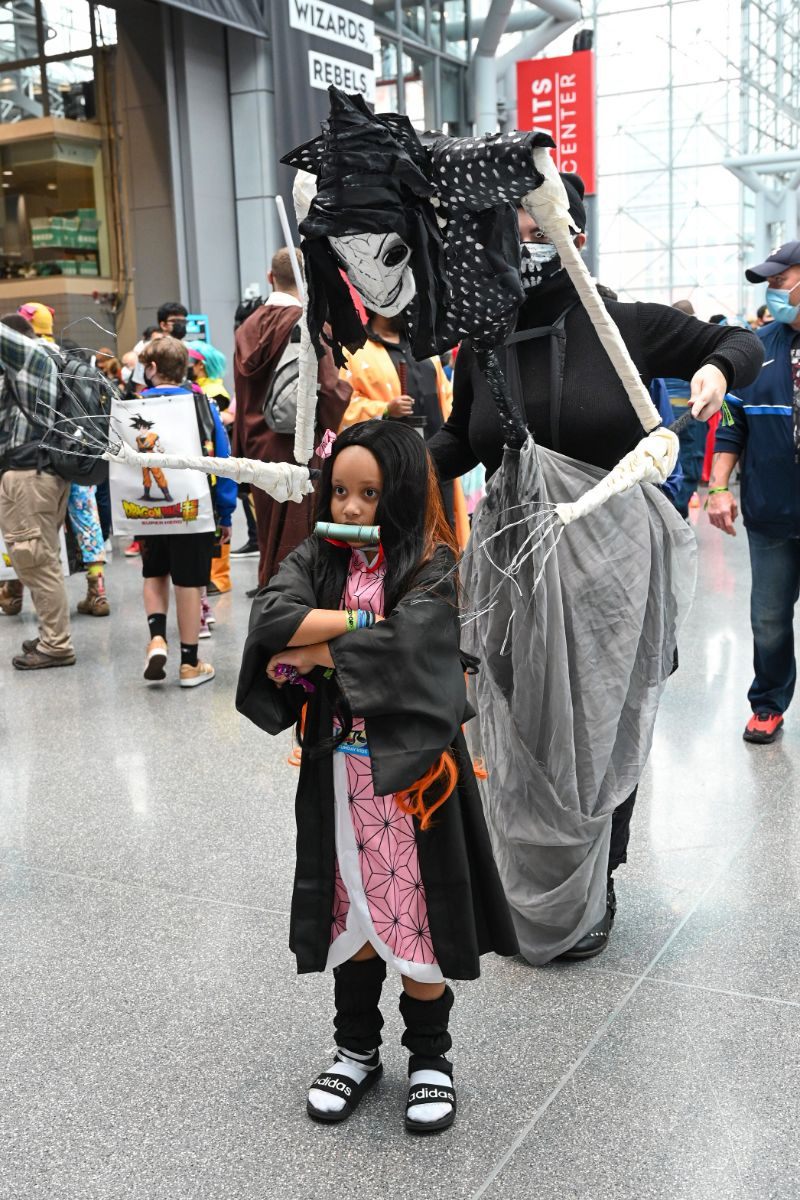 The series follows the story of Tanjiro, a boy whose life is turned upside down when his family is attacked by a demon.
He and his sister are the only survivors, but his sister is now a demon herself.
To save her and avenge his family, Tanjiro becomes a demon slayer and embarks on a journey to rectify the attack.
How Demon Slayer has grown
Due to its widespread popularity, Demon Slayer has been reproduced in various mediums, including a TV series that aired in 2019.
Still, as the story grows and spreads, Koyoharu Gotouge remains in the shadows.
We were able to find an interview with Yuma Takahashi, the producer of the Demon Slayer movie adaptation, in which he discusses what it's like working with Gotouge:
"Gotōge-san is involved in checking over the scenarios, character designs, and settings."
What this tells us is that Gotouge is dedicated to the integrity of their series without being overbearing.
They handle criticism and advice well and – despite what the secrecy might suggest – are sociable!
What's next?
Gotouge recently shared with the Anime News Network that they are interested in attempting a science fiction romantic comedy.
They're pulling inspiration from old sci-fi films and identifying the shift in their perspective from youth to the present.
No worries! Once the next steps are official, you can count on Gotouge to announce with their chosen avatar: a sketch of a crocodile with glasses.
READ MORE: Patrizia Reggiani Net Worth
Koyoharu Gotouge – Net Worth
Gotouge earned most of their wealth from working as a manga artist, especially from creating the manga series Demon Slayer: Kimetsu no Yaiba, which sold over 150 million copies.
In general, a manga artist is entitled to 8–10 percent of the pre-tax price.
Demon Slayer the Movie: Mugen Train has over $453 million at the box office, however, Koyoharu only received an upfront payment of $19,201.
Also, Koyoharu's contract as a newer writer in Weekly Shōnen Jump (the best-selling manga magazine) may not have any royalty payments built-in for the theatrical release of the manga.
Koyoharu may receive some royalties from secondary usage fees, like Blu-rays and DVDs sold and rented, or the video game – Demon Slayer -Kimetsu no Yaiba- The Hinokami Chronicles.
Therefore, Koyoharu Gotouge has an estimated net worth of $20 million.
READ THIS NEXT: Who is Kyle Stumpenhorst's wife?