Lana Del Rey (born Elizabeth Woolridge Grant) is an American singer-songwriter, music video director, model, and poet, who has received a Golden Globe nomination, six Grammy Award nominations, nine GAFFA Awards, a Satellite Award, two MTV Europe Music Awards, and two Brit Awards.
Biography
She was born on June 21, 1985, in New York City, New York, USA to Robert England Grant, Jr., a copywriter turned entrepreneur, and Patricia Ann, an account executive.
Lana attended a Catholic elementary school.
She graduated with a degree in philosophy and metaphysics from Fordham University in New York.
In January 2010, Del Ray released her self entitled debut studio album.
In 2010, she acted in a short film titled – "Poolside."
In 2011, Del Rey skyrocket to fame after uploading videos for the songs "Video Games" and "Blue Jeans" on her YouTube channel. "Video Games" reached top-ten positions in the United Kingdom, Switzerland, Scotland, Ireland, Netherlands, Belgium, and Austria.
In October 2011, Lana signed a joint record deal with Polydor and Interscope Records.
In 2012, she released her first major-label album, Born to Die, via Interscope Records and Polydor Records. Born to Die's music style has been described as trip-hop, sadcore, indie pop, baroque pop, and alternative pop. The album spent over 300 weeks on the US Billboard 200, and it peaked at number two on the U.S. Billboard 200. Born to Die sold more than 3.6 million copies worldwide in 2012.
In 2013, Lana wrote, directed, and starred in Tropico — a short music film described as "a tale of redemption told to the music of Body Electric, Gods & Monsters, Bel Air."
She won the award for International Female Solo Artist at the 2013 BRIT Awards.
In June 2014, Lana released her next album Ultraviolence via UMG Records. The album debuted at number #1 on the US Billboard 200. It sold more than 880,000 copies worldwide in its first week of release.
In May 2015, she went on The Endless Summer Tour featuring live shows with Grimes and Courtney Love.
On September 18, 2015, Del Rey released her 4th studio album via Interscope Records and Polydor Records. It debuted at number #2 on the US Billboard 200.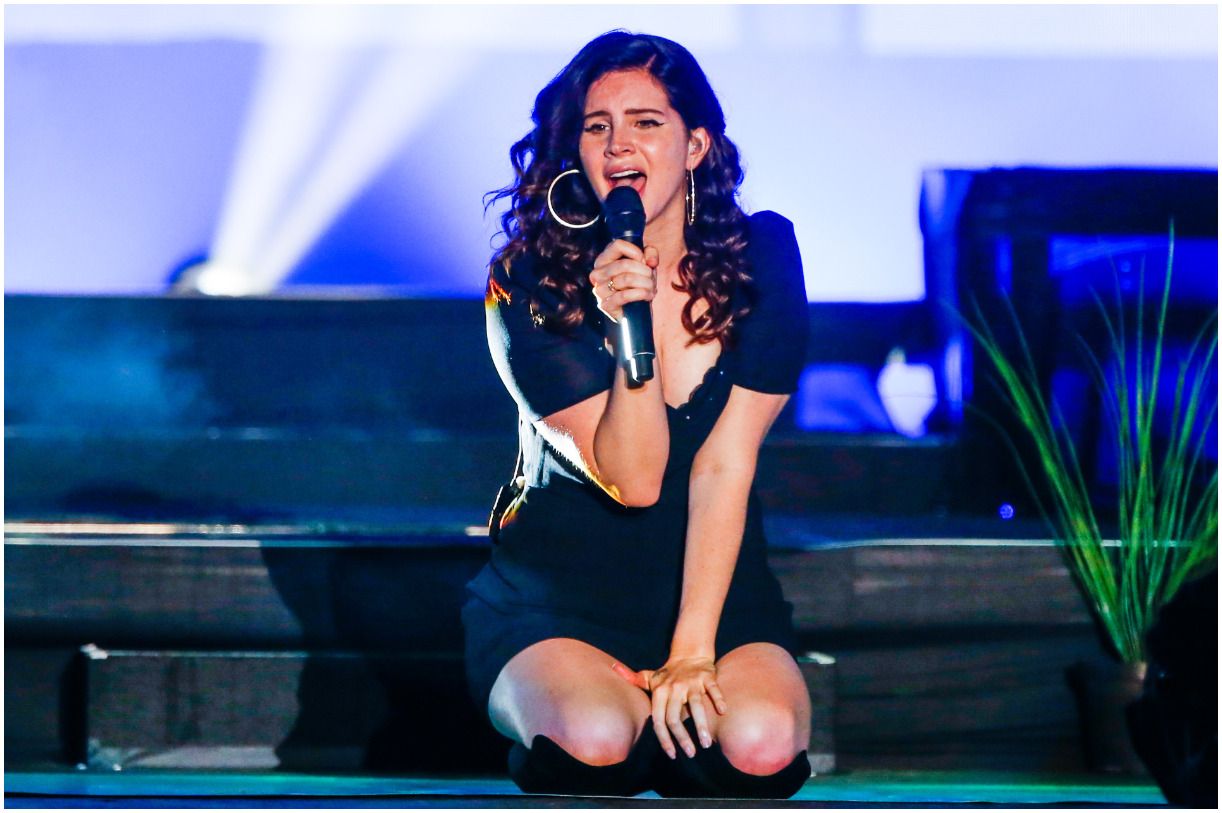 On July 21, 2017, the singer released her 5th album – "Lust for Life" via Interscope Records and Polydor Records.
In 2019, she released her 6th studio album, called – "Norman F-ing Rockwell" through Interscope Records and Polydor. At the 62nd Annual Grammy Awards, "Norman F-ing Rockwell" was nominated for Album of the Year.
Boyfriend
In 2012, she was rumored to be romantically involved with Axl Rose. Lana also recorded a song entitled – "Axl Rose Husband," in which Del Rey sings:
"You're my one king daddy, I'm your little queen."
In 2017, Lana dated rapper G-Eazy.
In 2019, Lana Del Rey dated Sean Larkin — the host of A&E's PD Cam and an analyst on A&E's Live PD. Larkin also works full time in Tulsa, Oklahoma's police department.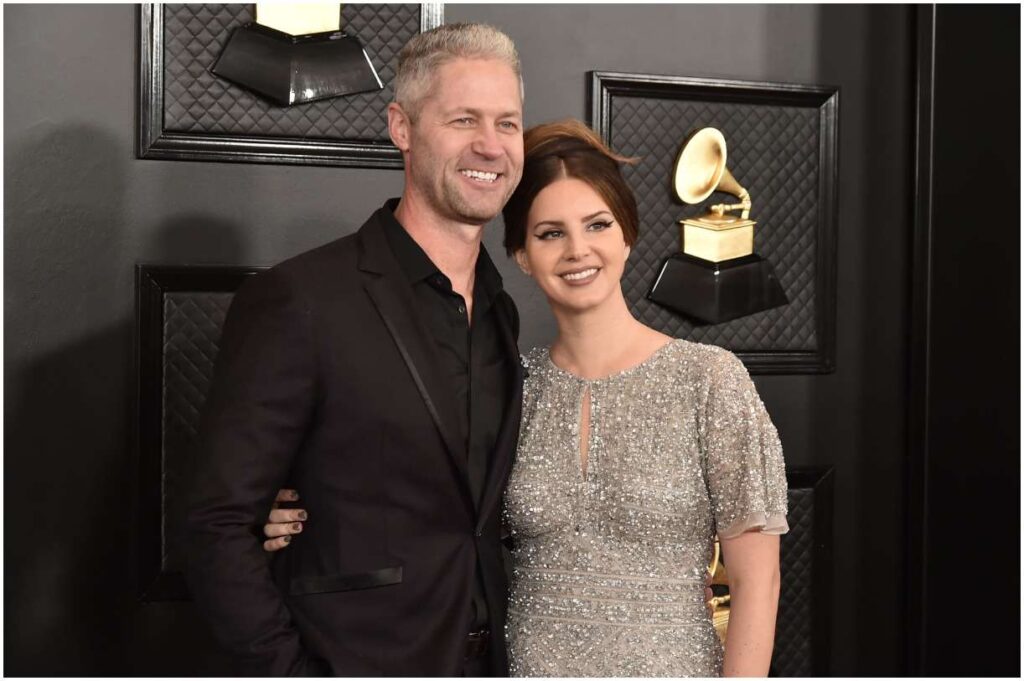 Larkin and Del Rey broke up in March 2020. He said in an interview:
"Right now, we're just friends. We still talk and whatnot, we just have busy schedules right now."
Fiancé
In December 2020, Lana got engaged to musician Clayton Johnson.
Height
Del Rey is 5′ 6½" (1.69 m) tall.
Quotes
"I have hope with certain things, and then with other things I'm more skeptical."
"Things have been confusing for a long time, whether it's politically, culturally, personally." (Harper's Bazaar)
"I have always wanted to be a singer and I have always loved writing songs."
"Fashion is inspired by youth and nostalgia and draws inspiration from the best of the past."
"My plan is having no plan, pretty much all the time, which actually works out very well for me." (NY Times)
READ MORE: Who is Alec Benjamin's girlfriend?
Trivia
Lana's right hand is tattooed with the phrase "trust no one" and "die young," while her left hand is tattooed with the word "paradise" as well as the letter "M" (referencing her grandmother, Madeleine).
The artist produced two EPs under the stage name "May Jailer."
She cites Kurt Cobain, Elvis Presley, Eminem, Thomas Newman, and Britney Spears, as her musical influences.
Del Rey bought a home in Malibu for $3 million. Lana sold the house for $3.2 million in 2018.
READ MORE: Merkules Net Worth
Lana Del Rey – Net Worth
Del Rey earned most of her wealth from selling tickets to her concerts as well as her albums.
She has sold more than 13 million singles and over 19 million albums worldwide.
Her first major-label album "Born to Die" sold over 7 million copies worldwide, while "Lust for Life" sold more than 2 million copies.
Lana also makes money from ads on her YouTube channels that have combined views of more than 7.6 billion – meaning over $20 million in revenue before state taxes.
She has contributed to several film soundtracks including Big Eyes, Maleficent, and The Great Gatsby.
Therefore, American singer Lana Del Rey has an estimated net worth of $35 million.
READ THIS NEXT: Who is Jonathan Antoine?