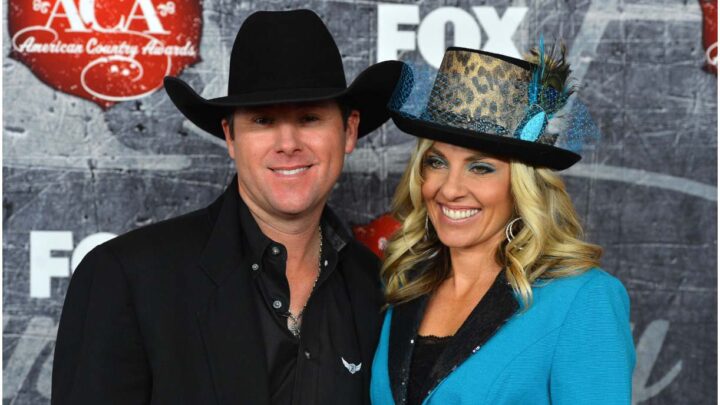 Trevor Brazile is an American rodeo champion who holds the record for the most PRCA world champion titles with 25.
Brazile also won The Ft. Worth Stock Show, Cheyenne Frontier Days, San Antonio Stock & Rodeo, and RodeoHouston.
Brazile says that he wants to be remembered as a great cowboy.
Biography
He was born November 16, 1976, in Amarillo, Texas, USA.
Both his parents competed in rodeos. Trevor said for Jesus Calling: "My parents had both been involved in rodeo, in some form, professionally." Brazile went on to say: "They always had a job in rodeo on the side."
Trevor roped his first calf from horseback at age 3. Brazile went to Vernon Regional Junior College on a rodeo scholarship.
In 1996, Brazile joined the Professional Rodeo Cowboys Association.
In 2002, he earned his first all-around title. In the same year, Trevor was inducted into Rodeo Hall of Fame of the National Cowboy and Western Heritage Museum.
In 2006, Brazile's horse Die Hard Romance "Roan Ranger" finished 3rd in the steer roping horse of the year voting.
In 2007, Patrick Smith and Trevor won the team roping in Rounds 4 and 5 of Wrangler National Finals Rodeo.
In 2008, he was inducted into the Texas Cowboy Hall of Fame.
In 2010, Brazile won the World Team Roping Championship.
In 2015, he became the NFR All-Around Cowboy Champion.
In 2020, Trevor won the Clem McSpadden National Finals Steer Roping.
Wife
In 2001, Trevor Brazile married model and barrel racer, Shada Brazile.
His wife is the daughter of Roy Cooper, an American former professional rodeo cowboy who was inducted into The ProRodeo Hall of Fame in 1979.
Cooper was nicknamed "Super Looper" for his roping ability. In 1983, Roy won the All-Around Cowboy world championship.
During his career, Copper competed in Professional Rodeo Cowboys Association events for more than 20 years.
Roy mentored Trevor early in his rodeo career. Brazile said for Cowboys Indians about Cooper:
"Roy taught me more about confidence and winning than anything else."
Brazile later added:
"The main thing - once you know you're doing everything you can do - is to have a short memory of things gone wrong."
Children
The couple has three children, one son, Treston, and two daughters, Style and Swayi.
Quotes
"I've gone at this full throttle with the goal of never having any regrets when the road did come to an end. Before I start my next chapter."
"My goal is to win everywhere I go so I have a chance by not going as much."
"To keep from getting overwhelmed with each rodeo or each event, the best way is to keep everything in perspective – as far as life goes." (American Cowboy)
READ MORE: Who is Israel Folau's girlfriend?
Trivia
Brazile won two Wrangler NFR Average titles (2008 and 2010).
Trevor won the World Steer Roping Championship in 2006, 2007, 2011, 2013, 2014, 2015, and 2019.
He holds the record for the most World All-Around Cowboy Champion titles (14).
Trevor won the World Tie-down Roping Championship in 2007, 2009, and 2010.
He won the World All-Around Cowboy Championship in 2002, 2003, 2004 and 2006 through 2015, and in 2018.
READ MORE: Richard Jefferson Net Worth
Trevor Brazile – Net Worth
Brazile earned most of his wealth from participating in rodeo events. In 2006, he set the single-season earnings record by winning over $329,000.
In 2006, he became the youngest Professional Rodeo Cowboys Association cowboy to pass the $2 million mark in career earnings.
In 2007, Brazile won $425,115, while in 2008, Trevor won $419,868. Also in 2008, Trevor became the first Professional Rodeo Cowboys Association cowboy to pass the $3 million mark in career earnings.
He was the first contestant in ProRodeo history to earn $500,000 in one year alone (2010). As of August 2020, his Professional Rodeo Cowboys Association career earnings are at over $6.9 million.
Moreover, Brazile earns money from sponsors, especially companies that sell rodeo gear and clothing. Therefore, Trevor Brazile has an estimated net worth of $6 million.
Featured image source – © Guliver / Getty Images.
READ THIS NEXT: Who is Maria Folau?