What is Buakaw Banchamek's net worth?
Introduction
Buakaw Banchamek (born Sombat Banchamek), nicknamed – Buakaw Por Pramuk or The White Lotus, is a Muay Thai kickboxing champion who won the K-1 World MAX, Omnoi Stadium, and Thailand Featherweight events.
Banchamek is currently the most famous Thai fighter in the world.
Biography
He was born on May 8, 1982, in Bansongnong County, Samrong Thap, Surin Province, Thailand.
Buakaw started kickboxing when he was 8 years old. He trained at the Por. Pramuk Gym.
The Omnoi Stadium featherweight title was his first belt. Later, Buakaw won the featherweight champion of Thailand title.
In December 2002, he won the Toyota Marathon 140 lb. tournament at Lumpinee Boxing Stadium.
In July 2004, he became the K-1 MAX World champion beating Masato, Takayuki Kohiruimaki, and John Wayne Parr, in the finals.
In 2005, Banchamek lost the extra round to Andy Souwer in the finals.
In 2006, he won the K-1 MAX World Grand Prix, by defeating Andy Souwer by TKO. He is the first fighter to win this title twice.
In the 2007 K-1 World MAX quarterfinals, Banchamek lost to Masato.
He was a semi-finalist in the K-1 World MAX 2009 Final.
In 2010, he performed in his first film, titled – "Yamada: The Samurai of Ayothaya," a Thai action movie. The film also featured Anuwat Kaewsamrit Yodsanklai Fairtex and Saenchai Sor. The film was directed by Nopporn Watin.
In 2010, he defeated Imada via TKO and became the new Shoot Boxing S-Cup World champion.
On December 18, 2011, Buakaw won the Thai Fight 70 kg Tournament Title by beating Frank Giorgi.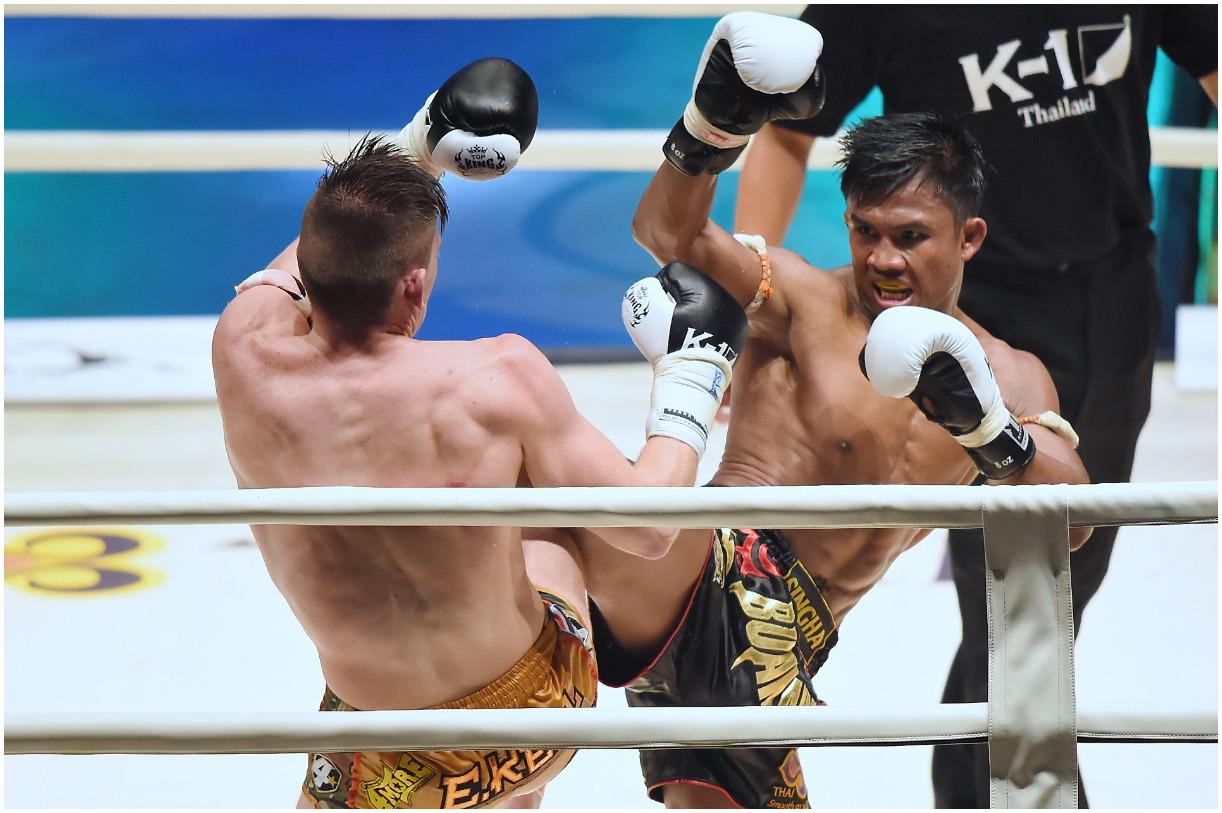 In 2012, Banchamek beat Mauro Serra via TKO in the quarter-finals of the Thai Fight 70 kg Tournament at Thai Fight.
On February 23, 2014, Buakaw beat Lee Sung-Hyun at the K-1 World MAX 2013 World Championship Tournament Final 4 in Baku, Azerbaijan.
On April 14, 2014, he won Combat Banchamek in Surin, Thailand, by beating Victor Nagbe.
In 2016, Banchamek graduated from the Rattana Bundit University's business administration.
In 2017, he starred in Thong Dee Fun Khao, a Thai Action film that was directed by Bin Bunluerit.
On June 10, 2017, Banchamek won the game vs Kong Lingfeng at Kunlun Fight 62 in Bangkok, Thailand.
In 2019, he was invited to join ONE Championship and square off against Giorgio Petrosyan.
In October 2019, Buakaw won a match against Chris Ngimbi via TKO.
Wife/Girlfriend
Buakaw Banchamek is not married. In 2016, rumors appeared about him and Ekaterina "Barbie" Vandaryeva, after photos of Buakaw giving a leg massage to Ekaterina.
Ekaterina Vandaryeva is a Belarusian kickboxer who began kickboxing at age 16. In 2010, she had become a champion of the International Federation of Muay Thai Amateur World Championships.
READ MORE: Shane Van Boening Net Worth
Children
Buakaw doesn't have any children.
Weight
Banchamek weighs about 70kg (155 lb).
Height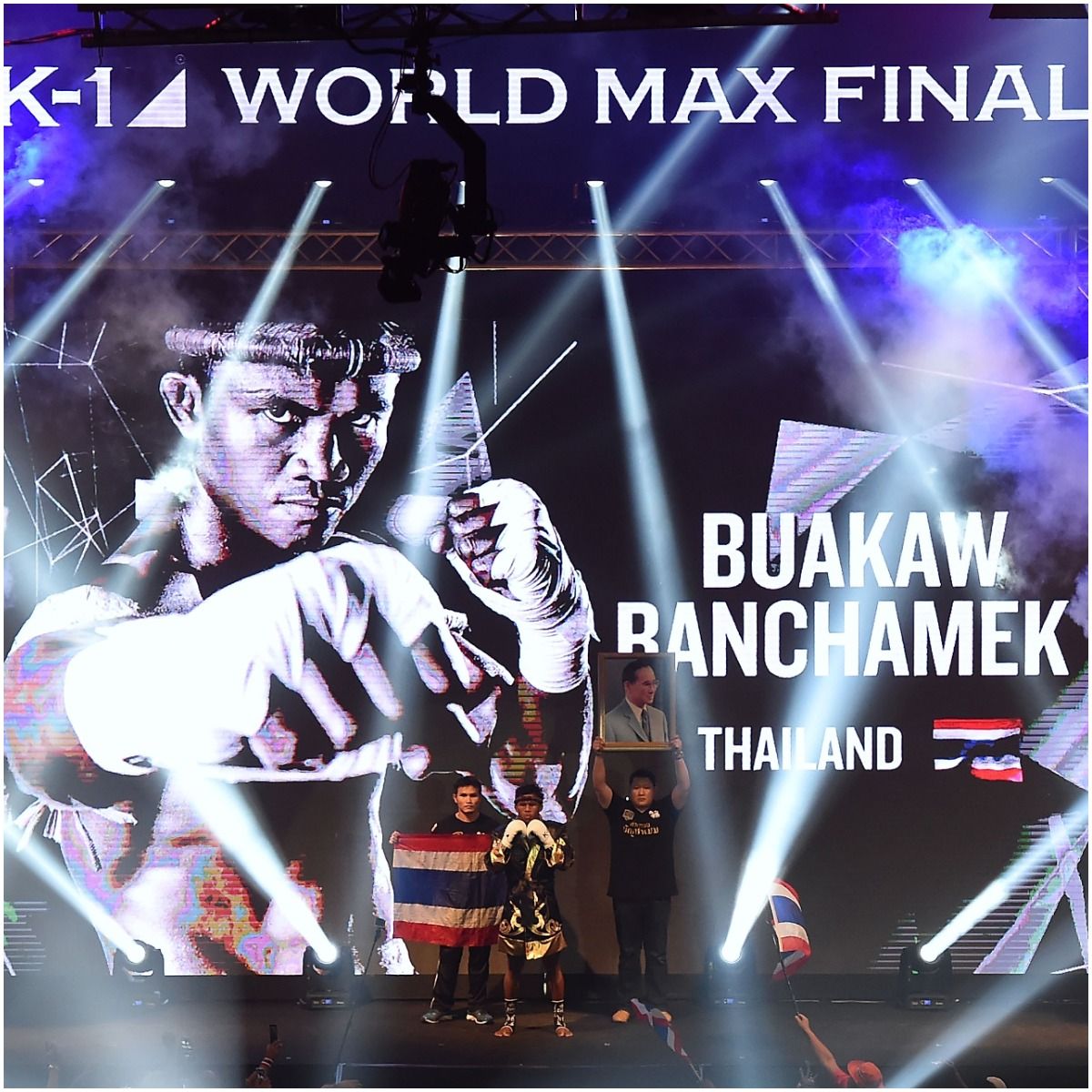 Buakaw is 5′ 8½" (1.74 m) tall.
Quotes
"Since I began fighting in K-1 in 2004, they have banned the use of the elbow but allowed the fighters to use the knee."
"It is about the mind, not the body."
READ MORE: Abner Mares Tattoo
Trivia
In 2014, he started to play professional football as a forward in Regional League Division 2 for RBAC F.C. He said:
"I've been a football lover since I was a kid. To be a professional footballer is also one of my dreams."
Banchamek was ordained as a monk twice. He explained for Muay Thai Citizen:
"I have ordained as a monk for two times in my life."
Buakaw went on to say:
"To be frank, I have to say that I wasn't fully prepared for it the first time round."
He continued:
"In Thailand, it is considered a rite of passage for all boys/men to ordain as a temporary monk at some point in their lives."
Banchamek later added:
"I was not psychologically ready then, so I felt like I merely went through the motions."
He always goes for the KO in all of his fights.
READ MORE: Who is Rickson Gracie?
Buakaw Banchamek – Net Worth
Banchamek earns most of his wealth from fighting.
Buakaw is the former two-time K-1 World MAX champion, Thailand Featherweight champion, Lumpini Stadium Toyota Marathon champion, and two-time Omnoi Stadium champion.
In addition, he made money from performing in two movies as well as from his sponsors.
Therefore, Muay Thai kickboxer Buakaw Banchamek has an estimated net worth of $2 million.
READ THIS NEXT: Nick Bare Net Worth
References

http://fightland.vice.com/buakaw-banchamek-and-the-life-of-a-muay-thai
https://www.bangkokpost.com/thai-boxing-champion-buakaw-retires