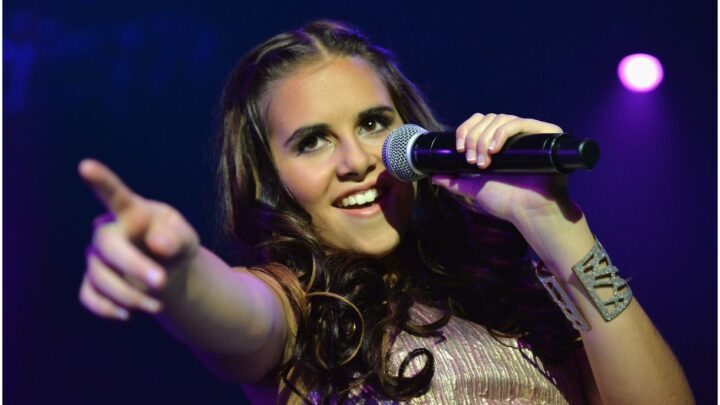 Carly Rose Sonenclar is an American singer and actress who gained fame after reaching the final round of the 2nd season of The X Factor. During the competition, Rose was mentored by Britney Spears.
Biography
Sonenclar was born on April 20, 1999, in New York City, USA.
She has an older brother named Russell.
Carly began singing at age two. Later, she took many acting, piano, dancing, and singing classes.
She had her first role as Pearl in the 2006 stage adaptation of The Night of the Hunter – a 1953 thriller novel by American author Davis Grubb.
In the same year, Sonenclar made her Broadway debut as Young Cosette in Les Miserables, a sung-through musical adapted from Victor Hugo's novel of the same name.
In 2008, she performed in "The Sisterhood of the Traveling Pants 2," a comedy-drama film that is based upon the book "Forever in Blue." The film was directed by Sanaa Hamri. Other stars that performed in the movie include Alexis Bledel, Blake Lively, America Ferrera, and Amber Tamblyn.
In 2009, Carly appeared in the national tour of Little House on the Prairie (the musical), a book musical that was adapted from the children's books, Little House on the Prairie. "Little House on the Prairie" takes place in the 1880s.
In 2010, she made her TV debut as Gilda Flip in season 3 of The Electric Company – a TV series for young children ages 6 to 10.
In the follow-up year, Rose appeared as Chloe in the short-lived musical Wonderland on Broadway. The story of the musical focuses on writer Alice Cornwinkle and her daughter Chloe.
READ MORE: Stephen Hilton Net Worth
The X Factor
In 2012, she auditioned for the 2nd season of The X Factor USA with the song "Feeling Good" by Leslie Bricusse and Anthony Newley.
In the Top 16 round, Sonenclar performed "Good Feeling," a song by rapper Flo Rida from his EP Wild Ones. The song was written by Pearl Woods, Leroy Kirkland, Etta James, Avicii, Arash Pournouri, Breyan Isaac, Cirkut, Dr. Luke, and Flo Rida.
In the Top 13 round, Carly performed "It Will Rain," a song recorded by singer Bruno Mars that was the lead single from the soundtrack The Twilight Saga: Breaking Dawn – Part 1.
In the Top 12 round, Rose performed "My Heart Will Go On," a song that serves as the main theme song to Cameron's film Titanic. It was recorded by Canadian singer Celine Dion.
On November 28, 2012, Sonenclar sang "Rolling in the Deep" (a song that was recorded by singer-songwriter Adele for her album "21") sending her into the Top 6 round.
In the Finale round, Carly performed Hallelujah, How Do I Live (with LeAnn Rimes), and Feeling Good. She had finished The X Factor in second place behind Tate Stevens, an American country music artist.
READ MORE: Biography of Daniel Caesar
She said about her experience in The X Factor:
"It was surreal seeing the reaction to my performance on X Factor. I was just constantly shocked and amazed that I was getting so much attention."
Sonenclar went on to say:
"It was always just like 'Why me?' Obviously, it was super humbling and I was so grateful, but it was also just so unbelievable the whole time."
After the competition ended, her parents have slammed LeAnn Rimes for 'trashing' their daughter, reported Daily Mail. Some even suggested that Rimes was drunk during the performance.
LeAnn declared:
"In my 18 years of performing, I have never been anything but professional onstage."
Rimes later added:
"It is a shame that gossip and lies are overshadowing the performance of Carly, a very talented young girl."
She also said:
"I was trying to help this 13-year-old girl who was having some trouble with the song."
Simon Cowell said:
"He [Tate Stevens] did deserve to win. I don't think it [singing with LeAnn Rimes] made any difference at all."
READ MORE: Blind Fury (rapper) Net Worth
Post X Factor
After the competition, she returned to 7th grade at her school in New York. She said in an interview:
"I always hear my name once or twice as I walk by — 'That's Carly Rose Sonenclar!'"
Rose continued:
"It's something I have to get used to, people staring at me as I walk through the halls."
On April 2, 2013, it was reported that she has been signed by Syco Music, a British record founded by Simon Cowell.
READ MORE: Meet Lajon Witherspoon
In November 2013, Rose performed in an episode of Law & Order: Special Victims Unit.
On June 19, 2019, she released her debut single, named – "Birds & Bees." She said:
"It's a party song. Or, rather, an outside-the-party song?"
In another interview, Carly said about the song:
"It's about giving into temptation and forgetting about social graces/expectations or what not."
Sonenclar continued:
"It's quite a free lyric. More bold and direct than I am on a regular basis."
On September 10, 2020, Sonenclar released the EP "Wild."
YouTube
On December 30, 2009, Rose started her YouTube channel titled "Carly Rose." It has over 357,000 subscribers.
Height
Sonenclar is 5 ft (152 cm) tall.
READ MORE: Everything to know about Keke Wyatt
Trivia
Britney Spears referred to Carly as "the little girl with the big voice."
Carly Rose Sonenclar – Net Worth
Sonenclar earned most of her wealth from performing in several television shows, musicals, and Broadway shows. In 2019, Carly released her debut single, while in 2020, her debut EP was released. Therefore, singer Carly Rose Sonenclar has an estimated net worth of $0.3 million.
Featured image source – © Guliver / Getty Images.
READ THIS NEXT: Jay Osmond Net Worth
Reference

https://eu.usatoday.com/arly-rose-sonenclar-on-the-verge