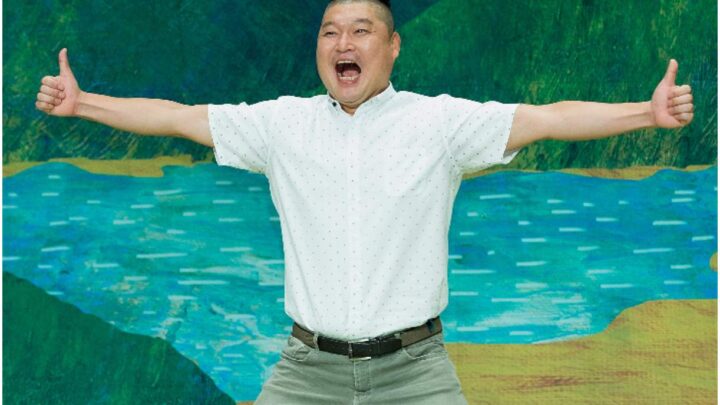 Kang Ho-dong is a South Korean comedian, television host, and former professional wrestler, who is best known for hosting South Korean TV shows such as "X-Man" and "Love Letter."
Biography
Ho-dong was born on June 11, 1970, in Jinju, South Gyeongsang Province, South Korea.
He went to Masan Business High School.
Wrestling
After high school, Kang began his career as a Ssireum (Korean wrestling) wrestler.
On July 8, 1989, at the 44th national Ssireum Championships, Ho-dong defeated the legendary wrestler Lee Mangi. He also won the tournament.
During his wrestling career, Kang won the Cheonhajangsa Ssireum Championship 5 times and the Baekdujangsa Ssireum Championship 7 times.
He once said:
"I wrestled when I was young. When I was a professional wrestler, I even received the 'man of great strength' title with the public's support."
Comedian Career
After he retired from wrestling, Kang began his comedian and MC career in 1993.
Ho-dong later became the host of many television programs, including:
Ya Shim Man Man;
Love Letter;
X-Man.
In 2008, he became the first comedian in history to win the Baeksang Arts Awards Daesang for Television category.
In 2011, Kang hosted 4 variety programs:
Strong Heart;
Star King;
Golden Fishery;
Happy Sunday – 2 Days & 1 Night.
Tax Evasion
In 2011, he was under investigation by the National Tax Service for tax evasion.
On September 9, 2011, Ho-dong said during a press conference:
"I'm sorry for causing the public to worry. From this moment, I will temporarily retire from the entertainment industry."
Ho-dong went on to say:
"I would like to sincerely apologize to the public for the recent tax scandal."
In December 2011, the court has announced that they will be dismissing Kang tax evasion case due to an absence of a formal declaration of charges.
He was fined $700,000 for a combined 3 years.
On December 17, 2011, the Seoul District Prosecutor Office declared:
"In the case of the fine being less than $500,000 (per year), the National Tax Service must file a charge of tax evasion in order for the subject to be a suspect of tax evasion. However, there has been no such charge up until now, so we have decided to drop the case as of the 16th."
The Seoul District Prosecutor Office continued:
"Kang Ho Dong's annual fine is less than the required $500,000 USD. Furthermore, he did not commit acts of intentional evasion. It is merely a mistake made on behalf of his accountant, so we will not be charging him with tax evasion."
In late 2012, Kang announced his return to the entertainment industry with S.M. C&C as Ho-dong's new agency.
At the end of 2015, he hosted several successful variety shows, such as:
New Journey to the West;
Let's Eat Dinner Together;
Knowing Bros.
Restaurant
Kang has also established the Baek Jeong Korean barbecue restaurant chain.
READ MORE: Rebecca Skloot Net Worth
Wife
Kang Ho-dong married Lee Hyo-jin in 2006. They got married after two years of dating.
When asked how he first met Lee Hyo-jin, the former wrestler confessed:
"Me and Yoo Jae Suk (a South Korean comedian) went on a blind double date. We had assigned partners for our date."
Ho-dong added:
"When I first saw [Lee Hyo-jin], I thought to myself, 'This person is the mother of my children.'"
READ MORE: Who is Brendan Eich?
Children
In 2009, the couple welcomed their first son, named Kang Si-hoo.
In 2013, during the broadcast of SBS's "Barefoot Friends," Kang said about his son:
"My son is now attending kindergarten, and not long ago he came home with a diploma that said 'King of Wrestling.'"
During filming for Day You Eat Out, he confessed:
"My son grew up seeing my wrestling photos on the wall, so he thinks I'm an incredibly strong person and never jokes when I'm there."
Height
Ho-dong is 1.82 meters tall.
READ MORE: TimTheTatman Net Worth
Trivia
In 2012, it was reported that he will start a project in South Sudan to help poor children in the African country.
The Green Umbrella Childfund Korea declared:
"Kang is planning to start a project to open a school and build other facilities for children in Sudan."
Kang Ho-dong – Net Worth
Ho-dong earned most of his wealth from his professional wrestling career as well as from hosting numerous popular variety shows. In addition, Kang made some money from his restaurant as well as investing in real estate. At the time he was accused of tax evasion, Kang earned around $2.8 million per year. Therefore, comedian Kang Ho-dong has an estimated net worth of $10 million.
Featured image source – © Guliver / Getty Images.
READ THIS NEXT: Fannie Flagg Biography
References

https://www.soompi.com/kang-ho-dong-reveals-he-met-his-wife-while
https://www.koreaboo.com/kang-ho-dong-son-nuest-hwang-minhyun
https://www.allkpop.com/kang-ho-dong-reveals-why-his-son-is-afraid