What is Mark Tremonti's net worth? Who is Mark Tremonti's wife?
Introduction
Mark Tremonti, nicknamed – Tru, is an American record producer, songwriter, and singer, who is best known as the lead guitarist of the Rock band Alter Bridge and Creed.
Biography
He was born on April 18, 1974, in Detroit, Michigan, USA.
Tremonti grew up in a Roman Catholic family of Italian descent. He said about his parents for Guitar:
"When I was a kid driving in the back of my parents' car, they would always listen to Rod Stewart, Gerry Rafferty, Steve Miller band, or Bob Marley."
He has two brothers, Daniel and Michael.
Mark started playing the guitar at the age of 11.
Creed
In 1995, Tremonti formed the band Creed with lead vocalist Scott Stapp. Drummer Scott Phillips and bassist Brian Marshall joined the band later.
Creed released their debut album, My Own Prison, in 1997.
On September 28, 1999, the American rock band released its second studio album, titled – "Human Clay" via Wind-up Records. It sold more than 20 million copies worldwide.
On November 20, 2001, Creed released another album, called – "Weathered." It has sold over 6 million copies in the United States (887,000 copies in its first week of release). "Weathered" entered the Billboard 200 at number one.
On October 27, 2009, the band released the last album – "Full Circle." The album had music videos created for A Thousand Faces, Rain, and Overcome.
Alter Bridge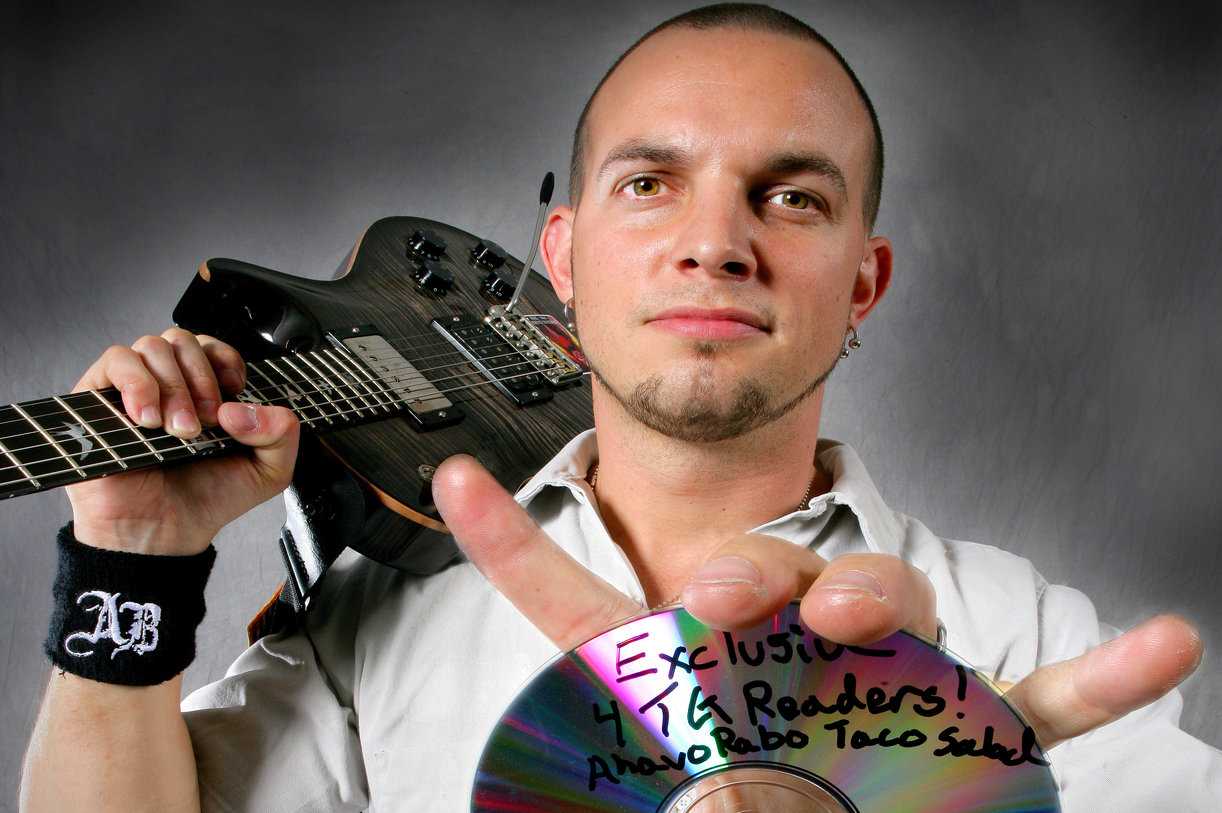 Alter Bridge was formed in January 2004 by Phillips, Marshall, and Mark after Creed disbanded.
The band was named after an actual bridge located in Detroit, which symbolically separated the social classes where Tremonti grew up.
Alter Bridge's first album,"One Day Remains," came out in August 2004 via Wind-up Records. The album sold over 750,000 copies worldwide.
"Blackbird" is the band's second album. Blackbird has sold over 228,000 copies (47,000 copies in its first week of release). It peaked at number #13 on the Billboard 200.
On October 8, 2010, the group released an album called "AB III" via Roadrunner Records. It was produced by Michael Baskette. The single, "Isolation," is Alter Bridge's most successful single to date.
On September 25, 2013, Alter Bridge released the album "Fortress" via Roadrunner Records. The lead single, "Addicted to Pain," was released in August 2013.
Alter Bridge's fifth studio album is titled – "The Last Hero." The album was released on October 7, 2016.
On October 18, 2019, the group released another album named "Walk the Sky." The first single, "Wouldn't You Rather," was released in June 2019.
Tremonti
In 2011, Mark formed his own band, Tremonti. The band also consists of drummer Garrett Whitlock and rhythm guitarist Eric Friedman.
In July 2012, the band released the album "All I Was." Paige Camisasca of Revolver magazine wrote about the album:
"All I Was reveals the remarkable depth of talent behind one of hard rock's core guitarists."
In June 2015, the group released another album, entitled – "Cauterize." The album debuted at number 40 on the US Billboard Top 200 albums chart. It sold over 13,000 copies in its first week of release.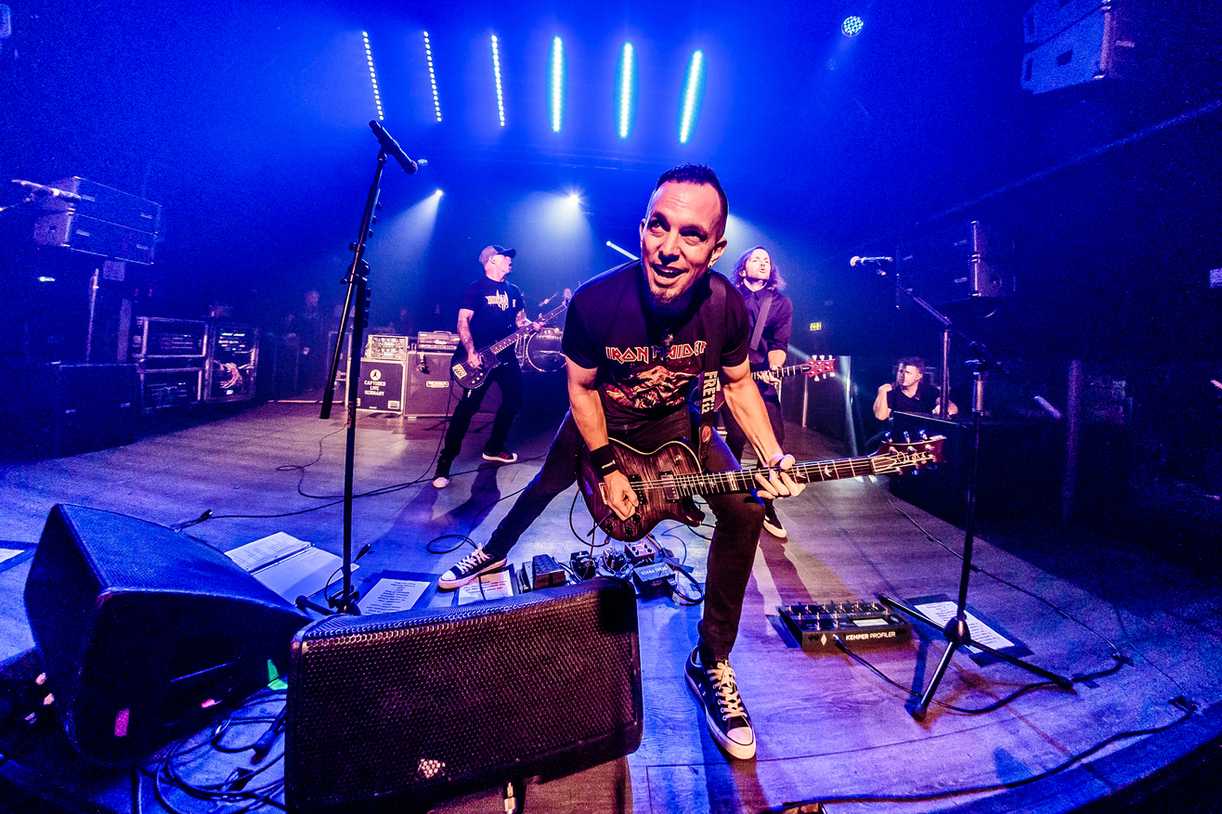 On April 29, 2016, the group released the album "Dust" via FRET12 records.
On June 8, 2018, Tremonti released the album "A Dying Machine" via Napalm Records. The single "Take You With Me" peaked at #32 on the US Billboard Mainstream Rock Songs chart.
On May 27, 2022, he released Tremonti Sings Sinatra, which includes renditions of some of the most beloved Frank Sinatra tunes
Wife
On December 14, 2002, Mark Tremonti married Victoria Rodriguez.
He wrote on Facebook in December 2014:
"Happy 12 year anniversary to the best wife a guy could ever ask for."
Children
The couple has two sons, named Pearson and Austen. Mark said for Metal Head Zone about his children:
"I want them to follow their passions. I don't think anybody succeeds in life unless they follow the path they wanna go down."
Height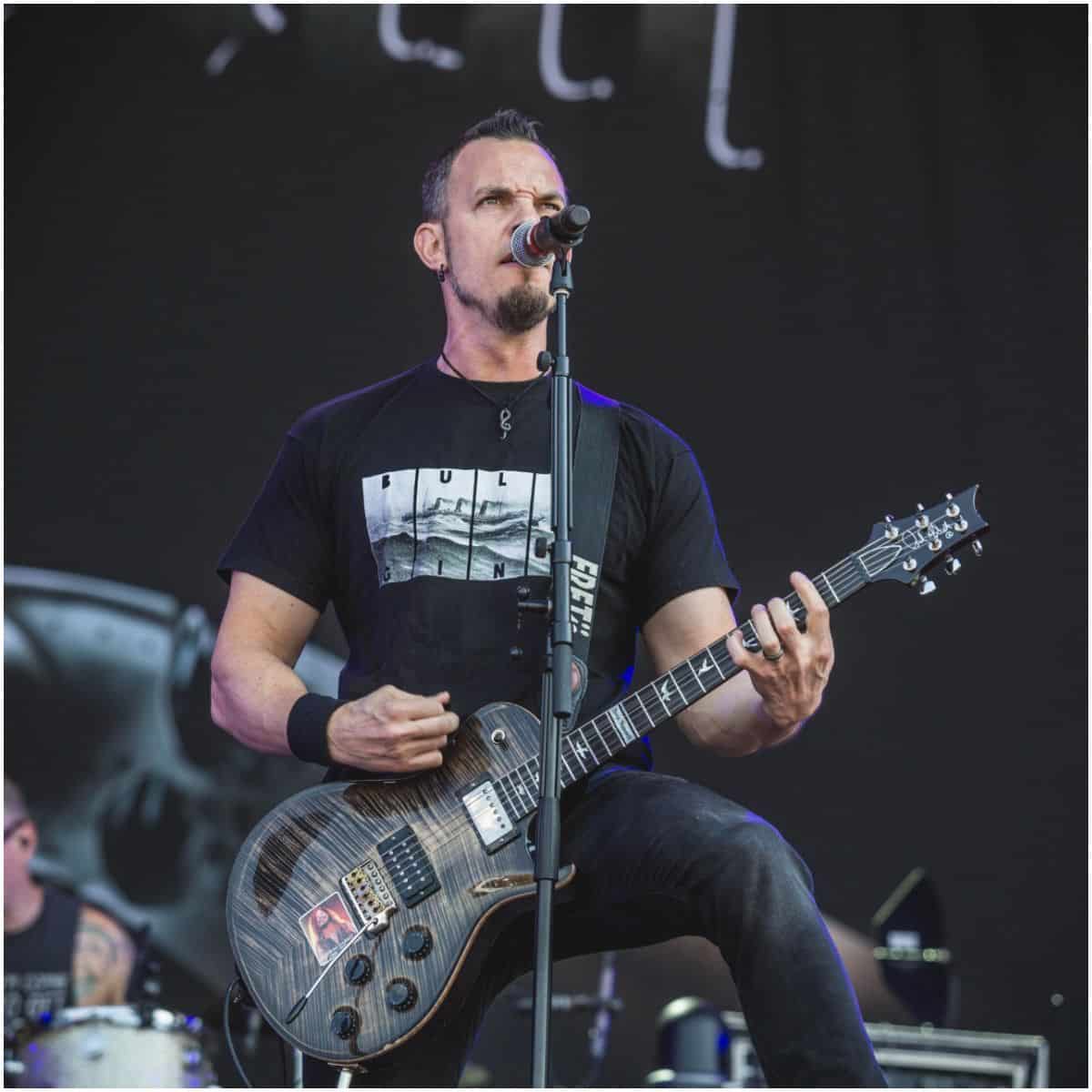 Tremonti is 6′ 1″ (1.85 m) tall.
READ MORE: Is Merkules dating?
Quotes
"You don't know where it's gonna go, and you finally have to tweak it down to where it has a specific meaning."
"A lot of times, people are kind of embarrassed of their own talking voice, so I've developed this way — especially live — of kind of sounding like somebody else." (Source)
"They [Metallica] were my favorite band growing up, and that would be quite an honor."
"I like to be aware of the chord changes and vocal melodies that already happened in the song to see if I can bring a familiarity into that solo."
"For me, it's always what's fun to play and makes me feel something, what pushes emotions and draws you in."
READ MORE: Jonathan Antoine Net Worth
Trivia
Mark helped Larry the Cable Guy perform the title song to the album "Lord, I Apologize."
His brothers introduced him to popular rock bands such as Metallica and Kiss.
Tremonti means "Three Mounts" in Italian.
Mark is an avid fan of reading books. Some of his favorites are:
On Writing by Stephen King;
The Song of Ice and Fire series by George R. R. Martin;
The Prophet by Kahlil Gibran;
The First Law trilogy by Joe Abercrombie;
Old Man's War by John Scalzi;
The Book of the New Sun by Gene Wolfe.
READ MORE: What is the net worth of Kirk Franklin?
Real Estate
Tremonti lives in a 20,000 square foot home in Lake Butler Sound.
Mark Tremonti – Net Worth
Tremonti earned most of his wealth from selling copies of the albums that his bands released. Tremonti also makes money from touring.
Therefore, American guitarist Mark Tremonti has an estimated net worth of $20 million.
READ THIS NEXT: Is Lana Del Rey dating now?