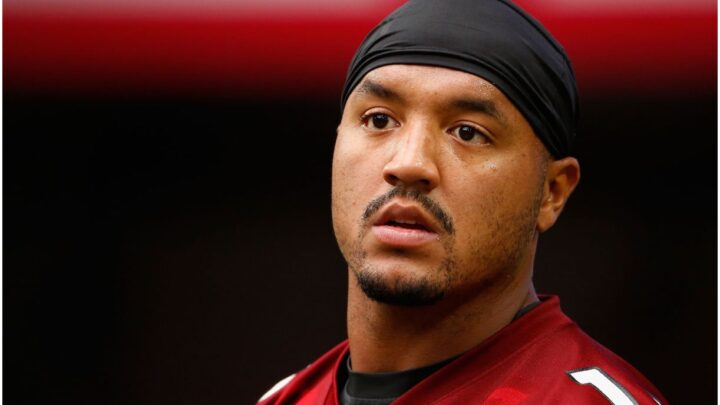 Michael Floyd is an American football wide receiver who played college football at Notre Dame from 2008 to 2011. He is currently a free agent.
Biography
He was born on November 27, 1989, in Saint Paul, Minnesota, USA as Michael Floyd Jr.
His parents are Mike Floyd Sr. and Theresa Romero.
Michael went to Cretin-Derham Hall High School in Saint Paul, Minnesota. During high school, Floyd played for the Raiders football team as a wide receiver. He also participated in track and basketball.
During college, Floyd played football at the University of Notre Dame. Michael said in an interview about Notre Dame: "This place has been an incredible home to me and the relationships I built here are ones I know I'll have for the rest of my life."
He played in 11 of Notre Dame's 13 games on the year as a freshman.
During his sophomore season, he suffered a fractured clavicle.
In 2012, he was officially picked as the 13th pick of the NFL Draft joining the Arizona Cardinals.
On June 11, 2012, Floyd signed a four-year, $9.97 million contract with the Cardinals. He said for One Foot Down:
"It's a dream come true to play in the NFL. You know, it's a great opportunity for me and it's a great position to be in."
Michael began his first NFL season as a backup wide receiver.
On April 29, 2015, the Cardinals exercised the 5th-year, $7.32 million option on his contract.
On December 12, 2016, Floyd was arrested and charged with a DUI after Scottsdale police found him asleep at the wheel at a traffic signal. Two days later, the Cardinals released Floyd due to his DUI charge.
Michael Bidwill, the Arizona Cardinals team president, said Michael did not inform the team of his arrest and showed no remorse on his actions. In his words:
"He certainly could've played it a lot differently." The Arizona Cardinals team president continued: "We wanted to give him an opportunity to address his issues… I was just disappointed about how it played out."
Floyd later said: "It sucked, but I knew something was going to happen, but I did not actually think I was going to get released at all."
On December 15, 2016, he was claimed off waivers by the New England Patriots.
On February 17, 2017, he was found guilty of DUI. Later, the veteran receiver was sentenced to 24 days in jail and 96 days of house arrest. In addition, Floyd had to perform 30 hours of community service and pay a fine.
He signed a one-year, $1.41 million contract with the Minnesota Vikings on May 10, 2017.
In July 2017, he was suspended for the first 4 games of the season for violating the National Football League Policy and Program for Substances of Abuse.
READ MORE: Who is Richard Jefferson's wife?
He signed with the New Orleans Saints on July 31, 2018. Michael was released by the Saints on September 1, 2018.
He signed with the Washington Redskins on September 17, 2018.
Michael signed with the Baltimore Ravens on May 17, 2019. On August 30, 2019, Floyd was released by the Ravens.
Wife
Michael Floyd got married in 2019.
He said in an interview: "Being married, I think it's very positive for me," Michael continued: "Life's changing and it's not just about you anymore."
READ MORE: Maria Folau Net Worth
Height
Floyd is 6 ft 2 5⁄8 in (190 cm) tall.
Michael Floyd – Net Worth & Salary
Floyd earned most of his wealth from playing in the NFL for Baltimore Ravens, Washington Redskins, New Orleans Saints, Minnesota Vikings, New England Patriots, and Arizona Cardinals.
During his 7 seasons in the NFL, Michael earned a little over $13 million from his contracts plus $5.6 million as a signing bonus. Floyd's highest salary was in 2016 when he earned about $6 million. Therefore, Michael Floyd has an estimated net worth of $11 million.
Featured image source – © Guliver / Getty Images.
READ THIS NEXT: Who is Trevor Brazile?