Ryan Garcia (nickname – Kingry) is an American professional boxer who knocked out Miguel Carrizoza from Mexico in under 30 seconds in 2017. Garcia has held the WBC Silver lightweight title since 2019.
In addition, Ryan is a 15-time national amateur champion boxer who is affiliated with American boxing promotion firm Golden Boy Promotions.
Biography
He was born on August 8, 1998, in Victorville, California, USA.
His parents are Lisa and Henry Garcia. They were involved in his boxing career. For instance, his mother works as his Personal Administrative Assistant for commercial projects, while his father remains one of his trainers.
Ryan began boxing at the age of 7 in his family's garage.
Boxing Career
Garcia is promoted by Golden Boy Promotions, a mixed martial arts and boxing promotion firm.
Golden Boy Promotions was established in 2002 by Oscar De La Hoya, a Mexican-American former professional boxer who is an 8-time world champion.
When he represented the US at the 1992 Summer Olympics, De La Hoya was nicknamed "The Golden Boy of boxing" by the media. Oscar is the first American of Mexican descent to own a national boxing promotional firm.
Though Ryan doesn't speak Spanish, Garcia is currently trained by Eddy Reynoso, a professional boxing trainer who is best known for having started his career with Mexican professional boxer Canelo Alvarez in 2005.
After he hired Eddy as his coach, Golden Boy Promotions wrote on their Instagram account:
The caption reads:
"The Face of Boxing welcomes the Future of Boxing to camp as Eddy Reynoso will now be the head trainer of super featherweight prospect Ryan 'Kingry' Garcia."
Eddy Reynoso said:
"Without a doubt, we are talking about the best prospect right now in the world of boxing. He's a young fighter who hits hard and is very fast."
His father, Henry Garcia, remains 2nd assistant on the training team.
In 2014, Garcia was a National Junior Olympics Silver Medalist.
Controversy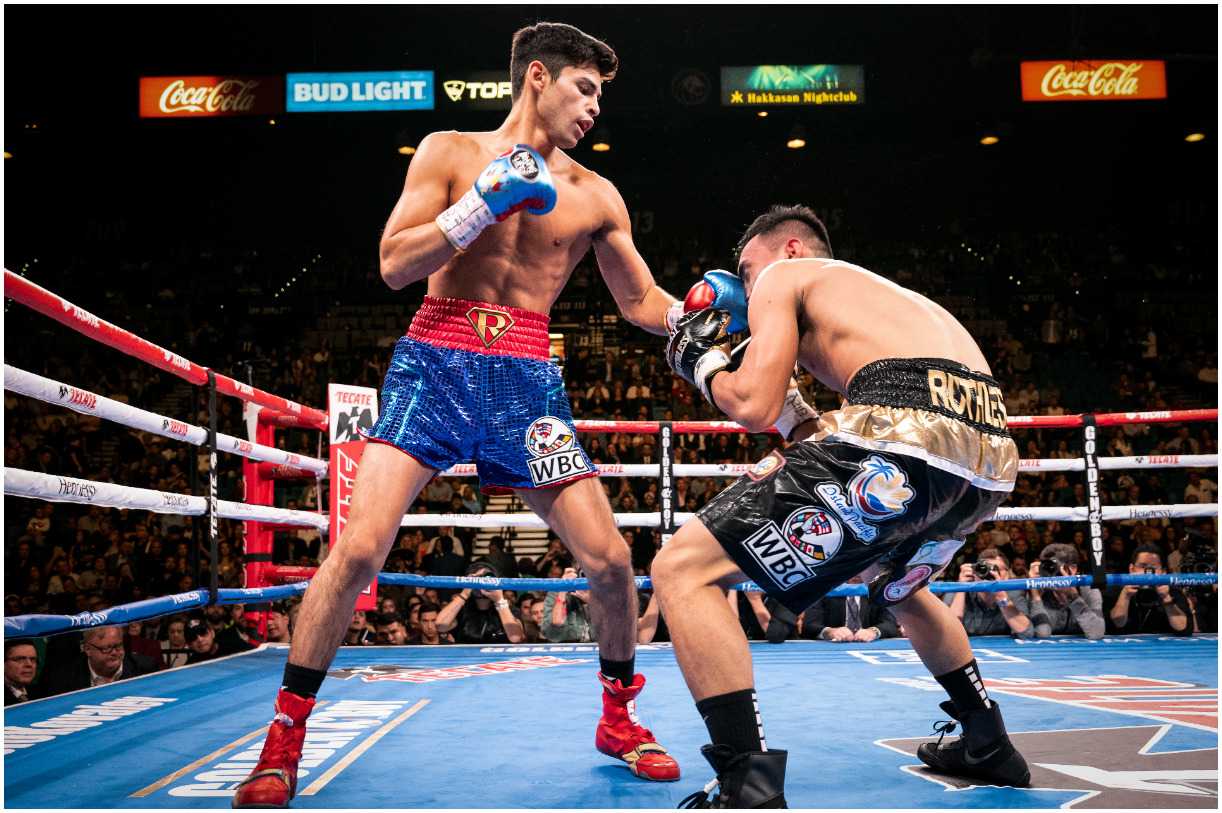 After his scheduled fight with Avery Sparrow for September 14, 2019, was scrapped (due to the fact that Avery was arrested on September 13, 2019, and faces a gun charge for an incident in April 2019), the relationship between Ryan and his promoter Oscar De La Hoya, is highly tensioned.
This happened since after the fight was canceled, Golden Boy Promotions went to the media and said that they had offered Ryan a fight with Filipino professional boxer Romero Duno, but Garcia and his team declined.
Golden Boy Promotions president wrote on Twitter that Team Garcia:
"declined the Duno fight since the trainer believed Duno was a tough opponent to take on 24 hour notice without proper preparation."
Guadalupe Valencia, one of Ryan's advisors, explained:
"Eric Gomez [Golden Boy Promotions president] had posted something indicating that Ryan believed that Duno was too tough and therefore we didn't wanna fight him, which is a completely false statement."
Ryan wrote on his Twitter account: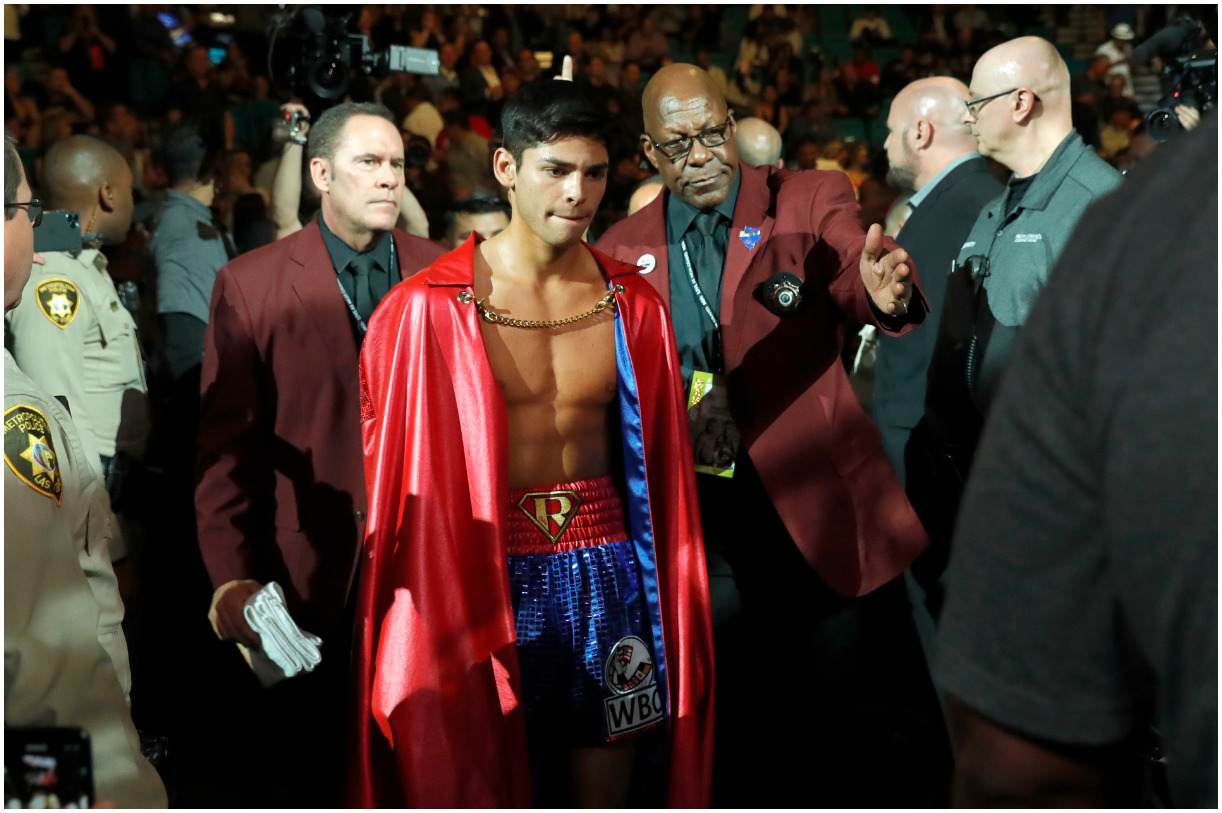 "My coach Eddy never said that! … I will continue to get peanuts, even though I move cards."
Later, De La Hoya was asked if the parties could work things out. During an interview, Oscar confessed:
"Absolutely, why not? We can make him a lot of money, and we made him a superstar."
On January 2, 2021, he won a match against Luke Campbell via TKO.
Brat
Brat is a digital media network that was launched in 2017 on YouTube.
In 2019, Ryan was cast as a lead in a Brat web series. He plays Sonny Mendoza, a high school student who is committed to earning a scholarship into a respected college.
Rob Fishman, Brat co-founder, said:
"We're excited to have caught him at an exciting inflection point in Ryan's career."
Instagram
Garcia has an Instagram account with more than 8 million followers.
Girlfriend
Ryan Garcia was romantically involved with Catherine Gamez, a social media star.
Garcia and Gamez welcomed a daughter named Rylie Garcia in March 2019. Garcia parted ways with Catherine after Rylie's birth.
Ryan is currently in a relationship with Drea Celina. They have a daughter, named Bela Garcia.
Height
Garcia is 5′ 11″ (1.8 m) tall.
READ MORE: Rod Carew Heart Transplant
Quotes
"I'm trying to have fights that put up numbers that go crazy. I want to fight for titles and for the biggest types of events."
"I'm here to leave a statement into boxing history."
"After this fight, I plan on taking on all those contenders and making sure I put myself into those talks!"
"This is a new age. People get to know people quicker because of social media. And I just took advantage of it."
READ MORE: Is Denise Austin married?
Trivia
In January 2019, he was asked if he has a celebrity crush. Ryan responded:
"I'm always going to shout out Selena Gomez."
Ryan often wears blue, white, and red colors and frequently carries both the Mexican and the United States flag into the ring.
Garcia has a brother named Sean Garcia, who is also a professional boxer, and 3 sisters, named – Kayla, Sasha, and Demi.
READ MORE: Bobby Riggs Net Worth
Ryan Garcia – Net Worth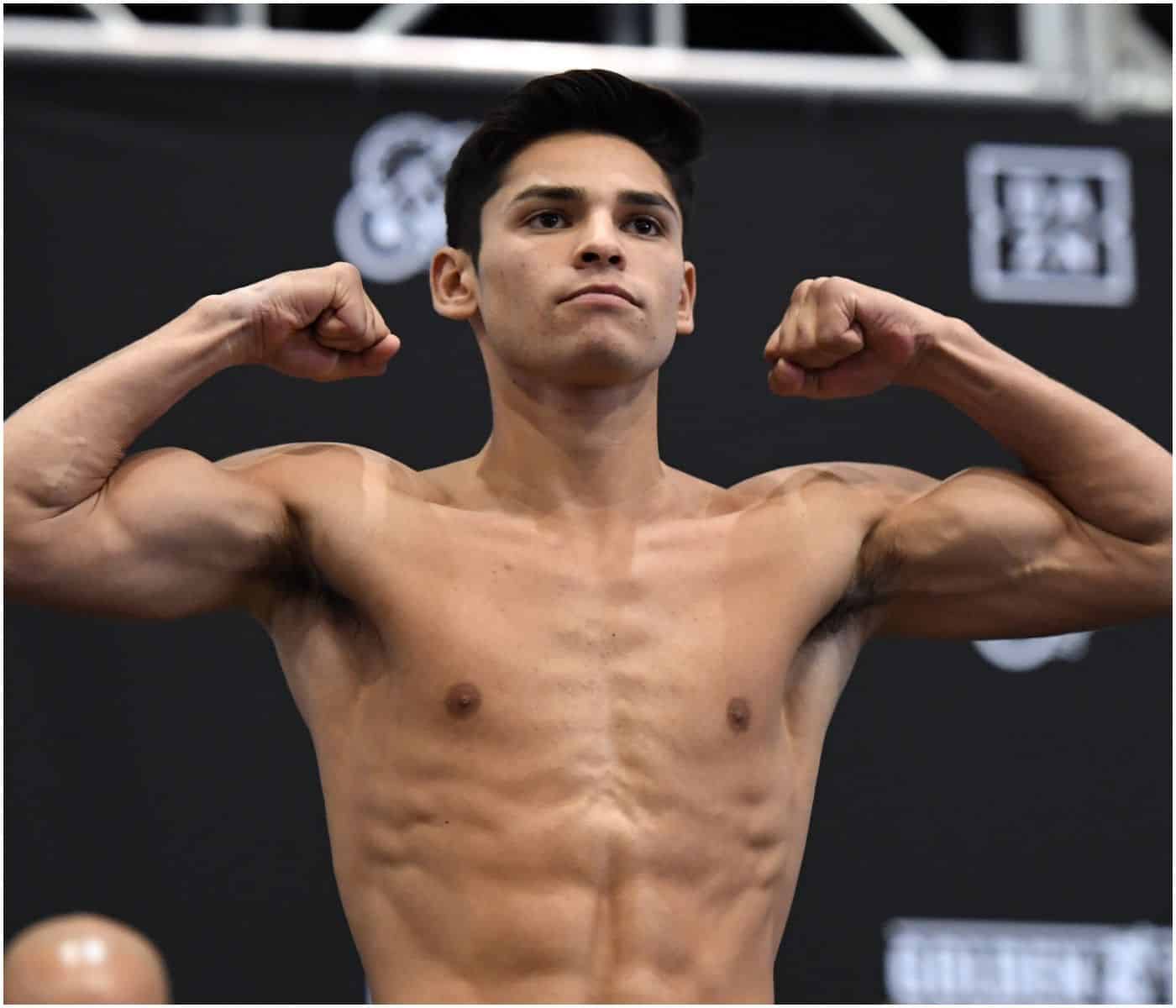 Garcia earns most of his wealth from boxing. Ryan won Junior Olympics, Junior Golden Gloves, National Pals, and Silver Gloves. So far, Garcia has won 18 matches of his 21 matches by knockouts.
Moreover, Ryan earns money from sponsored posts on his Instagram account (8 million followers). A sponsored post on an Instagram account of this level can easily receive around $30,000 per post.
Also, he is sponsored by Gymshark (a fitness apparel brand), Abercrombie & Fitch, and Tommy Hilfiger. Therefore, professional boxer Ryan Garcia has an estimated net worth of $11 million.
Featured image source – © Guliver / Getty Images.
READ THIS NEXT: Who is Antonio Cromartie?
References

https://www.dazn.com/en-US/news/boxing/oscar-de-la-hoya-ryan-garcia
https://www.latimes.com/sports/story/2019-09-13/ryan-garcia-avery-sparrow-arrest
https://www.badlefthook.com/2019/9/16/20868799/ryan-garcia-golden-boy