Bobby Riggs Net Worth – $1.5 million
What was Bobby Riggs' net worth at the time of his death?
Introduction
Bobby Riggs (birth name – Robert Larrimore Riggs) was an American tennis champion best known for facing women's star Billie Jean King in the 1973 Battle of the Sexes, a match which made tennis history as the most-watched match ever, with more than 90 million worldwide watching on television as well as over 30,000 inside the Houston Astrodome.
He was also known for his philosophy:
"If I can't play for big money, I play for a little money. And if I can't play for a little money, I stay in bed that day."
Biography
He was born on February 25, 1918, in Los Angeles, California, USA.
Bobby was one of 6 children of Gideon Wright Riggs (a minister) and Agnes (Jones).
Riggs began taking tennis lessons when he was 12 years old.
At age 16, he was the No. 5 ranked junior player in the US.
At age 17, Bobby won the National Junior Championships.
At age 18, Riggs was ranked 4th in the US.
At age 20, Bobby was a Davis Cup winner on the United States team, which beat Australia in 1938.
In 1946, he became the number 1 player in the world by defeating Don Budge 23 matches to 21.
Riggs remained number 1 until he was decisively defeated by Jack Kramer in the tour of 1947-1948.
As a senior player in his 60s and 70s, he won many national titles within various age groups.
READ MORE: Shea Hillenbrand Net Worth
Battle of the Sexes
Billie Jean King agreed to play Bobby on September 20, 1973.
Note – Billie Jean King is a former World No. 1 professional tennis player who won 39 Grand Slam titles:
11 in mixed doubles;
16 in women's doubles;
12 in singles.
The game was over in 3 straight sets and just a little over 2 hours. Billie Jean King won all three sets—6–4, 6–3, 6–3.
Between sets, Bobby's son, Jimmy, said:
"Come on, Dad, wake up."
Fellow players and close followers of the sport have accused Bobby of deliberately losing, however, he insisted that was not the case.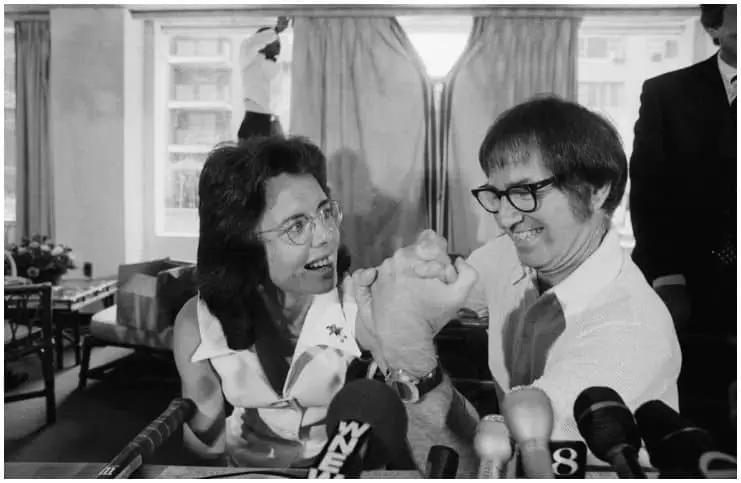 Several years later, he said:
"Billie Jean just caught me on a bad day."
In the wake of the match, Bobby admitted that he had not prepared for the match and had been overconfident about facing a woman.
In 1990, Bobby told World Tennis magazine:
"I didn't let Billie Jean win. I bet on that match and I bet on Bobby Riggs and I lost. The truth of the matter is I did not play a good match."
Note – at the time of the match, Riggs was 55, while Billie Jean King was 29 (26 years younger than Bobby) and in the prime of her career.
During a 2013 interview, King said:
"[Bobby] was 55. He was as old as my father [at the time]. For me to beat him meant absolutely nothing athletically. Nothing."
Battle of the Sexes – The Movie
The movie Battle of the Sexes was released in 2017, and it is a biographical sports film written by Simon Beaufoy and directed by Jonathan Dayton and Valerie Faris.
It is based on Billie Jean King's life, especially on the circumstances leading up to and surrounding her tennis match against Riggs.
READ MORE: Denise Austin Net Worth
Death & Cause of Death
Bobby died on October 25, 1995, at his home in Leucadia, Encinitas, California. He was 77.
He had battled prostate cancer for the past 10 years.
Bobby had a son from his first marriage, 3 children from his 2nd marriage, four grandchildren, and two brothers.
Wife
On December 9, 1939, Bobby Riggs got married to Catherine (Kay) Fischer.
The couple divorced in 1951.
In November 1952, Riggs married Dorothy Priscilla Wheelan.
The two met on the courts of the LaGorce Country Club in Miami.
READ MORE: Is Jennifer Jo Cobb married?
Children
From his first marriage, Riggs has two children. From his marriage to Wheelan, he has had three children.
In 1976, his son, James Riggs, was found dead in a rented room in Manor Haven.
Quotes
"The bigger the bet, the better I played."
"The man is king. The man is supreme."
"I'm a woman specialist now. I'm going around the world to challenge all the woman champions."
"When I was the best player in the world, cleaning up Wimbledon, not many people paid attention."
"I love the excitement, the center stage, the limelight."
"All my life, everything has been a contest. This so turns me on, and I so love it – I love the competition – and that's the thing I crave like some guys crave women. I crave the game."
"If I am to be a chauvinist pig, I want to be the number one pig."
READ MORE: Bobby Hebert Net Worth
Trivia
Bobby was a great ping pong player before he became a great tennis player.
In 1967, Riggs was inducted into the International Tennis Hall of Fame.
READ MORE: Who is Rod Carew?
Bobby Riggs – Net Worth
So, how much was Bobby Riggs worth? Riggs earned most of his wealth from playing professional tennis. For example, he was a 3-time US Professional champion in the 1940s, twice the United States champion at Forest Hills, and a Wimbledon champion in 1939. Therefore, at the time of his death, Bobby Riggs had an estimated net worth of about $1.5 million.
After he retired from tennis, Bobby started to gamble. In his autobiography, Riggs wrote that he had made $105,000 (about $2 million in the present day).
READ THIS NEXT: Gary Danielson Net Worth
References

https://timeline.com/photos-of-the-real-battle-jean-kings-triumph-over-boorish-bobby
https://www.theguardian.com/world/2017/nov/12/billie-jean-king-tennis-equality
https://www.foxsports.com/bobby-riggs-billie-jean-king-battle-of-the-sexes-tennis