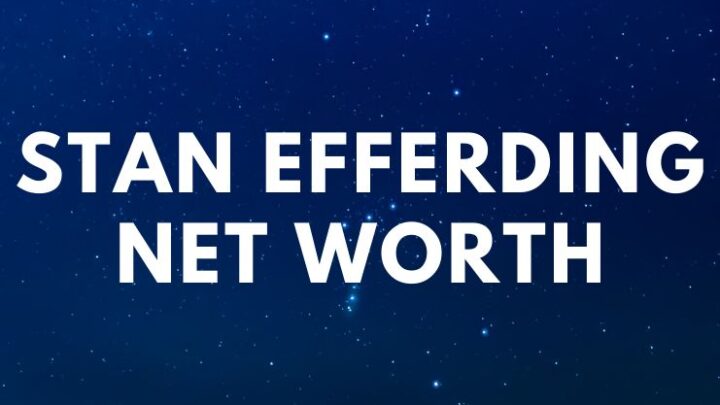 Stan Efferding, often referred to as the "world's strongest bodybuilder," is an American professional bodybuilder who currently holds the world-record powerlifter – 2,226.6 lbs.
Biography
Efferding was born on November 6, 1967, in Oregon, USA.
He studied Exercise Science at the University of Oregon. Stan said about his time in college:
"I started lifting seriously when I got to college at age 18. I had a soccer scholarship but my coach said I needed to hit the weight room because I was small."
Efferding went on to say:
"I weighed 145 pounds and couldn't bench press 135."
In 1991, he won the Mr. Oregon. In 1996 and 1997, Stan was placed 2nd in the Emerald Cup.
In 2006, Efferding won the Superheavyweight class weighing 235 lbs. in the Seattle Emerald Cup.
In February 2009, Stan has set 2 American records in the open category at the APA "All RAW" Northwest Regional Championships in the non-drug-tested category.
Later that year, he totaled 2,221.2 lbs in the 275 lbs category at the Southern Powerlifting Federation POWER "Stimulus Package" Raw Meet in Sacramento.
In 2010, Stan won the title "Mr. Olympia 2010 World's Strongest Professional Bodybuilder."
In the follow-up year, Efferding set two all-time world records at the SPF California State Championships, a three lift total of 2,226.6 lbs and squatting 854 lbs.
In 2013, Stan set a new raw record in the 275-pound-class – 2,303 lbs with an 837.5 lbs deadlift, a 600.7 lbs bench press, and an 865.2 lbs squat, at the event called supertrainng.tv "March Madness."
Vertical Diet
Developed by Stan Efferding, Vertical Diet promises that it would improve your overall energy, correct any nutritional deficiencies, balance hormones, and optimize your gut health.
The main foods that are recommended while being on the Vertical Diet are:
nutrient-rich, low FODMAP foods like spinach, yogurt, eggs, and salmon;
white rice;
red meat, especially grass-fed steak.
Foods that aren't easily digestible or ones that may cause bloating are discouraged. Some of these foods are:
garlic;
onion;
cauliflower;
broccoli.
Amy Shapiro, the founder of Real Nutrition, said about Vertical Diet:
"The vertical diet was created to help bodybuilders easily put on mass to meet weight-gain goals without digestive issues."
Shapiro also said:
"I would recommend including additional sprouted grains, nuts, seeds, vegetables, and fruits, and limiting the intake of saturated fat from red meat and full-fat dairy."
Stan is the nutrition coach of Hafthor "Thor" Bjornsson, a professional strongman who is best known for performing as The Mountain (Ser Gregor Clegane) on Game of Thrones.
Bjornsson is the first person to have won the World's Strongest Man, Europe's Strongest Man, and the Arnold Strongman Classic, in the same calendar year.
To maintain his current level of muscle, Bjornsson eats more than 8,000 calories a day.
Stan said in an interview:
"When Hafthor came to me at 435 pounds and said he was getting fatter not stronger I already knew what I'd see."
Efferding continued:
"The blood tests saw he was high blood sugar, high blood pressure, had fatty liver disease, and metabolic syndrome."
"Thor" said about his diet:
"I am now very conscious of what I put into my body."
Bjornsson continued:
"My mindset has changed to think about what I can eat to become a better athlete, not just a bigger one."
Training Advice
Here is one of the best training advice from Stan:
"Lift the heaviest weight you can handle for at least 5 reps and if you can lift it more than 10 times, increase the weight."
Powerlifting Records
Efferding's powerlifting records are:
SPF March 24, 2013 "March Madness" – Raw Total with knee wraps – 1,042 kg (2,303 lbs);
SPF May 2011 – Raw Total no knee wraps – 1,007.52 kg (2,226.6 lbs);
Gym lift, 2013 – Equipped Deadlift – 400 kg (881 lbs);
Pride March, 2008 – Equipped Deadlift – 374.21 kg (825 lbs);
SPF March 24, 2013 "March Madness" – Raw Deadlift – 380 kg (837.5 lbs);
SPF September 2009 – Raw Bench press – 275 kg (606.3 lbs);
SPF March 24, 2013 "March Madness" – Raw Squat with knee wraps – 392.5 kg (865.2 lbs);
SPF May 2011 – Raw Squat no knee wraps – 387.5 kg (854.2 lbs).
YouTube
Stan started his YouTube channel on October 12, 2008. His channel has over 6 million views and more than 105,000 subscribers.
READ MORE: Zlatan Ibrahimović Net Worth
Instagram
Efferding has over 314,000 followers on his Instagram account.
Wife
Stan Efferding is married to Malia Efferding. He once said:
"Behind every mediocre dude is a GREAT woman that keeps him in line."
Children
The couple has two children.
READ MORE: Who is Ben Askren's wife?
Height
Efferding is 6 ft 0 in (1.83 m) tall.
Quotes
"The biggest challenges are always rehabilitating from injuries, which I've certainly had plenty throughout my career."
"There's many paths to the same destination. Follow the one that tastes the best."
"I believe you can train long or you can train hard but you can't do both."
READ MORE: Matt Mitrione Net Worth
Stan Efferding – Net Worth
Efferding earned most of his wealth from being a professional bodybuilder. He has a website on which he sells food. In addition, Stan keeps seminars and coaches athletes.
Furthermore, he has a DVD (Rhino Bodybuilding) that can be bought on Amazon as well as a book (The Vertical Diet & Peak Performance). The book is priced at $100 on his website. Therefore, Stan Efferding has an estimated net worth of $1.5 million.
READ THIS NEXT: Who is Joba Chamberlain?
References

https://www.womenshealthmag.com/what-is-the-vertical-diet/
https://www.medicaldaily.com/vertical-diet-weight-loss