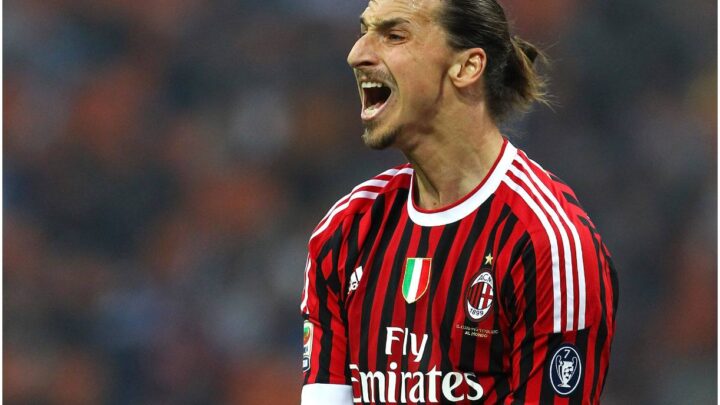 Zlatan Ibrahimović (nicknamed – Ibracadabra and Ibra) is a Swedish professional football (soccer) player who plays as a striker for A.C. Milan.
He is the only player to play in the UEFA Champions League with 7 teams – Manchester United, PSG, AC Milan, Ajax, Barcelona, Inter Milan, and Juventus.
Biography
Ibra was born on October 3, 1981, in Malmö, Skåne län, Sweden to a Croatian mother and a Bosnian father.
He has three half-siblings and two siblings.
His parents divorced when Zlatan was just 2 years old.
Ibrahimović grew up in the neighborhood of Rosengård, which is known for being one of Sweden's roughest areas.
He began his career at Malmö FF in 1999. He transferred to Ajax in July 2001. Zlatan received the number 9 shirt, which was previously worn by Marco van Basten, Patrick Kluivert, and Nwankwo Kanu.
Ibra made his debut as an international player in 2001 in a friendly match against the Faroe Islands.
On August 31, 2004, he was sold from Ajax to Juventus for 19 million euros. He joined domestic rivals Inter Milan in 2006.
In 2009, Barcelona paid a $94 million transfer fee to Inter Milan for the rights to Zlatan.
After one season, he moved to AC Milan.
In August 2012, Ibra was bought by the French club PSG. He had become champion with PSG in 2013, 2014, 2015, and 2016.
In 2016, Ibrahimović joined Manchester United on a free transfer. In 2018, he joined the American club LA Galaxy. In December 2019, AC Milan announced the signing of Zlatan on a free transfer.
In his first statement back to Milan, Zlatan declared:
"I'm coming back to a club I hugely respect and to the city of Milan I love."
Zlatan went on to say:
"I'll fight together with my teammates to change the course of this season."
Wife
Zlatan Ibrahimović is married to Helena Seger, a businesswoman and a model.
During a 2018 interview, Ibra said:
"My wife does not allow me to have pictures of myself."
He continued:
"She says, 'There is already enough talk of you and I don't want to see you on the walls. It is enough that I see you in real life.'"
Children
The couple has two sons:
Vincent (born March 6, 2008);
Maximilian (born September 22, 2006).
Quotes (real)
"Lions don't compare themselves to humans."
"Mourinho is Guardiola's opposite. If Mourinho brightens up the room, Guardiola pulls down the curtains."
[Zlatan on his PSG departure.] "I came like a king, left like a legend."
"We are looking for an apartment; if we do not find anything, then we will just buy a hotel."
"I can't help but laugh at how perfect I am."
"Then Guardiola started his philosopher thing. I was barely listening. Why would I? It was advanced bullshit about blood, sweat, and tears, that kind of stuff."
"I can play in the eleven positions because a good player can play anywhere."
[On rumors that he bought a Porsche.] "Absolutely not. I have ordered a plane. It is much faster."
"You have players who win trophies. You have players who get statues. Then you have players who get both trophies and statues."
"Everyone calls me. You want my number also? So you can call me also? Okay, we'll fix it."
"If I'd gone into taekwondo, I'd probably have won several Olympic medals."
"When I step on the pitch, I am a Lion!"
[To Boban, after agreeing to join AC Milan for the second time] "Boban, congratulations to Milan, you got Ibrahimovic. Merry Christmas and see you soon."
[What's ur favorite dessert?] "My wife's apple cake."
"I have my own area 51."
[What kind of superpowers would you like to have?] "Already have them."
"Only God knows… You're talking to him now."
"I won't be the King of Manchester, I will be the god of Manchester."
"Training starts when I say so."
"One thing is for sure, a World Cup without me is nothing to watch so it is not worthwhile to wait for the World Cup."
"If I leave [LA Galaxy], you will have less to write about. If I stay, you will still have something to write about."
[After his contract with LA Galaxy expired.] "You are welcome. The story continues…Now go back to watch baseball."
"The older I get, the better I get, like red wine."
[When asked about what he would buy his wife for her birthday.] "Nothing, she already has Zlatan."
"If I had played in England I would have destroyed it, like I have everywhere else."
"Agents are just for selling bad players. The big clubs come straight to me."
"Wherever I went, I won. I am like Indiana Jones."
READ MORE: Christmas Abbott Net Worth
Zlatan Jokes & Memes
"One day Zlatan missed two days in a row in the school. Later on, these days were called Saturday and Sunday."
"Death once had a near Zlatan experience."
"When Zuckerberg created Facebook he already has a friend request from Zlatan."
"When Zlatan and Chuck Norris met, the universe just collapsed."
"Zlatan once missed 3 months of school. Now people call it summer break."
"Zlatan doesn't kill two birds with one stone, he kills two stones with one bird."
"When Zlatan was in school teachers had to put their hand up so they can speak to Zlatan."
"It is impossible for Zlatan to have a heart attack. Nothing is stupid enough to attack Zlatan."
"When Zlatan smokes, the cigaret gets cancer."
"Once Zlatan turned up late for work, everyone else was punished for arriving too early."
"Oxygen needs Zlatan to survive."
"When Alexander Graham Bell created the telephone, he already had three missed calls from Zlatan."
"When Zlatan was a kid he used to dress up as Santa for his parents for Christmas."
"When Zlatan looks in the mirror nothing appears because there can't be a second Zlatan."
"The alphabet ended with Y before Zlatan was born."
"When Zlatan swims in the ocean, sharks retreat on the earth."
"When Zlatan made tattoos, the ink felt the pain."
"Argentina has Messi. Brazil has Neymar. The World has Zlatan."
"I tried using 'Zlatan' as a password, but apparently it's 'too strong.'"
"Zlatan never lies. The truth is what is wrong."
"When Zlatan tries on clothes, everyone else goes into the change rooms."
"When Zlatan rents a house, the owner pays rent to Zlatan."
"Zlatan helped the nurses when he was born."
"When Zlatan chops onions the onion cries."
"When Zlatan met a genie, Zlatan granted him 3 wishes."
"Zlatan caught the flu once. But after a few hours, he decided to let it go."
"One day Zlatan passed a red light and the police stopped his car. Zlatan charged the police."
"Zlatan once went out for a bike ride and accidentally won the Tour de France."
"Zlatan has a grizzly bear carpet in his bedroom. It's not dead, it's too afraid to move."
"Zlatan once visited a place called Britain. Now it's called Great Britain."
"The father's name of Zlatan is Zlatan Junior."
"When Zlatan crosses the street, cars look both ways."
"When Zlatan goes to your place to visit you, you're the guest."
"Zlatan once took an IQ-test and the IQ-test immediately got updated."
"Once Zlatan kicked an object into space. Now it's called Moon."
"When Zlatan was young, his parents used to sleep on his bed when they were scared."
"When Zlatan comes to your house he gives you the Wi-Fi password."
"One day Zlatan did a test in a lie detector machine. The machine confessed everything."
"Zlatan can open doors, without actually opening doors."
"When Zlatan comes into your car, you are the passenger."
"Zlatan lost his virginity even before his parents."
"When Zlatan works out he doesn't get stronger, the machine does."
"Zlatan doesn't use a mouse for his computer… he uses a lion."
"When Zlatan had sex for the first time, Big Bang happened."
"Zlatan once raced with time. The time is still running."
"Zlatan is not funny. Funny is Zlatan."
"There is a new verb in the dictionary called – to zlatan."
"Zlatan doesn't need a watch. He decides what time is it."
Height
Zlatan is 1.95 m (6 ft 5 in) tall.
READ MORE: Gegard Mousasi Net Worth
Zlatan Ibrahimović – Net Worth & Salary
Ibra earned most of his wealth from playing soccer for many great teams, including – AC Milan, Manchester United, Paris Saint-Germain, LA Galaxy, Ajax, and Barcelona.
When he played for Manchester United, he had an annual salary of about $35 million. His salary at LA Galaxy was at $7.2 million per season.
In 2020, Zlatan has signed a 6 month deal with AC Milan for €3.5 million, with an option to extend the contract for one more season.
In 2014, Forbes named Ibra as the 12th highest-paid athlete in the world.
Moreover, he makes money from sponsors, including – Nike, Volvo, Microsoft Xbox, and Nivea.
In June 2016, he started his own company A-Z Sportswear, selling sportswear for women, men, and children. Therefore, Swedish professional football player Zlatan Ibrahimović has an estimated net worth of $200 million.
Featured image source – © Guliver / Getty Images.
READ THIS NEXT
References

https://www.irishtimes.com/sport/soccer/ibrahimovic
https://www.espn.com/ac-milan-sign-zlatan-ibrahimovic
https://www.goal.com/en/news/zlatan-ac-milan