Ben Askren (nicknamed – Funky) is an American former Olympic wrestler and retired professional mixed martial artist, who is best known for being a 2013 Bellator Welterweight Champion.
He retired from the Ultimate Fighting Championship (UFC) in 2019.
Biography
Askren was born on July 18, 1984, in Phoenix, Arizona, USA.
He was an amateur wrestler while attending the University of Missouri, .
In 2006 and 2007, Ben won the National Collegiate Athletic Association (NCAA) championship.
He finished his collegiate wrestling career with a record of 153–8.
Olympics
At the 2008 Summer Olympics, he competed in the 74 kg weight class. He won his first match in the Summer Olympics via pin against Hungarian István Veréb.
On February 7, 2009, he made his professional MMA debut.
Ben defeated Josh Flowers via TKO early in the first round at the Holiday Inn Select Executive Center in Columbia, Missouri.
Bellator
On April 15, 2010, he defeated American mixed martial artist Ryan Thomas via technical submission at Bellator 14.
At Bellator 22, Ben defeated former American mixed martial artist Dan Hornbuckle via unanimous decision, becoming the Bellator Season Two Welterweight Tournament Champion.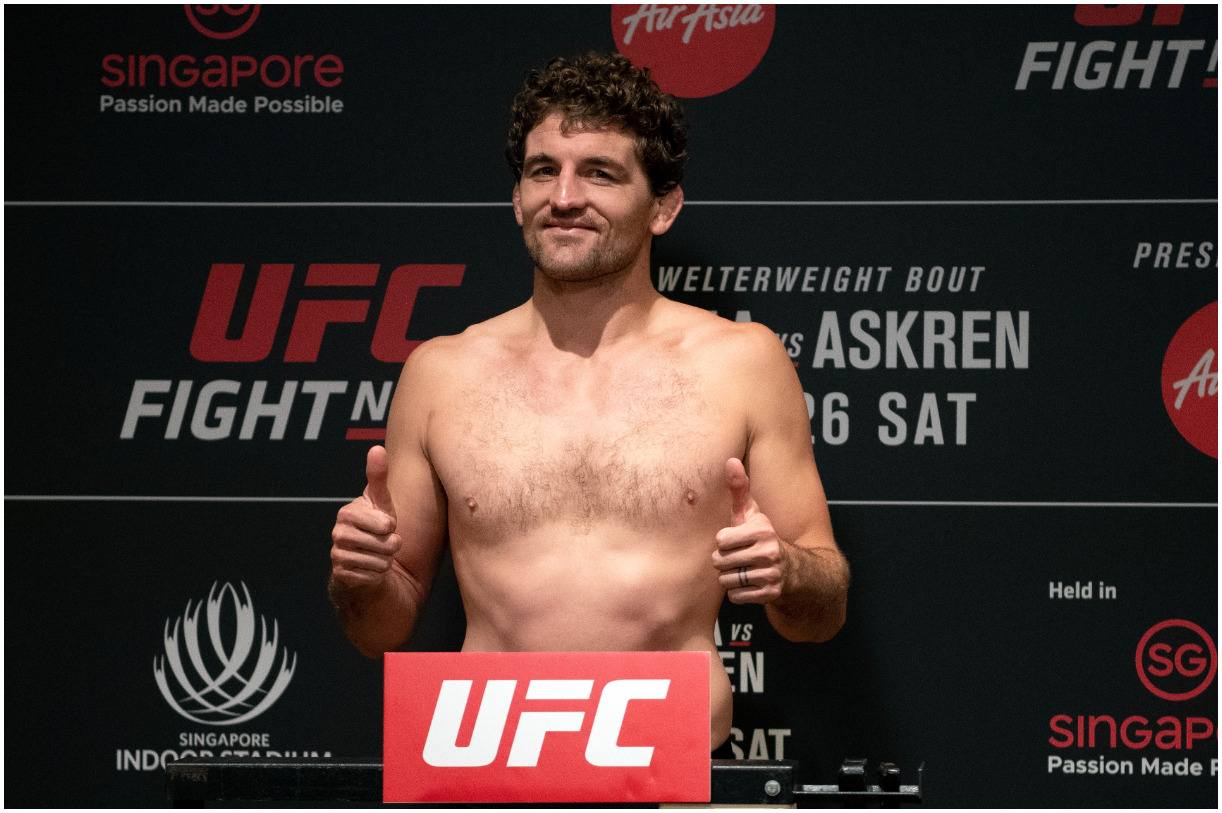 At Bellator 56, he defended his title against Jay Hieron.
He later said:
"I don't like Jay Hieron very much. He just bothers me, the way he talks, and he thinks very highly of himself."
On April 6, 2012, Askren defended his title against Douglas Lima at Bellator 64.
ONE Championship
On December 9, 2013, he signed a 2 year/6 fight contract with ONE Championship, a Singapore-based kickboxing, Muay Thai, and mixed martial arts promotion that was launched by former ESPN Star Sports senior executive Victor Cui and entrepreneur Chatri Sityodtong on July 14, 2011.
On August 29, 2014, Ben won the fight via TKO due to strikes in the first round vs Suzuki at ONE Fighting Championship: Reign of Champions. Askren had become the new ONE Welterweight Champion.
On September 7, 2017, he won via TKO due to punches vs Zebaztian Kadestam at the ONE Championship: Shanghai.
UFC
On March 2, 2019, Ben made his Ultimate Fighting Championship debut at UFC 235 against the former UFC Welterweight Champion – Robbie Lawler. He won the fight via bulldog choke in the first round.
Bulldog choke is historically rare to see in an Ultimate Fighting Championship fight, however, with the right set up, it can be extremely effective.
During an interview with MMA Fighting, Askren said:
"I think I showcased some toughness. I faced some adversity. I haven't really faced a lot of that in my career."
On July 6, 2019, at UFC 239, Ben was violently knocked out by Jorge Masvidal with a flying knee 5 seconds into the first round. It is the fastest knockout in Ultimate Fighting Championship history.
On October 26, 2019, Ben lost the fight via submission in round three vs Demian Maia. After the fight, Askren said:
"I was overconfident. I guess there's a reason he's the best grappler in the division – possibly in MMA – ever."
In November 2019, Askren announced his retirement from the UFC. He said for ESPN:
"I've been thinking about this for a week and what I was going to say, and I'm filled with gratitude for how great of a career I've been able to have, even though obviously, in the end, it did not turn out to go my way."
Following his retirement, Askren said that he is interested in a career in television. He said:
"I think there's a chance. I think I'm going to give it a try. I've got a lot of people encouraging me to give it a try."
Wife
Ben Askren got married to Amy Askren on April 9, 2010.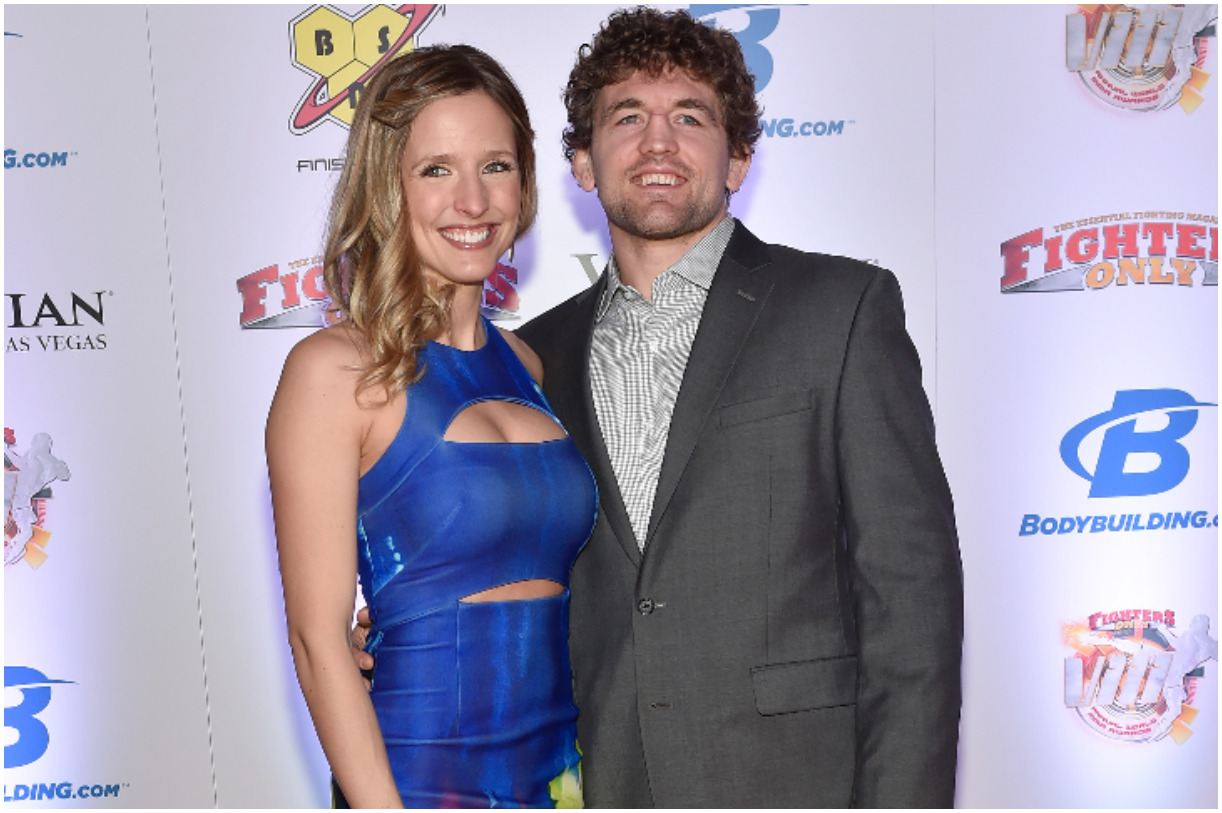 Height
Askren is 5 ft 10 in (178 cm) tall.
Weight
Ben weighs 170.5 lb (77 kg).
Quotes
"I just don't get hit a lot. That's what I'm good at."
"As long as I'm speaking the truth, I'm going to be OK with what I'm saying."
"If you're competing right, if you're doing it right, competition should be a very selfish pursuit."
Podcast
He co-hosts two weekly wrestling podcasts:
The T-Row & Funky Show;
The Funky & FRB Show.
Trivia
In January 2020, he tried to predict the result in the match between Donald Cerrone vs Conor McGregor from the UFC 246.
He said:
"I predicted [McGregor] second-round TKO, I believe. I mean Cerrone's gotten finished in his last two fights."
Askren went on to say:
"It's going to be interesting to see what kind of Conor emerges."
In the match, McGregor beat Cerrone so bad that Donald has been told he cannot fight again for 6 months. McGregor said:
"I feel really good, and I came out of here unscathed. I'm in shape. We've got work to do to get back to where I was."
When asked by Walmart about what does wrestling mean to him, Ben responded:
"I can't really imagine what my life would be like without wrestling, I have been doing it since I can remember."
Askren added:
"And it played a major role in developing who I was: it gave me confidence, it was the first place I had success."
Askren earned most of his wealth from being a professional mixed martial artist. He fought in UFC, ONE Championship, Bellator, and the 2008 Summer Olympics.
In addition, Ben makes money from investing in cryptocurrency as well as from sponsors. He is sponsored by Discraft. Therefore, Ben Askren has an estimated net worth of $1.7 million.
Featured image source – © Guliver / Getty Images.
READ THIS NEXT