Terry Gross is an American host and co-executive producer who is best known for being the host of Fresh Air, a popular National Public Radio interview-based talk program.
The Boston Phoenix wrote that Gross:
"is almost certainly the best cultural interviewer in America, and one of the best all-around interviewers, period."
Biography
Gross was born on February 14, 1951, in Brooklyn, New York City, USA, to Anne and Irving Gross.
In 1968, she graduated from Sheepshead Bay High School.
After high school, Terry earned a bachelor's degree in English and an M.Ed. in communications from the State University of New York at Buffalo.
In 1972, she taught for six weeks at an inner-city public junior high school in Buffalo.
In 1973, Terry began her radio career at public radio station WBFO in Buffalo, New York.
Fresh Air
In 1975, Gross started to be the host of Fresh Air, a radio talk show that broadcast on NPR stations across the US since 1985.
Audrey Bentham is the engineer of Fresh Air. Roberta Shorrock is the director. Fresh Air is produced and edited by Mooj Zadie, Therese Madden, Heidi Saman, Lauren Krenzel, Sam Briger, Ann Marie Baldonado, Phyllis Myers, and Amy Salit.
Terry usually conducts the interviews from the WHYY-FM studios in Philadelphia. For most of her interviews, she is not face-to-face with her guests, however, they are located at the studio of a local National Public Radio affiliate.
Gross said for PBS that she invests a lot of time and effort into research before every interview. She said:
"When I'm preparing for an interview, I do as much research as I can in the limited time that I have."
Terry went on to say:
"I like the questions to have a narrative arc, so, at the end of the interview, you feel like, I have heard the story of somebody's life or the story of their work and how they came about doing it."
In 1994, the radio talk show received a Peabody Award, that cited Terry for her "probing questions and unusual insights."
In 2008, Terry had a guest voice-acting role in an episode of the hit animated TV series The Simpsons.
In 2011, Gross received the Authors Guild Award for Distinguished Service to the Literary Community.
In 2016, she was awarded the National Humanities Medal by President Obama.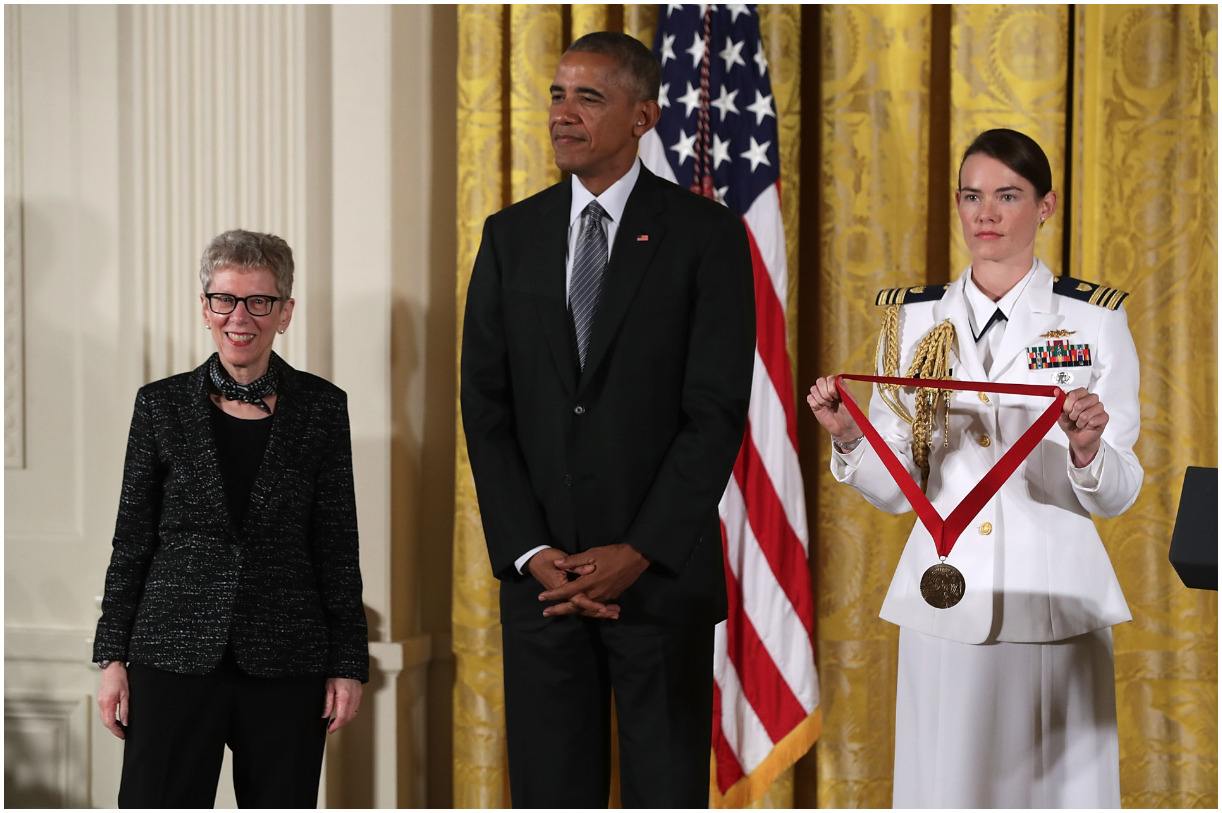 She said at the time:
"It was more thrilling than I ever imagined, to get this kind of recognition."
Gross later added:
"To get it from the NEH and President Obama was just – I never dreamed of anything like that."
Fresh Air was the most-downloaded podcast on iTunes in 2016.
Book
In 2004, Terry published a book titled – "All I Did Was Ask: Conversations with Writers, Actors, Musicians, and Artists."
The book included interviews with many famous people, including:
Conan O'Brien;
Jodie Foster;
John Updike;
Johnny Cash;
Samuel L. Jackson.
Husband
In 2004, Terry Gross married Francis Davis. The two have been together since 1978.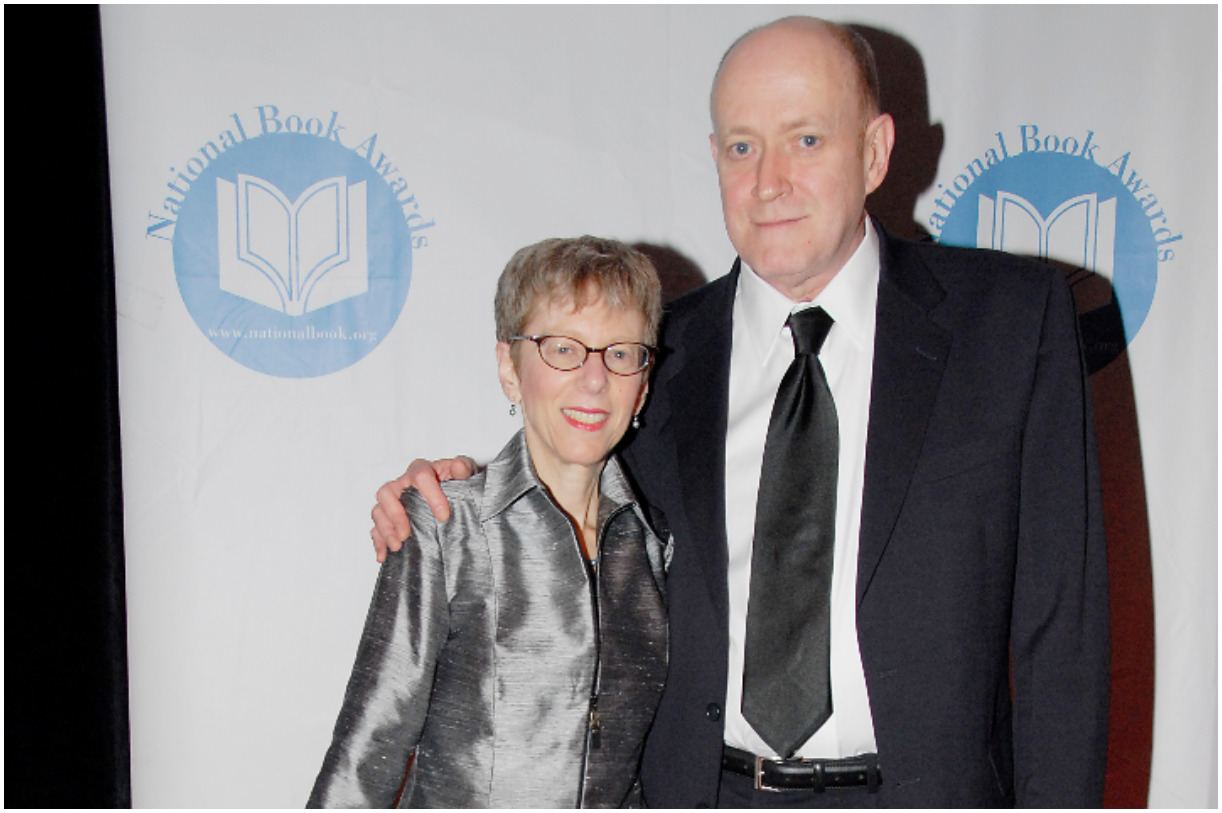 Note – Francis Davis is an American journalist and author who has taught courses on Jazz and Blues at the University of Pennsylvania.
In 2008, he won a Grammy Award for Best Album Notes for the Miles Davis album, "Kind Of Blue: 50th Anniversary Collector's Edition." In 1994, Davis received the Pew Fellowships in the Arts. He also worked as a contributing editor for The Atlantic Monthly.
The couple has no children.
Terry was previously married for about a year to a man she knew from high school.
READ MORE: Julien Blanc Net Worth
Height
Gross is 5 ft (152 cm) tall.
Quotes
"Work can take on a new dimension if you know something about the artist."
"I don't want to help a politician revise the truth."
"I'm not the betting kind."
"It sometimes is just the fear of being misunderstood."
"I've never liked euphemisms. I don't say "passed away." I say "dead."
"What puts someone on guard isn't necessarily the fear of being found out."
READ MORE: What is Matt Patricia's salary?
Trivia
In December 2019, Adam Driver (Ben Solo / Kylo Ren in the Star Wars) walked out of an interview with Fresh Air after the radio talk show played a clip from his new film "Marriage Story."
The American actor has previously said he does not like to listen to or watch his past performances.
Danny Miller, Fresh Air executive producer, declared:
"We still don't understand why Adam Driver chose to leave the interview at that point."
When asked about the first time she had realized that she is good at interviewing, Terry responded:
"It was never about a realization that I was good at it. It was more that I knew I liked it and felt comfortable doing it."
In 2015, comedian Marc Maron was interviewed by Terry.
In 2013, Gross spoke with Elton John before the musician paid tribute to Liberace at the Emmy Awards.
READ MORE: Maneet Chauhan Weight Loss
Terry Gross – Net Worth
Gross earned most of her wealth from being the host of Fresh Air. Furthermore, she has served as guest host for NPR's All Things Considered.
During her career, Terry received many awards, including – the National Book Foundation's 2007 Literarian Award, the 2003 Edward R. Murrow Award, the 1999 Gracie Allen Award, the 1993 Peabody Award, and the 1981 Corporation for Public Broadcasting Award.
Terry is also the voice of Pam in the animated series "The Fungies!."
Therefore, radio show Terry Gross has an estimated net worth of $10 million.
READ THIS NEXT: Harry Knowles Net Worth
References

https://www.wnyc.org/people/terry-gross/
https://www.inquirer.com/adam-driver-npr-terry-gross-fresh-air