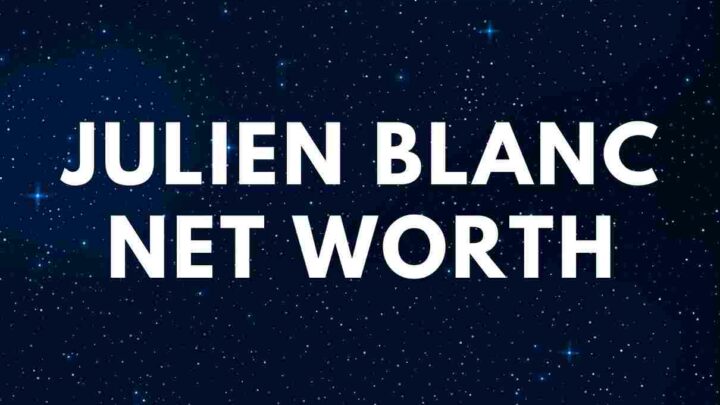 Julien Blanc is a Swiss self-help speaker, pickup artist, and dating coach, who is best known as an instructor with Real Social Dynamics, the world's largest dating coaching company. He also gained popularity through his YouTube channel.
Biography
Blanc was born on October 24, 1988, in Morges, Switzerland, to parents Thierry and Lauren Blanc.
He has a sister, named – Marielle.
Julien later moved to LA, California.
Real Social Dynamics
In 2008, Blanc started to work as an instructor employed by Real Social Dynamics, a U.S.-based company that offers "boot camps" and seminars throughout the world to men seeking instruction on how to seduce and meet women.
The company claims to be "the world's largest dating coaching company, teaching roughly 1,000 programs a year to men in 70 different countries."
Owen Cook is the co-founder of Real Social Dynamics.
Blanc said he teaches men:
"how to pick up the hottest women, in the hardest venues, and the results have been nothing short of phenomenal for my students."
During an interview, Julien said his life turned around after he read – "The Game," a book written by reporter Neil Strauss as a chronicle of his journey in the seduction community. Rafael Behr in The Observer wrote about the book – "Some of the recommended techniques are sinister."
Julien also released a video course, called – "Pimp" with over 23 videos about dating advice. The video course is divided into three sections:
Outer Game;
Inner Game;
Female Psychology.
Blanc said about his course in an interview:
"A lot of the clients do meet their spouses on these programmes."
Julien went on to say:
"I receive emails all the time, I've been invited to weddings, people are just eternally thankful."
Scandal
In November 2014, he became the subject of many social media campaigns alleging that his dating advice encourages sexual abuse and violence, involving several petitions on those grounds to deny him entry to many nations.
Blanc was described by Time magazine as:
"the most hated man in the world."
Lauren Blanc, his mother, stated:
"We are supportive of Julien and I feel that the journalists around the world have not done their job, up until now they have never bothered to look into what his work really is."
Blanc has been banned in the United Kingdom, Singapore, and Australia, under allegations of promoting sexual abuse.
According to Trine Bramsen, Socialdemokraterne justice spokesperson, Julien will not be blocked from entering Denmark on the basis that to be denied entry he "must have committed a crime or have no legal business in Denmark."
Later, Julien issued an apology, saying:
"I just want to apologize to anyone I've offended in any way."
Blanc continued:
"This was never my intention and I just want to put it out there."
The self-help speaker also said:
"I'm extremely sorry. Like, I feel horrible. I'm not going to be happy to feel like I'm the most hated man in the world."
Lynne Featherstone, Liberal Democrat, said at the time:
"Julien Blanc's presence in the UK could have led to an increase in sexual violence and harassment."
Featherstone added:
"I am delighted that Mr Blanc won't be coming to our shores."
In 2015, he explained for Observer:
"I had originally published a video on YouTube, featuring a 5-7 minute excerpt of a 3-hour-long seminar that I had held in San Francisco, in which I talk about my trip to Japan a year prior."
Blanc went on to say:
"Now, to be clear, what I say in this video has nothing to do with what I actually teach."
Julien later added:
"It was just a short 5-7 minute exaggerated story of when I was there, that I thought would be funny to say at the time to provoke some reactions from the crowd."
YouTube
After the incident, he started to distance himself from Real Social Dynamics.
Blanc started another YouTube channel (JulienHimself) on May 17, 2015. According to the channel description:
"Empowering them [clients] to create massive success in their lives!"
So far, his channel has over 18 million views and more than 148,000 subscribers.
Wife
Julien Blanc got married on May 25, 2019.
READ MORE: Jessie Moses Biography
Height
Julien is 5 ft 11 in (180 cm) tall.
Quotes
"Instead of calibrating before the fact and worry about what's going to happen by predicting the future, go and actually find out and calibrate after the fact."
"I'm not the villain you are trying to make me and I can't allow you to paint me like that."
"Most challenges aren't overcome by learning what to say or do. They're overcome by making fundamental shifts in your mindset and way of being!"
"Far too many people sell out on their authenticity in order to fit in."
"Never forget that you are in a relationship with yourself."
"There's so much focus on being perfect, being the best or being the strongest that we forget about being ourselves!"
"As long as you're operating IN a certain paradigm, you will NOT find a way out of it."
"There's not much that a person will ever do if they're not getting any value in return."
READ MORE: Magga Braco Net Worth
Trivia
He describes himself as an "international leader in dating advice."
Julien Blanc – Net Worth
Blanc earned most of his wealth from working for Real Social Dynamics. According to sources, Julien has charged men $3,000 for a spot at his seminars.
Currently, Julien makes money from mentoring. He promotes himself with the help of social media, especially YouTube and Instagram. Therefore, Julien Blanc has an estimated net worth of $0.5 million.
READ THIS NEXT
References

https://www.forbes.com/julien-blanc-should-be-allowed
https://www.theguardian.com/pickup-artist-julien-blanc