The Professor (real name – Grayson Scott Boucher) is an American streetball basketball player, YouTuber, and actor who is best known for his amazing ball-handling skills.
Biography
He was born on June 10, 1984, in Keizer, Oregon, USA, to parents Steve and Molly Boucher.
He grew up in Oregon.
Boucher fell in love with basketball at age three when his dad bought him a Larry Bird Hoops set.
"I had a dribbling trainer who started working me out in fifth grade and was way ahead of his time," Grayson recalled in an interview.
Boucher attended McNary High School. He transferred to private Salem Academy for his senior year of high school.
"I transferred to a small Christian school and got second-team all-state, but I had no college offers."
After high school, Grayson went to Chemeketa Community College.
AND1
In 2003, Boucher joined AND1 (a footwear and clothing company specializing in basketball clothing and shoes) after attending a trial held by AND 1 Mixtape Tour in Portland. "I was going up there to have a good time, and it turned into a career opportunity," said Boucher.
He was 18 years old.
In 2008, Grayson starred as Sticky in the film "Ball Don't Lie" based on the book of the same name. It was directed by Brin Hill.
"He [Brin Hill] offered me the role right there on the spot," he said for ESPN. "I loved the story but was actually more in love with the opportunity."
The film premiered at the 2008 Tribeca Film Festival. "When the film premiered at Tribeca, I was super nervous to watch it with an audience for the first time," Boucher said. "But I don't mind it now. I've actually seen the movie about 30 times."
Also in 2008, Boucher appeared on Semi-Pro, a sports comedy film in which stars Maura Tierney, André Benjamin, Woody Harrelson, and Will Ferrell.
YouTube
On November 16, 2009, Boucher started his YouTube channel – "Professor Live." As of January 2021, it has over 5.39 million subscribers.
He started to get more subscribers with his Spider-Man Basketball web-series.
In 2011, he joined Ball Up. "With Ball Up, when you come to a game, it is more visually entertaining, and it is more set up and catered to a live TV event," he told Uproxx.
In April 2019, he suffered a non-contact total tear of the Achilles tendon.
The Achilles tendon is a band of thick, fibrous tissue that links the muscles in your calf to your heel. "I've recovered 100% from my Achilles rupture. Praise God and thank you," he tweeted on August 13, 2020.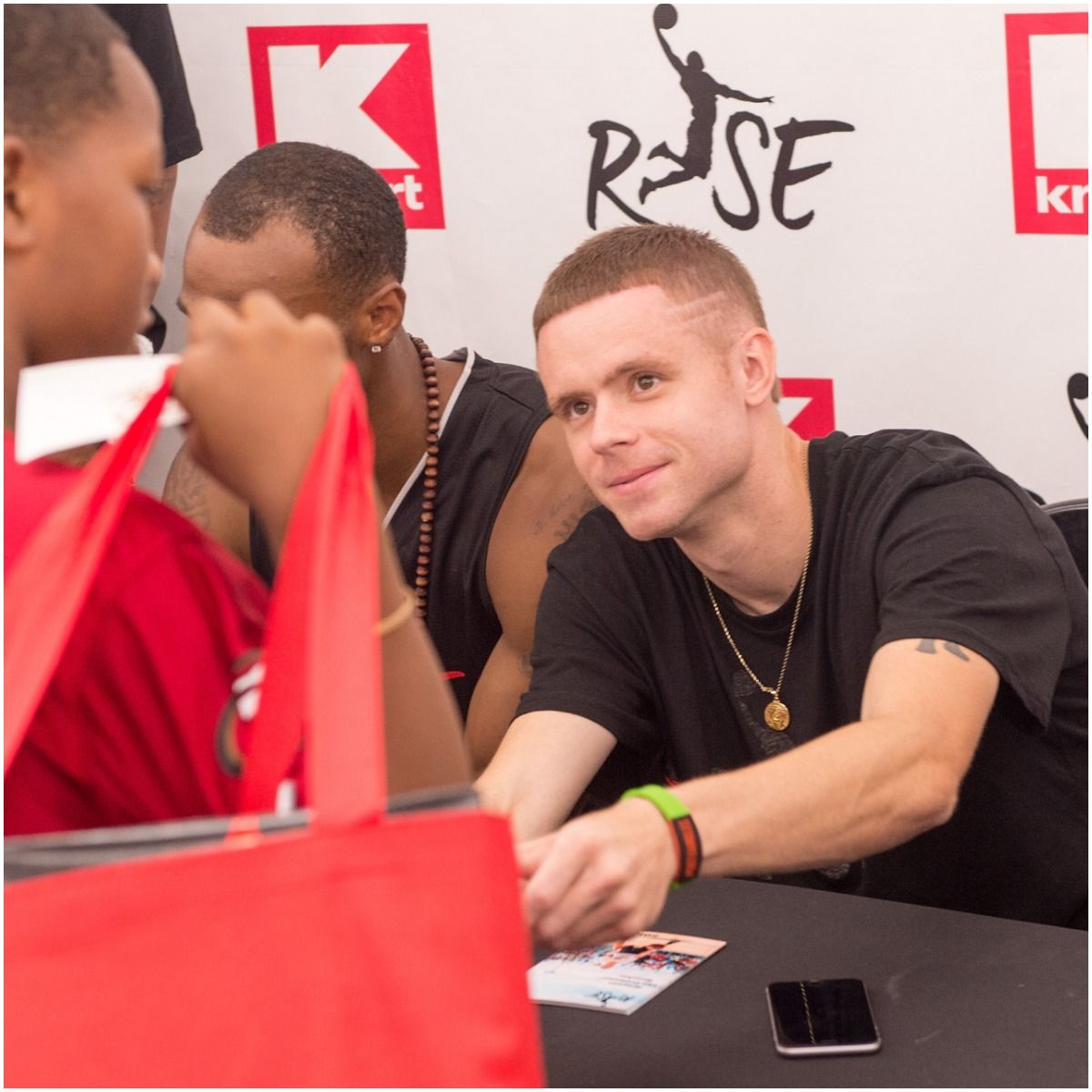 Why isn't Grayson Boucher in the NBA?
Many people speculate why The Professor never played in the NBA.
"And aside from playing with AND1, I also during this time was still trying to make to NBA playing in conventional leagues and minor leagues and different things like that," Boucher explained in a TEDx. He added: "But at a certain point in about 2007, I realized the opportunity and politics just weren't on my side. Making the NBA was going to be very, very tough."
"And being mid 20's, white, short, non-athletic looking and having no major college experience and the only pro experience was the Mixtape tour and some minor leagues along with the CBA," The Professor said in a Reddit AMA. "It just wasn't enough. GM's aren't looking for those kinds of credentials."
Girlfriend
There is no information about The Professor's girlfriend.
READ MORE: Jair Jurrjens & Kaylin Reque
Height
5 ft 9.8 in (177.3 cm)
Weight
155 lb (70 kg)
Quotes
"If people copy your style and you get upset, you're probably not fully aware of the value you bring to the table."
"Tear your Achilles, and you'll view health different."
"When did fortune cookies switch from telling the future to giving advice?"
Trivia
He once bounced the ball off of boxer Manny Pacquiao's head.
Boucher earned his alias, The Professor, due to his ability to "school" his opponents on the basketball court with his flashy ball-handling skills.
READ MORE: Garrett McNamara Net Worth
The Professor – Net Worth
Grayson earned most of his wealth from being part of AND1 and Ball Up. Some of the films he appeared in are – Ball Don't Lie, Semi-Pro, and Phenom.
On YouTube, Boucher has over 895 million views — meaning about $2 million in revenue before taxes. The most popular video on Grayson's channel is "Professor vs Trash Talker 1v1 for $100."
Some of his sponsors are GoogleAssistant, SeatGeek, Powerhandz, and Mountain Dew. He sells merch on globalhooper.com. Therefore, The Professor has an estimated net worth of $2.5 million.
Featured image source – © Guliver / Getty Images.
READ THIS NEXT: Who is Jordan Burroughs?