Tim Tracker is an American YouTuber who is best known for his vlogs reviewing various services he has tried and documenting his everyday life on the YouTube channel – "TheTimTracker."
The channel often features the husband-wife duo having fun at theme parks in Orlando, Florida. It has over 815,000 subscribers.
Jenn Tracker is an American YouTuber and Tim's wife, who usually features on the channel TheTimTracker.
Both are residents of Orlando, Florida.
Biography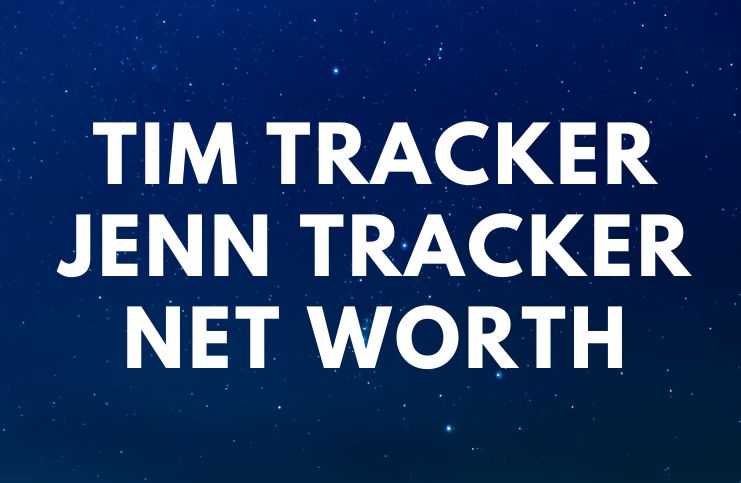 He was born on March 1, 1982, in Florida, USA. Jenn's birthday was not released to the public.
There is no information regarding their studies, real names, or jobs prior to starting their YouTube channel.
The couple is best known mostly for the vlogs around Orlando Theme Parks.
After dating for 6 years, Tim decided to propose to Jenn.
In a November 2010 video, Jenn said:
"He wanted to propose to me at sunset on the beach and I totally ruined it."
Jenn went on to say:
"I'm like, 'I don't want to drive three hours just to go to a dumb beach and see a stupid sunset." Noting that she wanted to get dinner nearby instead, she said, "That's what I got."
They got married on June 3, 2011.
YouTube
TheTimTracker channel was created on June 27, 2009. The channel has more than 366 million views.
Tim is typically the one in front of the camera and Jenn edits the videos. However, she also appears in most videos.
Since its creation, the channel has amassed more than 721,000 subscribers.
They uploaded the first video, titled – "Just another delta II sunrise," on August 17, 2009.
One of his most popular videos, "Ninjas At Rebounderz!!! (12.18.10)," has over 2.1 million views since its December 17, 2010 posting.
Currently, their most popular video is named – "Our First Look At Kraken Unleashed VR Coaster | Full On Ride POV, Queue Tour & Ride Reviews!" The video was uploaded on June 17, 2017, and it has more than 4 million views.
Tim once tweeted about his wife:
"Can I just say how much I appreciate Jenn? She really is the heart and soul of the channel."
For their channel's 10 year anniversary, Jenn said:
"The vlog has been with us for so many different parts and stages of our lives. It's just incredible."
Jenn later added:
"We've taken tons of awesome trips that never would have happened if it weren't for YouTube."
MyThemeParkPOV
On September 4, 2012, Tim started a secondary channel, named – "MyThemeParkPOV," an attraction POV channel. The channel has over 9.1 million views and more than 28,900 subscribers.
JennDoesIt
Jenn also has a secondary channel, named – "JennDoesIt." The channel has over 18,000 subscribers.
READ MORE: Matt Grundhoffer — the estranged husband of Little Women: LA star Briana Renee
Children
In May 2019, Jenn announced that she is 10 weeks pregnant with her first child.
Tim later tweeted:
"Just to clear up any confusion, I'm not the one who is pregnant. It's Jenn."
Jenn tweeted:
"I will be taking an extended break from this site for my own well being and for the well being of our baby."
Podcast
The couple has a podcast, named – "TheTimTracker Podcast." During the podcast, Jenn and Tim talk about random stuff, not just theme parks.
READ MORE: What is Jared Polin's net worth?
Quotes
"One of my all-time favorite houses was American Werewolf in London, based entirely on the use of werewolf puppets."
"The most common thing that people say when I meet them is 'You're taller than I thought you were.'"
"Have there been any animated remakes of live-action classics?"
"It (vlogging) is something that has made our relationship so strong."
"I don't want to get anyone's hopes up. We are not getting a sneak peek at anything."
"What happens, like scientifically, when you wake up with a sore neck from sleeping on it wrong?"
Trivia
Jenn and Tim Tracker's real last name isn't Tracker.
READ MORE: Secret to Success – Cameron Fous
Tim's favorite ride at Disney's Hollywood Studios is "The Twilight Zone Tower Of Terror."
They first met each other during their high school years.
One of Tim's favorite songs is "On The Bayou."
Their privacy has been invaded after online stalkers leaked their addresses and other personal information.
On December 29, 2016, their first dachshund, called Armani, died following an illness. Currently, Jenn and Tim own another dachshund, named – "Bandit."
READ MORE: Nice Peter Net Worth
The phrase Tim Tracker is most famous for is "Now it's time to pay the price" at the end of every YouTube video. The phrase means to leave a comment, share, or like, to "pay the price" of watching a free YouTube video.
Jenn explained:
"We've never told anybody. We've never actually said this is the reason why we say it. For me, it means we're giving you content for 'free,' I guess, and so now it's time for you to pay the price."
Jenn continued:
"The price is liking, commenting, and subscribing. So, that's kind of like your payment that you could be paying to us."
Jenn and Tim Tracker – Net Worth
The couple earns most of their wealth from day to day jobs as well as advertisements on their YouTube channels. So far, all their YouTube channels have more than 375 million views, meaning $800,000 in revenue, before taxes.
In addition, Tim and Jenn sell t-shirts on their website – timtracker.com/shop. Therefore, YouTubers Jenn and Tim Tracker have an estimated net worth of $1 million.
READ THIS NEXT: Facts About Tim Grover (Michael Jordan's Trainer)
References

https://studybreaks.com/tvfilm/disney-youtubers-to-check-out/
https://www.thelist.com/169013/the-untold-truth-of-tim-and-jenn-tracker/