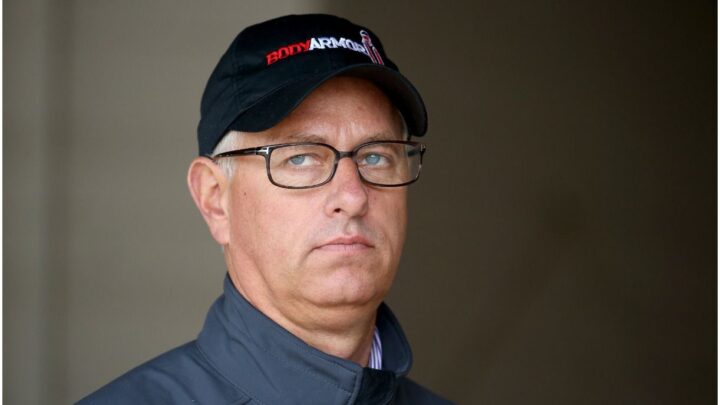 Todd Pletcher is an American thoroughbred horse trainer who has trained notable horses like – Always Dreaming, Danza, Palace Malice, and Super Saver.
Currently, Todd has 11 Breeders' Cup victories, three Belmont Stakes, a pair of Kentucky Derby wins, and seven Eclipse Awards as an outstanding trainer.
Tristan Barry, his longtime assistant, described Pletcher:
"Todd's a very hard worker. He wants to do the best he can with all the horses, and he knows every single one of them like the back of his hand."
Biography
He was born on June 26, 1967, in Dallas, Texas, USA.
Pletcher began working as a hot walker (a person who walks the hot, sweaty horses after a workout) when he was 7 years old.
In 1985, he graduated from high school in San Antonio, Texas.
In 1989, Todd graduated from the University of Arizona Race Track Industry Program with a degree in Animal Science.
Between his sophomore and junior years, Pletcher worked as a groom for D. Wayne Lukas at Arlington Park near Chicago.
In 1991, he was promoted as an assistant trainer for D. Wayne Lukas. He worked there until the fall of 1995. While working for D. Wayne Lukas, Todd helped develop horses such as:
Flanders;
A Wild Ride;
Serena's Song;
Harlan;
Thunder Gulch (a champion thoroughbred racehorse who is best known for his wins in the Belmont Stakes and the Kentucky Derby).
Trainer Career
Todd took out his trainer's license in December of 1995. In February 1996, he saddled his first winner, Majestic Number, at Gulfstream Park in Florida.
In 2004, Pletcher won in the Kentucky Oaks at Churchill Downs in Louisville with the three-year-old filly Ashado.
Fact – at the end of the 2005 racing season, Ashado's owners sold her at the Keeneland Sales November auction for $9 million.
In 2005, Todd set a single-season earnings record with purse earnings totaling $20,867,842.
In 2006, Pletcher broke the North American record for most stakes wins in a single year. Also, his purse earnings total of $27,670,243.
In the 2007 Belmont Stakes, he earned his first win in a Triple Crown race.
On May 1, 2010, Todd won his first Kentucky Derby (dubbed "The Run for the Roses") with Super Saver, a retired thoroughbred racehorse who is a descended from superstud Mr. Prospector.
In 2013, his Palace Malice (in 2015 he was retired as a 5-year-old and sent to stand at stud at Three Chimneys Farm), ridden by Mike Smith, won the Belmont Stakes.
The 2014 Kentucky Derby featured four of Pletcher's horses:
We Miss Artie;
Vinceremos;
Intense Holiday;
Danza.
The 2015 Kentucky Derby featured three of Todd's horses:
Carpe Diem;
Itsaknockout;
Materiality.
In 2017, Pletcher won his second Kentucky Derby with Always Dreaming, a retired thoroughbred racehorse who finished his career with earnings of $2,415,860 and a record of four wins.
In 2019, he won his first Dubai World Cup day race.
READ MORE: Sparc Mac Net Worth
Wife
Todd Pletcher got married to Tracy on February 29, 1992, in San Antonio, Texas.
He met his wife while they both attended Madison high school.
Tracy once said about Todd:
"As we're married longer, our kids grow and our parents' age, probably like most people he realizes more and more where the priority is."
Tracy added:
"But Todd's always made family No. 1."
Children
The couple has three children, a daughter named Hannah, and two sons, named Kyle and Payton.
READ MORE: Is Kang Ho-dong married?
Quotes
"In racing, a lot of times, we get through one crisis, and then we kind of coast. We can't let our foot off the pedal."
"My only real concern coming into the race is that he did not run well over this course last year."
"You think your horses are training well but it's not until you get in the big pool and when they are running against the other ones, then you get a line on what you really have."
"He's a patient rider and we would like to see the horse settle in mid-pack. I don't think he's a very difficult horse to ride."
"We'll need to get away cleanly and establish position early, a little further inside than would be ideal."
Trivia
He has a reputation for being insanely organized.
Pletcher has received a few Woody Stevens (for an outstanding trainer) and Fourstardave (for Special Achievement at Saratoga Race Course) awards from the New York Turf Writers Association.
READ MORE: What is the net worth of Cody Ko?
Todd Pletcher – Net Worth
Pletcher earned most of his wealth from working as a thoroughbred horse trainer. During his career, Todd won the Belmont Stakes with – Tapwrit (2017), Palace Malice (2013), and Rags to Riches (2007). Also, his horses Always Dreaming (2017) and Super Saver (2010) won the Kentucky Derby.
Currently, Pletcher oversees a vast operation of around 200 horses. In 2019, his horses have captured purses totaling $16 million, and a total of more than $385 million in his entire career.
He owns a $2 million home in Long Island, which is 5,000 square feet and has four bedrooms. Therefore, thoroughbred horse trainer Todd Pletcher has an estimated net worth of $12 million.
Featured image source – © Guliver / Getty Images.
READ THIS NEXT: Brendan Eich Net Worth
References

https://www.paulickreport.com/being-todd-pletcher-a-day-behind
https://www.horseracingnation.com/Pletcher_Breeders_Cup
https://eu.courier-journal.com/kentucky-derby-trainer-todd-pletcher